Argentina coach Alejandro Sabella is to step down after Sunday's World Cup final against Germany regardless of the result, his agent told Argentine radio on Friday.
Sabella, who took over in 2011, has led Argentina to their first World Cup final in 24 years, where they will face a powerful German side that demolished hosts Brazil in the semi-finals on Tuesday.
While Argentina will now have to step up the search for a successor, Sabella could deliver no better parting gift than winning the World Cup on the soil of their fiercest rivals.
Former Barcelona coach Gerardo Martino and Atletico Madrid's Diego Simeone are being mentioned as possible candidates to replace the 59-year-old, according to media reports.
"To go at the top is always positive. I believe he gave everything to the national team and that now is the time to give way to another person," Eugenio Lopez told FM Delta.
"He's going. He's leaving whatever happens. Whether they are champions or not, a cycle is ending."
World Cup finals - In pictures
World Cup finals - In pictures
1/19 1930: Uruguay 4-2 Argentina

The first World Cup final set a tough act for subsequent games to follow. Before a crowd of 93000 adoring fans in the Estadio Centenario in Montevideo, hosts Uruguay trailed 2-1 at half-time against their bitter neighbours Uruguay but clawed their way back to win 4-2. Thousands of Argentine supporters had made the short journey across the River Plate to the Uruguayan capital in the expectation of seeing their heroes victorious. They had to wait a little while, however- the final was delayed after both teams insisted upon using their own ball.

Getty Images

2/19 1934: Italy 2-1 Czechoslovakia

The second World Cup final was the first that failed to be decided within 90 minutes. Again the host nation made it to the final in Rome, where they were watched by Benito Mussolini and tens of thousands of screaming tifosi. The technical Czechs struck first through winger Antonin Puc and held on until the 81st minute, when the Argentine-born Raimundo Orsi curled in an equaliser. With the great Giuseppe Meazza limping, Italy looked in dire straits heading into extra-time- but in the 95th minute they forced an unlikely winner.

Getty Images

3/19 1938: Italy 4-2 Hungary

Paris' Stade Olimpique de Colombes hosted one of the great World Cup games. In their second successive final the Italians took the lead after six minutes after fine play from Meazza. Hungary took just two minutes to level proceedings through Pal Titkos, but in the 16th minute Meazza again turned creator to give Italy a lead they would not let go. With 20 minutes remaining the Hugarian captain Gyorgy Sarosi broke away to make it 3-2, but another Italian goal ensured back-to-back Azzurri world titles.

Getty Images

4/19 1950: Brazil 1-2 Uruguay

This was, up until yesterday, Brazil's greatest footballing tragedy. The hosts were so confident of victory that they hired a samba band to stand by the side of the Maracana pitch, ready to play a new song called 'Brazil the Winners' after their inevitable victory. Things started off well: Brazil took the lead two minutes into the second half, but a quarter of an hour later a resurgent Uruguay equalised. Then, almost unbelievably, with 11 minutes to go they took the lead and held it until the end. A final memorable as much for Brazilian hubris as for the football on display-and an echo of yesterday's loss in so many ways.

Getty Images

5/19 1954: West Germany 3-2 Hungary

The highest point for the 'Magical Magyars' of Ferenc Puskas and Nandor Hidegkuti was also their lowest hour. This is the match known as the 'Miracle of Bern', when the underdog West Germans snuck past a seemingly imperious Hungary side. The group-stage game between the two had ended 8-3 in favour of the Hungarians, who had arrived in Switzerland as the favourites and progressed serenely to the final. Their subsequent 3-2 defeat would go down in history as perhaps the most famous game in the history of German football- and Hungary would never get so close to the Jules Rimet trophy again.

Getty Images

6/19 1958: Sweden 2-5 Brazil

For the fourth time in six World Cups, the hosts reached the climax to the tournament. The final in Solna was a one-sided affair as the Brazilians ran riot, putting five past the Swedish goalkeeper Kalle Svensson. Pelé netted twice to add to a brace from Vava and a goal by the 'Little Amnt' Mario Zagallo, later to become a World Cup winner as a coach. The final was overshadowed in quality by a memorable semi between Brazil and the brilliant French led by Juste Fontaine.

Getty Images

7/19 1962: Brazil 3-1 Czechoslovakia

Brazil lacked their icon for this final in Santiago. But in Pelé's absence Garrincha starred, scoring four times including a crucial goal in the final in which Brazil trailed. As they had four years earlier they hit back almost immediately through Amarildo, brought into the side earlier in the tournament following Pelé's injury. The game ended 3-1- not a classic like some of the earlier finals, but memorable in a sense for the manner in which the Brazilians rallied without their star. Another unfortunate parallel with 2014…

Getty Images

8/19 1966: England 4-2 West Germany

The most famous final of all, for those of an English persuasion. Nearly half a century on no England team has come close to emulating Alf Ramsay's 'Wingless Wonders', who beat West Germany 4-2 at Wembley through Geoff Hurst's hat-trick- still the only treble ever scored in a World Cup final- and that much-disputed third goal that many Germans still claim never crossed the line. This was a thrilling final made greater by its position within our national footballing consciousness, as well as the failures of subsequent generations to live up to its legacy.

Getty Images

9/19 1970: Brazil 4-1 Italy

Perhaps the greatest World Cup final ever from a neutral standpoint. The best Brazilian side in history demolished the Italy of Facchetti and Rivera in the pounding heat of Mexico City's Estadio Azteca- but the game will always be remembered for the fourth and final Brazilian goal. Eight Brazil players touched the ball in the build-up before Pelé drew the defence and slipped a pass to Carlos Alberto, who hammered a low shot into the far corner.

Getty Images

10/19 1974: West Germany 2-1 Netherlands

The one the Dutch let get away- and have regretted ever since. The 1974 final pitted the Netherlands of Cruyff, Neeskens and Krol against Beckenbauer and Gerd Müller- and it was one for the ages. The Dutch struck first and appeared to be in control- until their grip on the game hardened into arrogance and the Germans struck back with a hotly-disputed Paul Breitner penalty. Then Müller won it with the kind of poacher's goal that was his hallmark- and in doing so, left an indelible stain on the Dutch footballing mentality that persists to this day.

Getty Images

11/19 1978: Argentina 3-1 Netherlands

A last, glorious bow for the great Dutch side of the 1970s- and a controversial victory for Argentina in a World Cup where the Argentine military junta were never far from proceedings. Mario Kempes scored twice, one in normal and one in extra-time and was named man of the match. But the Dutch accused the Argentines of underhand tactics- this final is remembered for the oppressive atmosphere that surrounded it more than the sporting spectacle.

Getty Images

12/19 1982: Italy 3-1 West Germany

An iconic final, if only for Marco Tardelli's celebration of manic joy upon putting Italy 2-0 in front. West Germany were never in the game, and Paul Breitner's 83rd minute strike was hardly even a consolation. At 40, Dino Zoff became the oldest player to win the World Cup after one of the most memorable finals in the tournament's storied history.

Getty Images

13/19 1986: Argentina 3-2 West Germany

It seems strange to say given their unerringly consistent record, but Germany were persistent failures at World Cups in the 1980s. In the same Estadio Azteca that had hosted the 1970 final they fell behind to a Jose Luis Brown goal. Their sense of doom was compounded after Diego Maradona played Jorge Burruchaga in for the winning goal with a pass plucked from genius' pocket- before that the Germans had scored twice to level the final from a seemingly impossible position.

Getty Images

14/19 1990: Argentina 0-1 West Germany

Their final four years before had been one of the best ever- but the rematch was as dour as 1986 was vibrant. The Argentines ended with nine men after Monzon and Dezotti were dismissed, in a bad-tempered final that was a microcosm of a cynical tournament. Full-back Andreas Brehme scored the only goal of perhaps the first 'bad' World Cup final.

Getty Images

15/19 1994: Brazil 0-0 Italy (a.e.t., Brazil win 3-2 on penalties)

The first final to end goalless after normal time- and the first to go to the great lottery of the penalty shootout. USA 94 pitted Dunga's uncompromising and tactically-savvy Brazil against an Italy inspired by the 'Divine Ponytail', Roberto Baggio. It was Baggio's penalty miss that decided the final- he blasted the ball far over the bar into the Californian sky. It's an image with which one of the world's great players will forever be unfairly tarnished. The final itself, as the scoreline suggests, was the second dull one in a row.

Getty Images

16/19 1998: France 3-0 Brazil

The intertwining storylines in this one far outstrip the quality of the game itself. Zidane inspired the French to a veritable stroll of a victory, but the real drama was played out before the match. Brazil's star, Ronaldo was unwell yet was forced to play- by the team, by the sponsors or by himself, or perhaps a combination of all three- and in the game he was a ghostlike influence as his side were pulverized by the Tricolores.

Getty Images

17/19 2002: Brazil 2-0 Germany

The 2002 final brought a comprehensive victory for a Brazil side carried to victory by a rejuvenated Ronaldo. It was comprehensively dull, too- Germany had scraped their way to get there bbut in the game itself they barely had a sniff. We're now well within the sequence of poor-quality finals.

18/19 2006: Italy 1-1 France (a.e.t., Italy win 5-3 on penalties)

Somehow, Marcelo Lippi and Fabio Cannavaro dragged Italy kicking and screaming to a third world title after a buildup dominated by revelations from the Calciopoli scandal. The final could best be described as middling- the real action occurred within the space of a mad second as Zidane signed off his international career in violent style with a ram-like headbutt to the chest of Marco Materazzi, who had earlier opened the scoring for Italy.

Getty Images

19/19 2010: Spain 1-0 Netherlands

Andrès Iniesta's extra-time strike settled what was less a football game than a recreation of the Trojan War. Having decided there was no way they could compete on footballing terms, the Dutch instructed Nigel de Jon and Mark van Bommel to act as trained assassins-the studded chest of Xabi Alonso was the natural outcome. Not a fondly-recalled final.

Getty Images
While state news agency Telam said the 59-year-old's contract was due to expire after the tournament, the news caught some by surprise in Argentina.
"It's not good that the announcement came before the final. Psychologically it is not good for the players," said soccer enthusiast Facundo, declining to give his surname.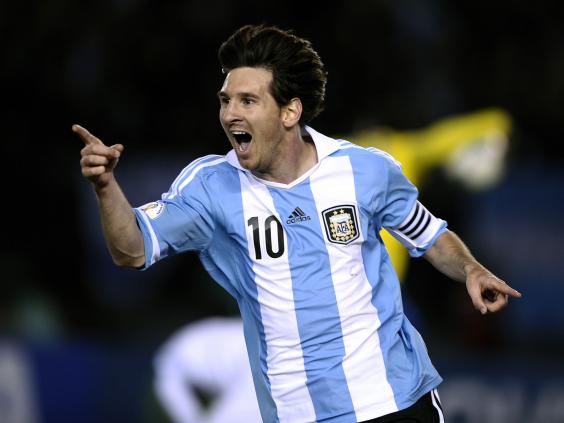 "He did something no trainer had done in years, which was to make a group of players play as a team. So as a fan of Argentine football, I wish he would carry on, regardless of whether we win or lose."
Sabella told Argentina sports newspaper Ole that he was focused only on Sunday's match.
"The future, for me, is the next match, the World Cup final. Thinking about something different would be disrespectful," he said.
Argentina have been more workmanlike than wonderful under Sabella, despite the presence of four-times World Player of the Year Lionel Messi, but he has forged a formidable work ethic in the side and introduced much-needed tactical discipline.
The South Americans topped Group F in Brazil with wins over Bosnia, Iran and Nigeria before earning 1-0 victories over Switzerland and Belgium in the last 16 and quarter-finals.
Their win over Belgium equalled Argentina's longest World Cup winning streak at five games, though they needed a penalty shootout to see off the Netherlands in the semi-final in Sao Paulo on Wednesday.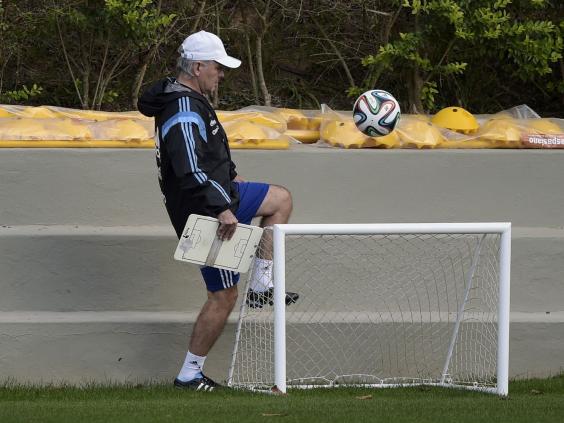 Sabella, capped eight times by Argentina, left River Plate in 1978 to play in England with Sheffield United and Leeds United before playing for various club sides back home as well as in Brazil and Mexico.
After retiring from the playing side in 1989, he worked beside ex-Argentina defender Daniel Passarella at the Uruguay national team and at Parma in Italy, and was part of the Argentina set-up at the 1998 World Cup.
He got his first head coaching job in 2009 at Estudiantes and led them to their fourth Copa Libertadores title.
Two years later he was put in charge of Argentina, World Cup champions in 1978 and 1986 but who had not reached the final since 1990.
Reuters
Reuse content