There has only been one football match that has changed the course of British history but Sunday's encounter between Germany and Scotland might be the second.
On 14 June 1970, England's hold on the World Cup was dramatically broken by a resurgent West Germany. Four days later, there was a general election which the governing Labour Party had confidently expected to win. They lost with a sudden shift in the polls blamed on poor balance of payments figures, as if they were a subject of pub conversation.
Others knew the real reason why Ted Heath was preparing for government. Denis Howell, Harold Wilson's minister of sport, recalled: "The moment Peter Bonetti made his third and final hash of it on the Sunday, everything simultaneously began to go wrong for Labour the following Thursday."
On Sunday, Gordon Strachan's spirited team faces the world champions Germany in Dortmund, 11 days before the nation votes on independence. The Westfalenstadion, with its vast, intimidating "Yellow Wall" – which will be white in honour of Joachim Löw's side – might seem like the north face of the Eiger but Scottish football has climbed higher in its history. And under Strachan, whose side are unbeaten in six internationals, Scotland have advanced swiftly through the foothills.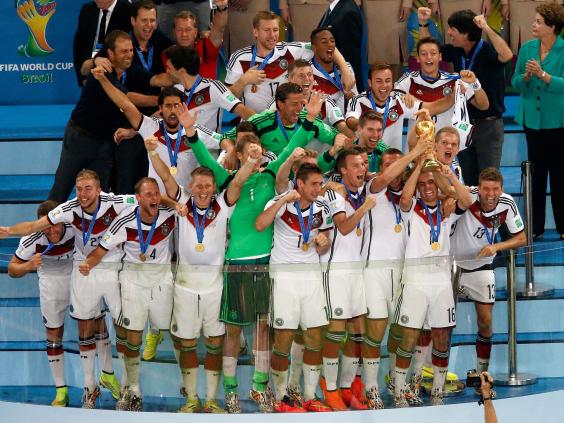 They will not be wearing kilts when they inspect the pitch, as they did when they strode across the grass of the Stade de France before an epic display against world champions Brazil at the 1998 World Cup, but there will be a spring in their step. Should they win, maybe there will also be a boost for Alex Salmond and the Yes campaign.
"There seems to be no fear in the camp," said Strachan. "There is a reality obviously – we are playing the world champions – but there is no fear and I like that. They are not scared of the occasion or of where they have to go."
On Wednesday night at the team's hotel outside Glasgow, Strachan watched Germany lose 4-2 to Argentina in Düsseldorf. He said he would be reading very little into the result of what in his words was "a celebration of football".
Nevertheless, a much-changed Germany side was four goals down five minutes after the interval, and there is a tradition of World Cup winners still nursing their hangovers when the serious business begins again. France's first competitive match after their triumph in Paris in 1998 was a 1-1 draw with Iceland. Italy, in 2006, took one point from their first two qualifying games on their way to the European Championship.
In Düsseldorf, striker Mario Gomez was whistled off after wasting three chances to score and Löw will be missing the core of his midfield, with Bastian Schweinsteiger and Sami Khedira injured and Julian Draxler picking up a thigh injury against Argentina.
If the Scotland midfield is missing some key components – there are four absentees, including Graham Dorrans and Robert Snodgrass – the sight of James McArthur and Darren Fletcher lining up together will gladden the 5,000 fans travelling from Scotland to the Ruhr.
Following his transfer from Wigan to Crystal Palace on Monday, the former is once more a Premier League player, while Fletcher, Scotland's captain, makes his first competitive international start for almost two years – a reward for his determination to recover from a long, debilitating bowel illness.
Scotland will need Fletcher's spirit in Dortmund. Reviewing their chances, former captain Graeme Souness said he expected Strachan's side to provide a considerable obstacle to Löw's world champions and added: "the quality of the German group means somebody will get them in the end."
When it has come to qualifying for major tournaments, it has been the little guy that has usually got Scotland. The memory of them trailing the Faroe Islands by two goals in 2002 or needing an injury-time winner from Stephen McManus to beat Liechtenstein at Hampden has still to fade. When it comes to the bigger beasts, their performances are another matter entirely. In the wasteland seasons that followed their last major tournament 16 years ago, Scotland have drawn with Germany and Italy, and beaten France.
That Uefa, guided by financial reasons, has chosen to expand the European Championship from a tight 16-team affair to a bloated 24-nation tournament has made it much easier to qualify. The top two in Scotland's group go through as of right and the third-placed team will face a play-off.
The last time Scotland made a major tournament it was staged in France. It is likely that France will once more play host to the Tartan Army; a faint reminder of the Auld Alliance that was once the cornerstone of the foreign policy of an independent Scotland.
Reuse content