In the second round of the 2010 World Cup and with England trailing Germany 2-1, Frank Lampard unleashed a long range effort that left an entire country fuming and Fifa with egg all over its face. 
The disallowed goal prompted a rare change of heart from football's Bond villain boss Blatter who decided to 'open the door' to goal-line technology.
Four years later, and presumably with no expense spared, the cutting edge technology is here and it is clear already that Fifa are going to get their money's worth out of it.
As luck would have it, almost every game so far this tournament has had a moment that cried out for the use of technology, although unfortunately for Sepp and his mates none have required the use of their shiny new goal-line technology.
However, determined not to be distracted by the dubious penalty calls, dodgy offside decisions and questionable disallowing of goals, the official Fifa broadcast feed has ploughed on regardless.
Viewers during Spain v Netherlands would have been relieved to see that the penalty that Xabi Alonso stroked past the keeper and firmly into the goal did indeed cross the line.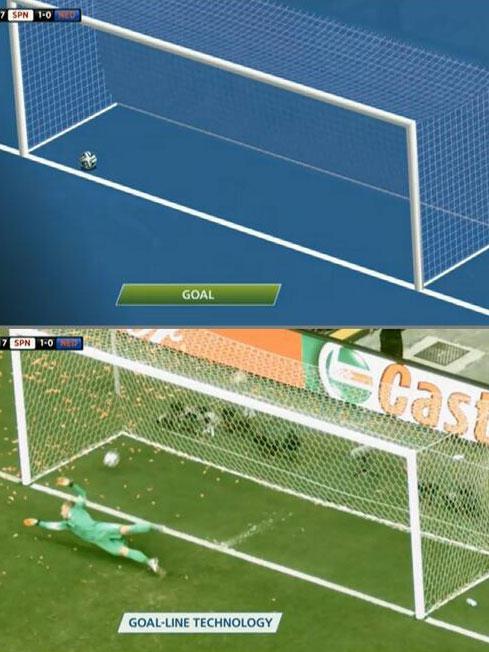 Later as Chile took on Australia's mighty Socceroos, those sat at home were reliably reassured that the 12th minute strike from Alexis Sanchez, which to the naked eye visibly shook the back of the net, had also crossed the goalline.
Despite the pictures coming from Fifa's official broadcast feed, the BBC and ITV have predictably faced a social media backlash for the goal-line technology overkill, although at least for ITV it makes a nice change from always cutting out the key goals.
Be sure to stay tuned for more goal-line technology fun in today's matches...