It is 'crunch time' for Greece and Ivory Coast as both sides have their last chance to earn a spot in the Round of 16 – a feat neither of the two teams have ever achieved.
Tragedy recently stroke for Yaya and Kolo Toure as their brother Ibrahim died on Thursday, but the brothers decided to stay and the Manchester City man will be expected to hold a deeper central midfielder role.
The Greeks have received a confidence boost after picking up a goalless draw against Japan, with 10 players throughout most of the match, but will have to do more than just rely on their rock-solid defence if they want to qualify.
Fernando Santos's side will be missing captain Kostas Katsouranis, who was sent off against the Samurai Blue over two ridiculous challenges, and will be replaced by former Fulham midfielder Giorgos Karagounis.
Weirdly enough, the starting line-up may resemble the one against Colombia with the Cottagers' Kostas Mitroglou being replaced by striker Fanis Gekas and Genoa winger Giannis Fetfatzidis sitting for Dimtris Salpingidis. There could also be a surprise with former Celtic man Giorgos Samaras starting up front.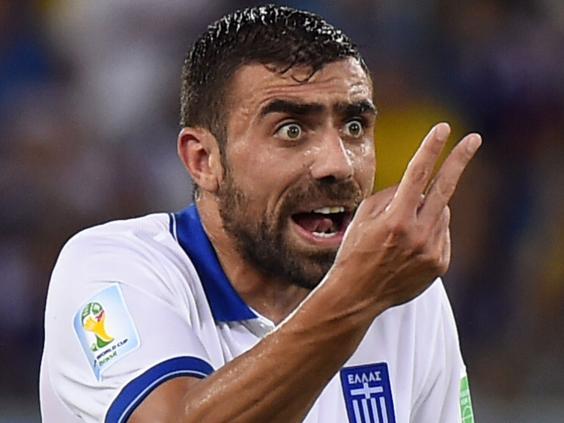 KICK-OFF: Tuesday, 9pm
PAST MEETING…
Both sides have never faced each other before
STATS…
Greece picked up their first ever World Cup draw last week – they also got their first ever clean sheet.
Greece won their one and only World Cup match against an African side four years ago when the National beat Nigeria 2-1.
Ivory Coast have failed to qualify to the Round of 16 in two attempts. In fact, none of the two sides have ever qualified to the next round.
Eight of Ivory Coast's 12 World Cup goals have been scored after the 60 minute.
Two of the Elephants' three wins at the World Cup occurred after they have conceded a goal.
World Cup 2014: The worst haircuts in Brazil
World Cup 2014: The worst haircuts in Brazil
1/14 Cristiano Ronaldo

The world's best player has never been afraid of rocking some perfectly coiffed barnets, but this one looks as if his barber dropped the clippers mid-shave - however a story later emerged on Twitter that said Ronaldo had shaved the zig-zag in his hair as a show of solidarity for a child who had brain surgery. The Portuguese footed the £50,000 surgery for Erik Ortiz Cruz to have an operation in March.

Getty Images

2/14 Nani

Nani has always been ridiculed by his Manchester United team-mates for being in awe of Ronaldo, and now that he's chosen to copy his former club team-mate by shaving something into his hair will only provide more material for the banter.

GETTY IMAGES

3/14 Marouane Fellaini

A long favourite of hair-based galleries for a long time, Marouane Fellain's mop still looks awful. At least it has a decent story behind it - it's a nod to his father, who sported one when he was younger.

Getty Images

4/14 Néstor Pitana

Argentinian referee Nestor Pitana needs to lose only about four hair-strands before he takes Sir Bobby Charlton's crown as having the best (worst) comb over.

Getty Images

5/14 Raul Meireles

A man who wouldn't look out of place with the hipster crowd of east London, Ronaldo's team-mate Raul Meireles has the best beard of the World Cup. He needs to spend more time on his hair, though.

Getty Images

6/14 Luka Modric

Not a particularly bad cut but the Croatian playmaker looked much better with the flowing blond hair we all knew and loved.

Getty Images

7/14 Dani Alves

Dani Alves clearly opted for the wrong shade of highlighter. Instead of going for blond it looks as if the Brazil full back has picked up grey.

Getty Images

8/14 Neymar haircut

The most famous man in Brazil's hair is all over the place. Up at the front, shaved at the sides, terrible blond highlights... a mess.

Getty Images

9/14 David Luiz

The third Brazilian in this list sent this internet into a spin with rumours he had chopped off his famous locks, David Luiz emerged with his curly head of hair in tact. A living, breathing Sideshow Bob.

Getty Images

10/14 Asamoah Gyan

It's a rare moment when a striker wears the No 3 shirt, but Asamoah Gyan is so close to the number he decided to get it imprinted with blond highlights in the side of his head. If only Ghana could have found a third against the Germans.

Getty Images

11/14 Luis Nani

Another to sport have his number shaved into the side of his head, Portugal and Manchester United winger Luis Nani opted to have the No 17 bordered by a star.

Getty Images

12/14 Benoit Assou-Ekotto

We're not sure if the hairband at the front of Benoit Assou-Ekotto's hair is to stop his afro getting in his eyes, or to protect his forehead when he decides to butt his Cameroon team-mates.

Getty Images

13/14 Paul Pogba

The coveted French midfielder has gone a bit over the top with the highlighter. Not content with adding a bit of colour to his mohican, Pogba has also added blond streaks to the side of his head and shaved various parts.

Getty Images

14/14 Kyle Beckerman

USA midfielder Kyle Beckerman might be summoning his inner Bob Marley with these long dreadlocks, but it's not working.

Getty Images
ODDS…
Greece to win: 3.75
Ivory Coast to win: 2.1
Draw: 3.5
TV: Live on BBC Three at 9pm