It is a measure of just how famous Harry Kane has become in the past nine months that the travelling fans in the Czech Republic from Sweden, whom England play at the European  Under-21s Championship tomorrow, already have a song about him.
Yesterday, around the bars and hotel lobbies of the quiet university town of Olomouc, where the two teams will meet tomorrow evening in the Andruv Stadium, the Anglophile Swedish fans could occasionally be heard bursting into song: "Who the f*** is Harry? We've got John Guidetti". A goalscorer for Sweden against Italy in Thursday's win, Guidetti, formerly of Manchester City, is attracting cult status but he has  a long way to go to be as big as Harry.
There is only one Harry in world football now, and he is currently the star of England Under-21s as well as the man most likely to score the goals that will get Gareth Southgate's team out of their group, following their defeat by Portugal in Uherske Hradiste on Thursday night.
Paul Scholes' Team of the Season
Paul Scholes' Team of the Season
1/11 David De Gea - Manchester United

The outstanding keeper in the league. He has saved United so many points along the way. An easy choice to make.

Getty Images

2/11 Branislav Ivanovic - Chelsea

This is a man who knows how to defend. He is not the quickest but he gets in position and he has that nasty streak that all good defenders have. Chips in with goals.

GETTY IMAGES

3/11 Jose Fonte - Southampton

He has had a really good season after a summer when team-mates, Dejan Lovren especially, had gone elsewhere. He has come to the fore with Southampton, a late developer now 31.

GETTY IMAGES

4/11 John Terry - Chelsea

Another solid 38 games. He gets a lot of protection from Nemanja Matic but there is no questioning his importance to Chelsea. His experience helped get them over the line.

Getty Images

5/11 Ryan Bertrand - Southampton

He just beats Cesar Azpilicueta. The Chelsea man is an excellent defender. Bertrand gets in ahead by virtue of his attacking ability, and the fact that he's left-footed.

GETTY IMAGES

6/11 David Silva - Manchester City

A hard choice, given how well Alexis Sanchez has done in his first season. I just love the way that Silva plays the game. Not his greatest season, but such quality when he does play well.

GETTY IMAGES

7/11 Cesc Fabregas - Chelsea

He has not been out of the world, but when you look at his passing stats they show he has been one of the most influential. There's no one better in the league at what he does.

GETTY IMAGES

8/11 Nemanja Matic - Chelsea

For the most part he has done a brilliant job for Chelsea. He tailed off a bit towards the end but, at his best, does a great job of allowing Fabregas to play and protecting the defence.

GETTY IMAGES

9/11 Eden Hazard - Chelsea

There is still more to come from this man. He could get up to the mid-twenties in terms of his league goals. Nevertheless, he has been the standout player in the country.

Getty Images

10/11 Sergio Aguero - Manchester City

There is still more to come from this man. He could get up to the mid-twenties in terms of his league goals. Nevertheless, he has been the standout player in the country.

AFP/Getty Images

11/11 Harry Kane - Tottenham

A great achievement to score 21 league goals when his first start in the competition came on 9 November. A player with so much determination.

Getty Images
That defeat was a low, but Kane has already seen enough in his short career to know that little is straightforward. His 21 Premier League goals last season have changed his life so significantly that yesterday he was once again obliged to say that he remains happy at Spurs, despite interest from Manchester United.
There are no regrets for Kane, a veteran of the  Under-20s World Cup and the Under-19s European Championship, at joining up with the Under-21s after a long, hard season. "I made it clear  I always wanted to be here.  It's a great experience for me," he said.
"I had a great campaign with the lads. I get on well with a lot of them, so it's a chance for me to come away and play with my mates in a big tournament. We're still upbeat and we're still excited for the games ahead. We know what we can achieve."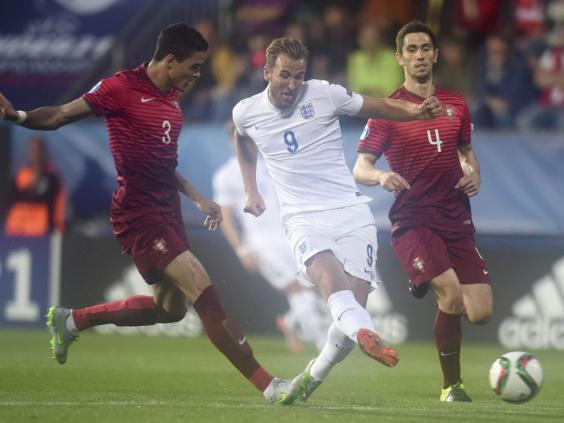 This summer, he is just starting to get a feel for how life will be from now – where goals in big games are the expectation rather than a pleasant bonus, starting with Sunday, when Southgate's team have to win.
In Kane's own words, he and the team are "not panicking" after Thursday's defeat. "We all know, as a country, we want to be winning trophies, winning European Championships and World Cups, as any country would. That's always been my aim – to win things, for club and country – and that hasn't changed. Hopefully it starts here, with the Under-21s.
"I feel good, I feel fresh, there weren't any issues. I was running around like my usual self. I'm probably as fit as I ever have been. I'm happy. I wanted to be here, to be part of this group, and I still believe we can go on and win it."
Kane's manner is often that of a man still struggling to get a handle on how different his life has become. He admitted that not all of it had "sunk in" and told a story from when he was with Spurs on their post-season tour this month and had to abandon a trip to a shopping mall in Australia because he was mobbed  by fans.
There was wide-eyed bemusement at how, eventually, he had to climb on the team bus to escape the crowd that had built around Ryan Mason, Tom Carroll and him when they ventured out in Sydney. "I don't mind it," Kane said. "Obviously it's just the start for me. Maybe, in the years to come, I'll get a bit grumpy, but it's fine. I've always been happy to talk to fans. You don't know how far they've travelled just to meet you. So if you don't sign something, or don't talk to them, it could be heart-breaking for them.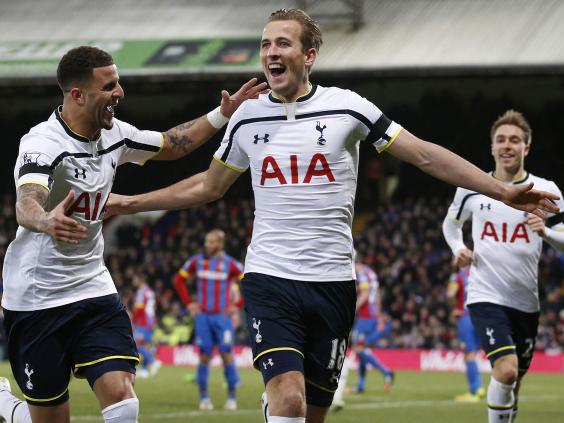 "I was a fan once and I'd always want someone I've admired to be a nice guy. That's what I try and be. I don't think that will ever change. I think I'll always sign stuff for fans and take pictures because I know how much it means."
His club manager, Mauricio Pochettino, has suggested that Kane's participation in the Under-21s Championship might oblige him to miss the start of the Spurs season in order to give him time to rest. Kane, however, said that he did not envisage having to report back late.
"I don't think I'll miss the start of the season. I'll probably have a couple of weeks off after this tournament, that's normal, and I think there's more than enough time before the start of the season. I don't think, physically, it's always a problem; I think, mentally, you need to get away from things as well.
"I'll still keep myself fit and in shape – it's not like I'm just going to let myself go. Obviously I'll get myself a break after the tournament, but I'll be more than ready for the start of the season."
These are early days yet, but he still seems remarkably unaffected by it all. The boy from Chingford seems to enjoy spending the little downtime he has with his girlfriend or walking his dogs. The days when he was just another hopeful at Spurs, gathering the courage to speak to David Beckham while the former England captain briefly trained at the club, are still not that far away.
"The aim is to win trophies and to be one of the best players in the world," he said. "As any footballer growing up, you want to be the best you can. The top players around the world are doing it week in, week out, scoring goals and putting in great performances. That's what I aim to achieve. I want to win trophies – not just for club, for country too. That will always be the aim."
--
Kane in Numbers
2 - The forward has only scored in two of his last 11 matches for club and country
6 - Shots attempted against Portugal U21 – just two of which were on target
12 - Kane has been capped 12 times for the Under-21 side, scoring eight goals
Reuse content