As the England players came out to warm up in the Stozice Stadium on Sunday afternoon, they turned right and broke into a light jog around the pitch. All of them apart from Jack Wilshere, who nicked a ball away from the toes of Gary Neville and curled a shot with his weaker right foot into the nearest goal before setting off in pursuit of his team-mates.
Often it is the small things that tell you about the confidence and readiness of a footballer, and when it comes to Wilshere, the season is  ending at the wrong time. His two goals against Slovenia and his mastery of the playmaker's position in a demanding game were the hallmark of a footballer who is hitting peak form. Wayne Rooney may have scored the winner but this was Wilshere's moment and he seemed to know it right from the start.
He had watched the new Paul Gascoigne documentary on the flight to Slovenia, and, yes, he said, "it did inspire me a bit". "You could tell by the way he played for England, he didn't feel any fear. He was over that," Wilshere said. "Sometimes I think players feel a little bit of fear and a bit of pressure when they play for their country. He just wanted to go out there. He said he felt at his best when he was playing, with the ball at his feet. You do sometimes feel like that. He did it and he was England's best player. So, it's worth a try."
England player ratings vs Slovenia
England player ratings vs Slovenia
1/12 Joe Hart - 6/10

Next to nothing to do for first half hour but left exposed for opener as defence went missing. Might have done better getting across for Pecnik header.

Getty Images

2/12 Phil Jones - 4

Surprisingly preferred to Clyne at right-back and struggled. Gave away a corner and error at throw-in led to Novakovic goal before being taken off.

Getty Images

3/12 Gary Cahill - 6

Had looked back to best in final weeks of season for his club but ponderous in attempts to play offside trap, allowing Handanovic through.

Getty Images

4/12 Chris Smalling - 6

As with his fellow defenders, had precious little to do before being caught out for hosts' opener. Partnership with Cahill struggles to convince.

Reuters

5/12 Kieran Gibbs - 5

Brought in for Bertrand, got forward to deliver crosses and pace troubled the hosts. Caught upfield for Novakovic opener and beaten in air by Pecnik.

Getty Images

6/12 Fabian Delph - 7

Replaced Milner and continues to quietly impress for national side. Rarely gave away possession and eager to maintain forward momentum.

Getty Images

7/12 Jack Wilshere - 8

As with club, has taken time to show best for country. Dragged England back into the game with first before sublime effort into same corner for second.

Getty Images

8/12 Jordan Henderson - 6

Kept position well ahead of defensive colleagues. Moved to right-back after break and began move for second before being returned to midfield.

Getty Images

9/12 Raheem Sterling - 7

Spurned chance in opening minutes and cut inside before shooting wide. Teasing cross unrewarded but had nothing like same impact after interval.

Getty Images

10/12 Wayne Rooney - 7

Fine ball to Sterling came to nothing. Had effort pushed round post but spurned golden chances before calm finish for winner. Taken out by Cesar.

Getty Images

11/12 Andros Townsend - 5

Tottenham man won early free-kick after being preferred to Lallana but twice wasted efforts from distance. Replaced by Walcott after second goal.

EPA

12/12 Adam Lallana - 7

Brought on for Phil Jones at the interval. Footwork caused problems and both of Wilshere's goals were generated by his forward movement.

Getty Images
We have waited a long time for Wilshere to replicate the form he showed for England in his first full season at Arsenal, in 2010-11, in the days when he still had his schoolboy crew cut and the kind of face that has nightclub bouncers requesting proof of age. In the interim there have been too many games lost to injury, too many thumbs-up Instagram shots from hospital beds, but on Sunday hope was renewed that he will be  England's future No 10.
The unique aspect of Wilshere's role for the side is that it requires a level of sophistication and thought that many of the breakthrough positions for young footballers do not. Wilshere is not trying to make his way as a speedy winger or a poacher-style goalscorer, he has set out to be the orchestrator of the team. That can take a career to learn, and the truly great practitioners – Andrea Pirlo, Xavi Hernandez – tend to go on well into their thirties.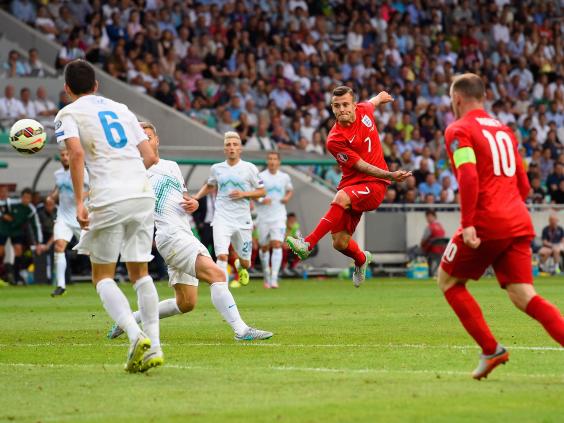 Roy Hodgson compared Wilshere's game in parts to that of Paul Scholes, which has its merits, although the England manager also acknowledged the differences. "Paul was a goalscorer from midfield and he was a long passer, the same way as Steven Gerrard was. Jack has a unique game. He has ability to receive balls on the turn, to twist and turn past players in the same movement. His vision, in that respect, he could probably be compared to Paul."
The critical difference in their development being that Scholes started as a striker and became an attacking midfielder as he got older. Wilshere is trying to establish himself as the latter from the off, and that takes a certain kind of character.
For all the brashness he might project – the smoking, the nights out, the beery FA Cup celebrations – he actually presents as quite a shy 23-year-old, quietly spoken and happy to take a joke at his own expense. On Sunday night he explained how he had not really wanted to give his shirt to the Slovenian boy who had run on to the pitch at the end but felt he could not refuse. "I said, 'No, I can't' but he begged me," Wilshere said. "So I gave it to him."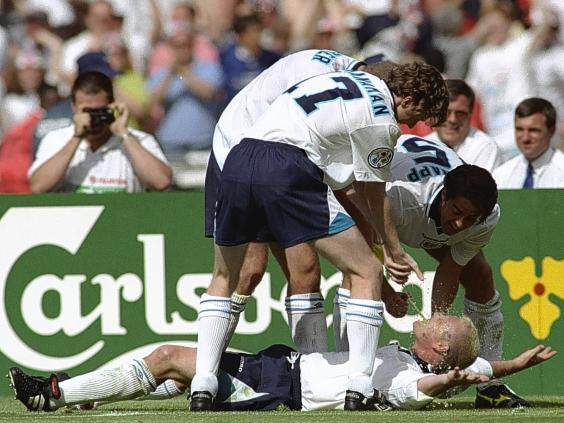 Hodgson and his coaching team ask a lot of Wilshere because they rate him so highly. It was intriguing to hear the player himself analyse the role he is asked to play – which is far from straightforward. "A big part of that role is that when we're attacking, you're not defending, you're backing up play, but you're trying to stop the counter-attack," he said. "You're trying to read the position the ball will drop out in.
"You're always on the edge of the box and if it drops out like that you do have a chance to hit it. Thankfully, I hit those two sweetly. Sometimes you're holding if they play a No 10, like Slovenia did. But other times, we're at our best when we're pressing, going for high intensity. We've got those players who can win the ball high up in the opposition's half in dangerous positions.
"If you're a holding  midfielder it's a bit difficult to do that. So it's the balance between both that's important. Sometimes you have to shield and sometimes you have to press."
That was the technical side of it. As for the emotion, these first goals for England were a long time coming. "When the first one went in, I didn't want to celebrate. I was telling Wazza [Rooney] to get the ball. But the second one was a good feeling – especially with England, you work for these kind of moments. When you're younger, you dream of playing for England. So the first goal felt great because playing for your country is great, but when you score, that's a special feeling.
"It wasn't preying on my mind. The only reason I was bothered was because you look at your stats and it says 28 games and no goals. Apart from that, you don't think about it. But it is nice."
As for the shirt, it was confiscated from the Slovenian pitch invader and found its way back to Wilshere. On reflection, he might want to keep this one.