It was out of admiration, not anger, that Jack Wilshere pursued Paul Scholes. The weight of any criticism is only in proportion to the respect for the critic, thus because it was Scholes it meant far more.
Scholes is Wilshere's hero, and understandably so. "For me, he was the best English midfielder of all time," Wilshere said, revealing the discussion they had had. Scholes, who ran games and scored goals for Manchester United and England, is a model for the sort of midfielder that Wilshere could become.
Wilshere is as thick-skinned as anyone with 1.23 million Twitter followers has to be, but this was a special case and he was keen to learn.
"I respect him so much and I think he can make a great coach for any young player," Wilshere explained. "I am a young player, he has been there and done it so I wanted to hear what he had to say."
It was still a surprise, though, when Scholes' wide-ranging criticisms of Arsenal, after their dispiriting 2-2 home draw with Swansea City in March, focused in on Wilshere. Scholes said Wilshere had not really progressed since he was a 17 year-old. "It was a bit strange and out of the blue. I remember watching it, he was having a go at Arsenal, and I was thinking 'Is he going to come for me?'
"If it had come from a rubbish player, I could say 'what are you talking about?', but it came from Paul Scholes, so I wanted to get to the bottom of it. I don't think it hurt [too much]. You live in a world of football where you get criticised all the time. I hurt a bit more when he did it [though]."
So Wilshere, now 22, asked Gary Neville – his England coach and former United team-mate of Scholes – for his idol's number. Neville obliged but asked Wilshere to "just go easy on him". Wilshere wanted to learn though, not argue.
"We had quite a good chat," said Wilshere, who agreed with some of Scholes' assessment. "He was right in a certain way. When I first burst on to the scene there was all this noise, and then I got injured. I have had bad luck with injuries but I can't keep saying I've been injured a lot. There comes a time when you stop being a kid and I think that's what he's referring to. You have all this potential, but you have to start putting that potential in."
Although his season has been disrupted by lingering ankle pain and then his broken foot, Wilshere insisted that he is moving in the right direction and becoming more decisive in the final third: "This season I have improved a lot, scored a few more than I have in the past and got a few more assists. You can keep the ball and you can look good, but it is those stats that matter. That is what I have to build on."

Wilshere had been improving until, during the Wembley friendly for England against Denmark on 5 March, he went into a tackle with Daniel Agger which he now admits was "70-30 in Agger's favour". Although he did not realise it at the time, Wilshere suffered a hairline fracture to the navicular bone in his left foot.
"When I first did it, I walked it off and I carried on for 40 minutes," Wilshere said. "After the game I had a scan straight away and it didn't show anything. The doctor couldn't see it and I had to go to someone who specialises in reading scans. Next day I woke up and had about six missed calls from the doctor and I thought 'oh no'."
Wilshere wondered if he might miss the World Cup. "When I first did it, I wasn't thinking about the FA Cup final – it's not until you are in the semi-final that you start thinking about that – it was more about the World Cup.
"I saw the specialist and he said it would take six weeks. It took a few days to get my head round it. I went away, cleared my head and then came back. I've been in that position before. I know what it takes. It takes a lot of work in the gym to keep fitness levels up, on the bike, and that gives you a better chance when you come back."
Wilshere was keen to return to playing but Arsène Wenger stayed patient while Arsenal physio Colin Lewin stayed in regular touch with his cousin Gary Lewin, his counterpart with England. After a few weeks back in training once the injury had healed, Wilshere eventually returned to competitive football, after nearly 10 weeks out, with 30 minutes from the bench at Carrow Road last weekend.
"It was nice to play on Sunday," Wilshere said. "It's always nice when you are back in the squad and you can get on the pitch. I felt alright. I know it takes a few games."
The next day Wilshere was named in Roy Hodgson's 23-man World Cup squad, as one of the many promising young players for whom France '98 is only at the very start of their football memories.
"It's a nice feeling to be part of that," said Wilshere. "You've seen other countries do it [putting the emphasis on youth] in the past. Like Germany, they look really strong. There's young players – before we talk about inexperience – there's players who have played a full season in the Premier League. They are not that inexperienced. They have learnt at the top level and proved themselves at the top level."
Phil Jones, Ross Barkley, Alex Oxlade-Chamberlain, Danny Welbeck and Jordan Henderson are all in the England squad and in their early twenties as well. Wilshere feels very close to them. "The togetherness is important as well," Wilshere said. "We're all young. A lot of us have played together at under-21 level. We get on well. The younger players will stick together. [Steven] Gerrard's 34, we all get on with him, respect him, [but] the younger players understand each other a bit better off the pitch."
Odd guys: Arsenal stars to wear mismatching boots at Wembley
As modern football gets faster and harder, teams are looking further for a new edge. There are advances in conditioning, scouting and data analysis as top clubs resemble sub-divisions of Nasa. But what about some good old-fashioned deception?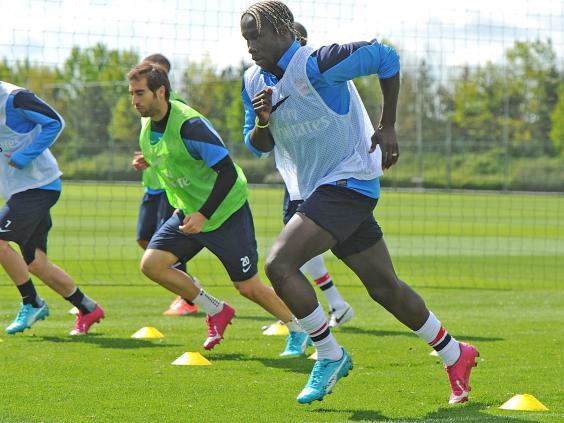 Six Arsenal players will wear new Puma boots on Saturday – pink on the right foot, blue on the left – presumably in the hope of confusing their opponents, who are left trying to match boot to player, in a whirl of swirling colour. Who could argue that Arsène Wenger has slipped behind the times?
Reuse content