Of all the ways England teams, male and female, have contrived to go out of various World Cups over the years none has been as cruel as this. England's women, producing their best performance of the tournament, seemed on the brink of knocking out the holders and reaching their first World Cup final, when Laura Bassett conceded an injury-time own-goal. The Notts County centre-half, who has had an outstanding World Cup, was attempting to cut out a cross.
Having traded penalties in the first half – both contentious, England's scored by Fara Williams - the Lionesses emerged the stronger in the second period. They twice struck the woodwork and missed good chances.
Japan now play the United States in a repeat of the 2011 final, while England must lift themselves to play Germany in a third-place play-off on Saturday they are unlikely to relish.
"It is heartbreaking," said Mark Sampson, England's manager, for once almost lost for words. Regaining his composure, and finding the right words, he added: "Laura Bassett has been courageous, strong, kept this group together, she didn't deserve that. She'll be looked upon as hero, the Laura Bassett who headed and blocked.
"I told the girls it is OK to cry. They left everything on the field, they could not give anymore. I am so proud of them. They have inspired a nation."
Sampson had once more tinkered with a winning team, though on this occasion it may well have been enforced. The sole change was the replacement of Karen Carney, one of the England's key players, by Toni Duggan. Carney has had a back problem that has not been helped by the hard artificial pitches.
Duggan's inclusion meant there were five players in the England team from Manchester City, currently mid-table in the FA Women's Super League. There were two from leaders Chelsea and none from second-placed Arsenal, who for many years provided the bulk of the side.
The Japanese included eight players who had started the semi-final in 2011, when they beat Sweden 3-1, before going on to defeat the United States in the final. In their ranks were Shinobu Ohno, briefly of Arsenal, and former Chelsea player Yuki Ogimi.
England almost made a sensational start when, after just 35 seconds, Jodie Taylor worked an opening and shot just past the far post.
It proved a misleading opening as the game quickly became a tight affair with both sides reluctant to over-commit. As anticipated Japan built patiently, passing short while England were more direct. But in both cases good positions were squandered by a poor final ball.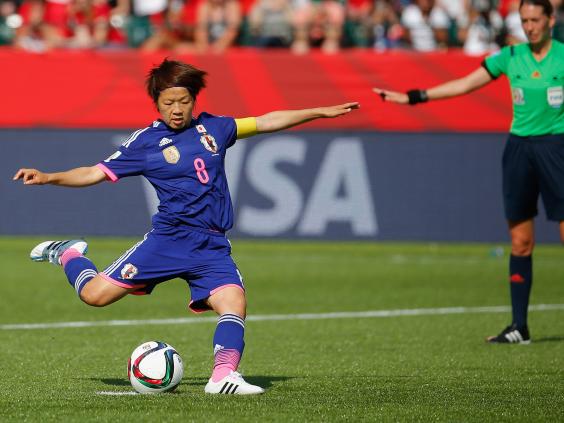 The breakthrough was thus unexpected. Japan, for once, played long and early sending full-back Saori Ariyoshi behind Claire Rafferty. Ariyoshi's first touch actually slowed her down, allowing Rafferty to chase her down only to push her in the back. The offence looked outside the box but, as so often in this tournament, the official, having been given no assistance by her assistant, made the wrong call.
Aya Miyama, the skipper, took an age over her kick, but despatched it clinically. England, for the eighth match in succession, had failed to keep a clean sheet.
They responded boldly, pushing forward, and within minutes forced a penalty of their own. This was also controversial. Turning towards a loose ball following a corner Steph Houghton plunged to the ground after the slightest of touches by Yuki Ogimi on her ankle and hip. Following the clear dive of France's Claire Lavogez in the quarter-finals, this rather suggested that when the  stakes are high in women's football they will resort to the same skullduggery as the men.
Unlike Lavogez, Houghton did gain a penalty. Fara Williams, who did not take a kick in the infamous shoot-out defeat to France in the 2011 World Cup quarter-final, tucked this one away.
The pattern of play resumed after the break, interrupted only by Ellen White replacing Taylor, who is recently back from surgery and was tiring. The move seemed to give England extra impetus as within minutes Duggan hit he bar with a twisting volley form the edge of the box, then White forced a flying save from Ayumi Kaihori.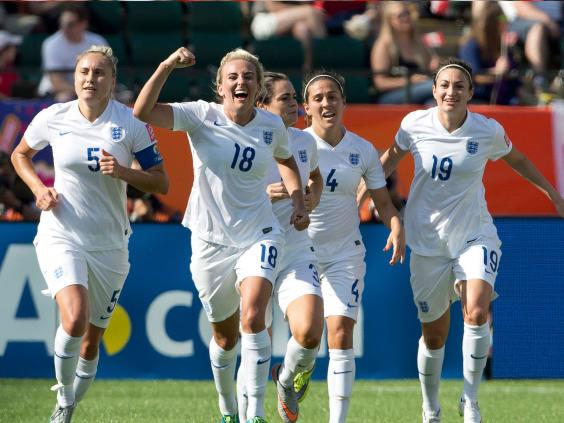 The best chance, however, fell to Jill Scott who flashed a close-range header wide from Williams' 65th minute corner.
Mana Iwabuchi arrived to provide Japan with a similar boost but was soon marked by the equally fresh legs of Alex Scott after Lucy Bronze pulled up lame. From the other flank a mis-hit Rafferty cross frightened Kaihora by landing on her crossbar.
With five minutes of normal time remaining Sampson played his third and final card, bringing on Carney, fit to play some part if not a whole game, for Williams, who has also been carrying an injury.
Extra time loomed, then as Bassett attempted to cut out a rare Japanese foray she inadvertently looped the ball over Bardsley and into her own goal off the bar. Japan were in the final, England were in tears.
Japan (4-4-2): Kaihori; Ariyoshi Iwashimizu, Kumagai, Sameshima; Kawasumi, Sakaguchi, Utsugi, Miyama; Ohno (Iwabuchi, 70), Ogimi,
England (4-2-3-1): Bardsley; Bronze (A Scott, 76), Houghton (C), Bassett, Rafferty; Williams (Carney, 85), Moore; J. Scott, Chapman, Duggan; Taylor (White, 60).
Referee A-M Keighley (New Zealand)
Woman of the match Moore
Attendance 31,467
Match rating 7/10
Reuse content