Dawn is breaking as a young woman runs through a park. Stirring music plays as she describes the sacrifices she and her mother made to enable her to get to where she is, an England footballer preparing to play in the World Cup.
Her story is emotional and inspiring, but watching it now is also poignant. Jess Clarke shot the video, part of Continental Tyres' #roadtoCanada series, in the spring. But when England manager Mark Sampson picked his World Cup squad in May Clarke was not in it. Her road to Canada ended on the settee, stranded on 49 caps, watching her team-mates on television. All her mum's dead-end jobs, and her own nighttime bus journeys, had not paid off. Not this time.
On Sunday, however, Clarke is in Estonia, part of an England squad preparing for their first match since coming third in the World Cup, Monday's European Championship qualifying tie in the Baltic state. Clarke's response to rejection was to work harder, and her form with Notts County has been rewarded with an England recall.
Women's World Cup - in pictures
Women's World Cup - in pictures
1/11 1)

Celia Sasic celebrates with her Germany team-mates after scoring a hat-trick in a 10-0 win over the Ivory Coast

Getty Images

2/11 2)

Angie Ponce (sitting) scored two own goals as Ecuador were beaten 10-1 by Switzerland

Getty Images

3/11 3)

England manager Mark Sampson was furious after France midfielder Camille Abily went unpunished for an elbow on Laura Bassett

Getty Images

4/11 4)

Fran Kirby celebrates after a superb individual goal gave England their first win of the campaign

Getty Images

5/11 5)

England secured their passage into the last-16 with a 2-1 win over Colombia

Getty Images

6/11 6)

Kyah Simon shocked the world as Australia beat Brazil 1-0 to knock one of the favourites out of the competition

Getty Images

7/11 7)

Lucy Bronze scored a stunning long-range goal against Norway to put England into the quarter-final

Getty Images

8/11 8)

Lucy Bronze was on target again as England upset hosts Canada with two goals in the first 15 minutes

Getty Images

9/11 9)

The US won the clash of the titans against Germany to book their place in Sunday's final

Getty Images

10/11 10)

Laura Bassett after scoring an injury-time semi-final own goal against Japan

Getty Images

11/11 11)

US players celebrate after beating Japan to win the World Cup

GETTY
"I'm delighted to be back," she said. "It was a dark time for me [not being selected], but it is a fresh start now."
Former international Sue Smith wrote this week in Women's Football Weekly, that she called Clarke after the announcement to tell her "I'm really sorry," only to be told: "It is alright. I am going to work really hard and get myself back in." Which, Smith noted, "is what she has done".
"It is important to know have that belief you can go away, bounce back, and let your football do your talking," said Clarke, 26. "That's what I tried to do, enjoy the game and get back to basics.
"I watched the [World Cup] games, some were late but I was up watching it, supporting the girls. Even though I was not there I was part of the squad for a year so I felt I helped them along the journey and was a part of the team. I knew the girls, their personalities, so I was cheering them on from the settee. They did fantastically well. They lifted the profile of the women's game and really set the bar high. It is about building on that now."
As a youngster growing up in Leeds – but unusually supporting Manchester United - Clarke had no idea women's football even existed as a sport in its own right.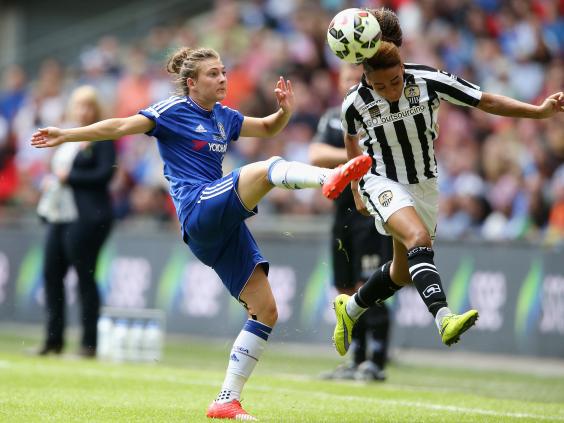 "I played with the lads at school and just thought I'd end up playing with Ruud  van Nistelrooy at Man United. My schoolteacher put me on the right path. She helped me get trials at Leeds and I took it from there."
Earlier this year Clarke appealed in the Yorkshire Post to re-establish contact with that teacher so she could thank her and has now done so. They are yet to meet again but Clarke said, "when we do it will be emotional. I can honestly say but for her I don't think I would be playing now."
Joining Leeds was only the start of the struggle. Clarke came from difficult circumstances and getting to training was an issue once Mrs Munro, who had provided lifts, left the area.
"I come from a one-parent background and there was not a lot of money. My mum had me very young, 16. I'm mixed race - that probably wasn't accepted as much then as it is now and my mum had to leave the family home, and school, and brought me up on her own. The way I see it she sacrificed a lot to bring me up the best she could and she lives her dreams though me."
Mum Carol did, said Clarke, "whatever put food on the table – cleaner, cook, grafting jobs that people have to do, probably not earning a lot of money". This often involved shift-work so the young Jess would get the bus alone across Leeds to training and back. Even if her mum was not at work the journey was still by bus, the family could not afford a car.
Football proved her escape route, Clarke earning a place at Loughborough on the development scheme Hope Powell created. Still, though, she would come home to Leeds at weekends. "I would work Saturdays in a hotel to get money for driving lessons, then play on Sundays. Then more money came into game for female footballers and I was able to save up and buy a car. It was one of the best days of my life."
When the Women's Super League arrived Leeds failed to get a franchise and a good team was broken up. Clarke went to Lincoln, which mutated into Notts County, and was part of the team that last month lost the first Women's FA Cup final to be staged at Wembley, 1-0 to Chelsea. 
"It was great to be a part of history and while we did not get the result we wanted you are not always going to win, it is how you respond to a loss," said Clarke.
Such comments are standard fare for defeated athletes, and often meaningless, but coming from Clarke, with her history of bouncing back, they have the ring of authenticity.
Reuse content