Joe Hart has indicated that he does not feel the need to change his way of goalkeeping to win over Manchester City manager Pep Guardiola, declaring in his first in-depth interview since the Spaniard indicated he was unimpressed with him that he has to "think selfishly about the whole thing and try to be what I'm capable of being."
In a wide-ranging discussion which makes it obvious that he feels there is no way back to City for him now, Hart avoided mentioning Guardiola by name and passed up several opportunities to say that he would seek to evolve into a more proficient 'keeper-sweeper.'
Asked whether he, like Guardiola, felt there were two distinct styles of goalkeeping, Hart said: "I don't know. I have to think selfishly about the whole thing and try to be what I'm capable of being. People have their opinions and will make statements on how things are and what they are.
"They might be right; they might be bang on. Some people you struggle to argue with – they've got a lot of strong backing to what they say and what they do. But I can only really look after me. I'm always looking, I'm always watching – I see new ideas, I like new ideas and I've got to work to my capabilities. Whatever I'm capable of, I need to be the best I can."
Hart was also asked whether he felt he needed to change his game but replied to say his future entailed finding a manager who valued him, rather than seek to win over one who did not have a "great opinion" of him.
Hart said: "Football is a game of opinions and some people have a great opinion of me and some people probably think I'm absolutely useless.
England vs Malta player ratings
England vs Malta player ratings
1/11 Joe Hart - 6 out 10

Had next to nothing to do. Delivered when called upon late in the game.

Getty

2/11 Kyle Walker - 7

Up to his usual tricks bombing down the right flank, delivering multiple balls into the box. Untested on the back foot.

Getty

3/11 John Stones - 6

Composed on the ball and enjoyed a surging run or two down the centre of the park. Faced no real challenges with Malta's front line.

Getty

4/11 Gary Cahill - 6

Like his partner, never really put out of his comfort zone. Showed some good cover play.

Getty

5/11 Ryan Bertrand - N/A

Exited early through injury.

Getty

6/11 Wayne Rooney - 5

Mediocre performance. Distributed well to the flanks with inch-perfect precision but rarely pressed forward when he needed to.

Getty

7/11 Jordan Henderson - 7

Created chances with his probing balls into the box and ventured into Matla's final third to link up neatly with his teammates.

Getty

8/11 Dele Alli - 6

Missed a series of chances throughout but made up for it with his goal.

Getty

9/11 Jesse Lingard - 5

Struggled to deliver on the occasion. Missed too many chances. Marcus Rashford would have given England more.

Getty

10/11 Theo Walcott - 5

Quiet throughout. Didn't see much of the ball and missed his only opportunity in front of goal.

Getty

11/11 Daniel Sturridge - 6

Took his goal well to get England off the mark. A busy presence at times around the opposition box but occasionally went missing.

Getty
"Unfortunately for me, one of the guys' opinions in charge of my club at the time wasn't as strong as it needed to be. So I needed to find someone who had an opinion of me who thought I could help their team. I need to improve and improve all the time because I'm still learning the game and the game is changing all the time."
Asked whether the challenge now was to change opinions about his ability to operate well with the ball at his feet, as well as operate as a shot stopper and commanding aerial presence, the 29-year-old said: "Not really. I've got quite a few people who I hold close to my heart and I trust and a lot of footballing opinions that I care about.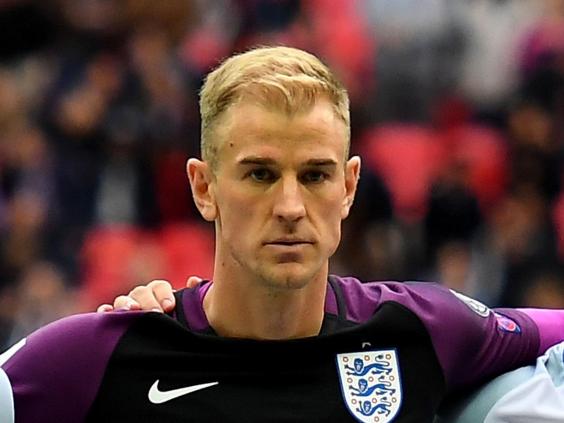 "But it's hard to please everyone and I learned quite early that that's never going to happen. So I've got my people who I trust and whether I'm right or wrong is to be debated. But in terms of changing everyone's opinions and making everyone think I'm great, you're not going to win. You can't win."
Hart did not seek to disguise that the move to Torino came because of the precious few options available to him when Guardiola dropped him at the start of the season and moved for Claudio Bravo from Barcelona.
"It was what it was," he said of the move. "I'm not going to lie, I wasn't sat there with 25 options. I wasn't."
Asked if it was a realistic goal to return to City after this season, Hart said: "I'm at Torino for this season and it's hard to look past these internationals. I love football and I love to play and I want to play until I physically can't – whatever age that is."
Reuse content