Trophies won and pound notes banked are the standard measures of achievement in sport. There is another: the impressions left behind, priceless memories that ensure the significance of winning moments are classified eternal and shared by all.
The first two on the above list do not necessarily beget the third. And so England batsman Alex Hales tweets a love letter to Jonny Bairstow, thanking the Yorkshire hammer for making Saturday the best day of his life. He even sealed it with a kiss. This kind of emotional eruption was rarely seen under previous regimes.
Clearly it was not the win but the manner of it, brought about by the new spirit of adventure sweeping through English cricket. For this, credit must go to Paul Farbrace, first lieutenant in the new coaching set-up and responsible for  creating the can-do culture while we await the arrival of head honcho Trevor Bayliss from Australia.
The transformation since the disaster of the World Cup earlier this year has no equal in English sport. Yes, Farbrace has shuffled his pack and introduced the odd new face, but the extraordinary one-day series win against the World Cup finalists, who blew England away Down Under just a few months ago, was achieved principally with players we and the New Zealanders had  met before.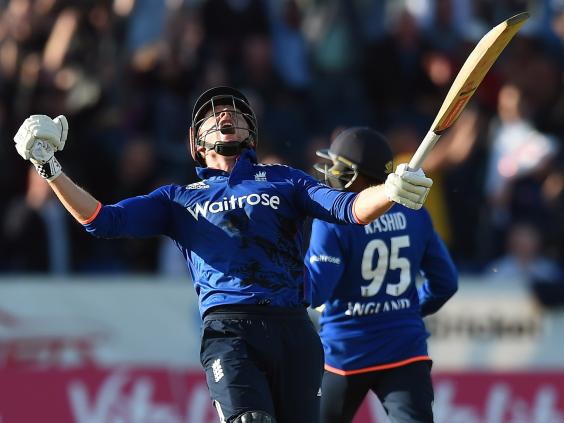 Dale Carnegie had nothing on this with his power of positive thinking. Not only has the attitude shift taken the players to heightened levels of performance, it has been met with a commensurate hike in engagement. The punters love it. And it begs the question that if England's lame duck cricketers can morph into superheroes then why not our footballers?
Thus, the time has come to reach for those capes and start flying. The Farbrace phenomenon lays to rest the idea that underachievement is simply a matter of technique, a criticism pinned to the tails of the English football donkey for the best part of half a century. Look around Roy Hodgson's England dressing room and there are a few in there that coaches past would have loved in their teams.
Jack Wilshere did not become a fantastic talent with his two goals against Slovenia. He always has been. Young lads like Raheem Sterling, Alex Oxlade-Chamberlain, Adam Lallana, Ross Barkley, Theo Walcott and Daniel Sturridge can all play.
Neither would you kick Harry Kane, Nathan Redmond and James Ward-Prowse (or the injured Saido Berahino) – all presently engaged with the England Under-21s – off your fantasy team, either. So let's create the environment that allows England to go after teams, to express themselves, to play without fear.
It won't happen every time, as England's cricketers demonstrated in the third one-dayer, trying to smash every ball to smithereens, but meld enterprise with experience and then see what happens. We saw a little of it in the second half against Slovenia, a fine first goal from Wilshere the catalyst to an even better one, and arguably the finest 45 minutes under Hodgson.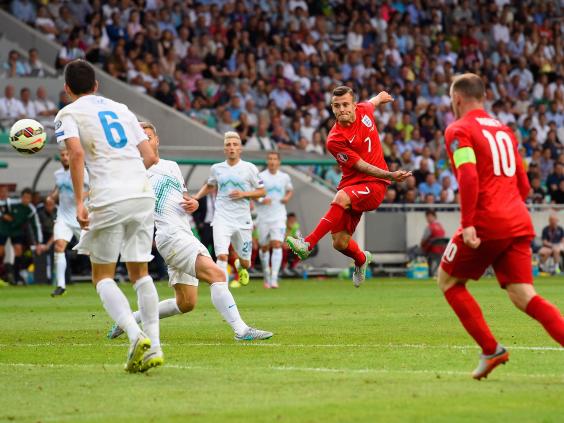 It even produced the kind of deadly finish we have not seen from Wayne Rooney in a long time, as England did what good teams must, respond positively to disappointment after conceding a late equaliser. "They don't like it up 'em" is an ancient English verse that came to express a backward, graft-heavy, finesse-free approach. And it held English football back for years. Yet at the same time it contains a kernel of truth that must be part of the new dawn.
Again, the reference is Farbrace and his swashbuckling cricketers, who discovered that the best way to secure victory is to put the opposition under pressure, not indiscriminately with hopeful heaves to leg, but through the intelligent and confident execution of a game-plan imaginatively conceived.
Now is the time for our footballers to pick up the baton, to press on, to step out of the straitjacket that has so hampered football's mother country, to think big and, above all, to believe. We know the old methods lead only one way – to failure. I can tell you from personal experience that won't wash with the next generation of England fans, brought up on wall-to-wall football from around the world.
I received a text from my son on Saturday imploring me to seek on YouTube the goal scored by Manchester United youngster Andreas Pereira for Brazil against Serbia at the Under-20s World Cup, a Messi-like weave and finish. This is the standard. These kids won't settle for anything less, and they can find it at the press of a button.
This is the challenge facing Hodgson. No more do I want to hear my son cite boredom as a reason not to watch the England national team. Hodgson must compel the youth of the nation to tune in,  as his comrade, Farbrace, has with our cricketers, creating memories that will last as long as we do.
Reuse content