Manchester United striker Robin van Persie has hit back at criticism of his international captaincy.
The Netherlands have started poorly in their Euro 2016 qualifiers and find themselves six points behind joint group leaders Iceland and Czech Republic.
With Van Persie also struggling in front of goal at Old Trafford, and United boss Louis van Gaal deciding not to name him United captain, some have questioned whether he should still lead the Oranje.
Van Gaal named Van Persie captain in 2013 and led the team to the World Cup semi-final in Brazil this summer.
"I have the feeling I'm in the middle of the group. The critics don't hurt me, because I get appreciated by people who can really judge," he said.

"I receive the appreciation and feel it every day. The Netherlands is a country with a lot of opinions. Those get harder and harder, increasingly ruthless. That's a trend. I have to deal with it.

"Everyone can have his opinion. That's the world we live in. I was chosen by Louis van Gaal on the basis of who I am and what I did and am doing. I don't see why I should change."
The 31-year-old did however say he felt "responsible" for the Netherlands' poor start - Guus Hiddink's team have already lost to Iceland and Czech Republic.
"As a player I feel responsible, that has nothing to do with me being captain. We want to win and that didn't happen," he said.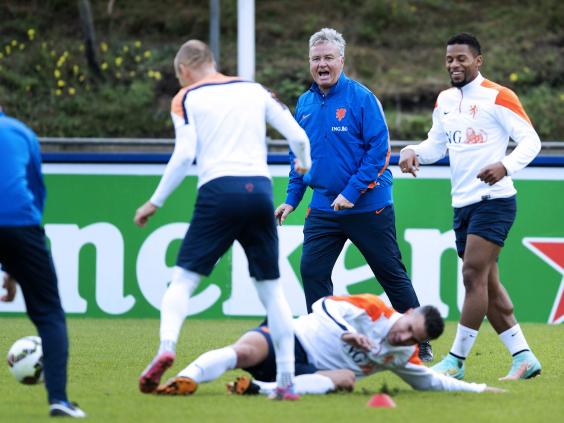 "We all feel responsible. We're winners and used to win. It's painful we're in this situation. We must give a good example, first Wednesday against Mexico and Sunday against Latvia."
Reuse content