Italy defender Giorgio Chiellini has made the shock announcement that he feels the four-month ban from all forms of football given to Luis Suarez is "excessive" after the Uruguayan was found guilty of biting the centre-back.
Chiellini posted a statement on his official website in which he claimed the ban – which also includes a nine-match ban for Uruguay and a 100,000 Swiss Franc fine (around £66,000) – brings him no happiness and he is sad to see Suarez's World Cup end prematurely.
"Now inside me there's no feelings of joy, revenge or anger against Suarez for an incident that happened on the pitch and that's done," said Chiellini. "There only remain the anger and the disappointment about the match.
 "At the moment my only thought is for Luis and his family, because they will face a very difficult period.
10 of the best Luis Suarez memes
10 of the best Luis Suarez memes
1/10 Apple logo

Is this how the Apple logo was formed?

2/10 Panini sticker

One for Suarez's sticker album

3/10 Muzzle

Is this the only solution?

4/10 The Hunger Games

A new film starring Suarez?

5/10 Bite of the Year

To go on the mantelpiece alongside his PFA and Football Writer's awards?

6/10 Hungry Hippo

To play on the plane home?

7/10 Technology

Fifa do keep boasting about their shiny new goal-line technology toy after all...

8/10 Jaws

Jaws 3?

9/10 Suarez Vision

Do this explain it?

10/10 Hannibal Lecter

Suarez's nickname when his played in the Netherlands was 'The Cannibal' after all...
"I have always considered unequivocal the disciplinary interventions by the competent bodies, but at the same time I believe that the proposed formula is excessive. I sincerely hope that he will be allowed, at least, to stay close to his team mates during the games because such a ban is really alienating for a player."
Chiellini's surprising show of support for the man that bit him comes after Fifa announced that they had to act on Suarez's latest controversy, having bitten opponents twice in the past.
"Such behaviour cannot be tolerated on any football pitch, and in particular not at a FIFA World Cup when the eyes of millions of people are on the stars on the field. The Disciplinary Committee took into account all the factors of the case and the degree of Mr Suarez's guilt in accordance with the relevant provisions of the Code. The decision comes into force as soon it is communicated," said Claudio Sulser, chairman of the FIFA Disciplinary Committee.
The Italian joins the clamours of support for Suarez, following comments from the Uruguayan President, World Cup legend Diego Maradona and his own grandmother in defending the banned Liverpool player.
Maradona is reported to have said: "Why? Who is killed? This is football, this is friction - why not send him to Guantanamo?" The Argentinian also wore a T-shirt with the wording "Luisito Estamos Con Vos" emblazoned across the front, which translates to "Little Luis we are with you".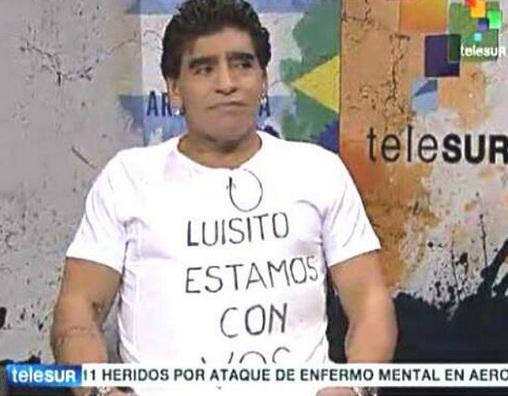 Suarez's grandmother, Lila Piriz Da Rosa, said that Suarez had been chucked out of the World Cup "like a dog", and blasted the tournament organisers for their 'barbaric' treatment of her grandson.
"Everyone knows what they've done to Luis. They wanted him out of the World Cup. Perfect, they did it. They chucked him out of there like a dog," Piriz told Reuters while she sobbed in an interview in Suarez's birth-town of Salto in north-west Uruguay.
"This was on purpose. They had their eyes on him to see what he does. It's barbaric what they've done to him.
"I'm his granny and I love my boy loads."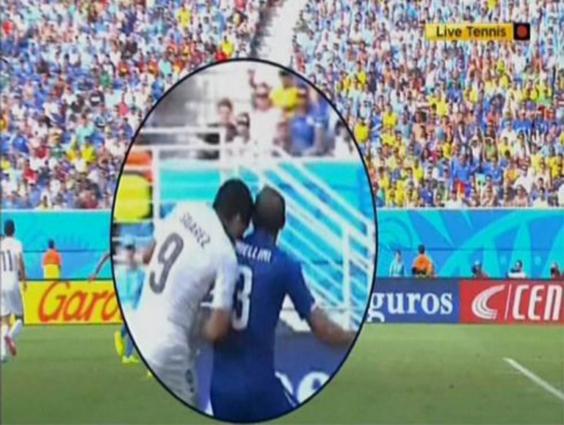 The Uruguayan federation (AUF) has already announced that they will appeal the ban, with the unanimous belief in Suarez's homeland that he has not done anything wrong..
"We are preparing our appeal now, we have three days to do it," said president Wilmar Valdez.
"It's an extremely excessive punishment, there was not enough evidence and I have seen more aggressive incidents recently.
"It's feels like Uruguay has been thrown out of the World Cup. We all know what Suarez means to Uruguay and to football around the world - not having Suarez would be a loss to any team."