After reigning champions Spain failed to qualify past the group stages, and Ghana were accused of match fixing, it seemed like the 2014 Fifa World Cup couldn't possibly get much weirder - then Luis Suarez appeared to bite Italy defender Giorgio Chiellini.
During a match against Italy, it looked as if the Uruguayan player head-butted Chiellini.
But he has since been accused of biting after the Italian pulled down his shirt to show deep teeth marks.
If a Fifa investigation proves the bite happened, it will be the third time that Suarez has attacked a fellow player in this way. Last year, he got a taste of Chelsea defender Branislav Ivanovic's arm.
In November 2010, during a clash between Ajax and PSV Eindhoven players, Suarez bit Feyenoord midfielder Otman Bakkal on the neck.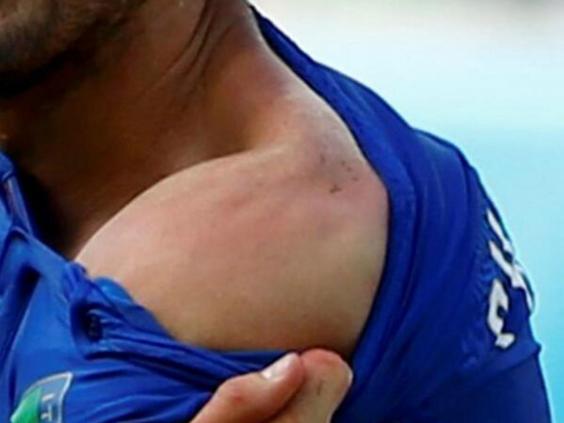 Athletes biting their opponents
Athletes biting their opponents
1/8 Athletes who bite

Former Heavyweight boxing champ Mike Tyson attends the fight between Miguel Cotto and Sergio Martinez on 7 June, 2014 at Madison Square Garden in New York City.

Rich Schultz/Getty Images

2/8 Athletes who bite

Pictured on 28 June 1997, referee Lane Mills (left) steps in as Evander Holyfield (right) reacts after Mike Tyson (centre) bit his ear in the third round of their WBA Heavyweight Championship Fight at the MGM Grand Garden Arena in Las Vegas, Nevada. The incident saw Tyson fined £2million and banned for life.

3/8 Athletes who bite

Dereck Chisora is pictured during a press conference to announce a final eliminator for the WBO world heavyweight chamoionship between Dereck Chisora and Tyson Fury at the Landmark Hotel on March 17, 2014 in London, England.

Andrew Redington/Getty Images

4/8 Athletes who bite

Paul Butlin holds his ear after Derek Chisora bit him during a match in Munich, German. The incident led to Chisora receiving a £2,500 fine and a four month ban.

YouTube/Sky Sports

5/8 Athletes who bite

Toronto FC player Jermain Defoe arrives at the 2014 MuchMusic Video Awards at MuchMusic HQ on June 15, 2014 in Toronto, Canada.

Sonia Recchia/Getty Images

6/8 Athletes who bite

Jermaine Defoe of Tottenham leans in to bite West Ham's Javier Mascherano during a match at White Heart Lane in 2006. At the time, Defoe said the incident was "blow out of all proportion". The FA decided not to punish Defoe.

YouTube/BBC

7/8 Athletes who bite

Alex Burrows of the Vancouver Canucks skates with the puck during the a Canadian National Hockey League game against the Phoenix Coyotes at Jobing.com Arena in March 2013.

Christian Petersen/Getty Images

8/8 Athletes who bite

Alex Burrows of Vancouver Canucks appears to bite Boston Bruins' Patrice Bergeron at Canada's National Hockey League Stanley Cup Finals in 2011. Burrows denied he bit his opponent, and the incident was never proven.

YouTube
But he is not the first player to sink his teeth into another opponent. Above is our run down of athletes pictured looking completely harmless – followed by a shot of them appearing to take a bite into their opponents when tournaments get heated.
Reuse content