Uruguay's President Jose Mujica weighed into the global controversy over footballer Luis Suarez on Wednesday, saying it was unfair to judge him retrospectively for biting an Italian player when other incidents went unreviewed.
"We didn't choose him to be a philosopher, or a mechanic, or to have good manners - he's a great player," said Mujica, echoing the protective attitude towards the brilliant but volatile striker felt around his homeland.
"I didn't see him bite anyone. But they sure can bash each other with kicks and chops," he added to reporters.
Suarez, one of the world's best forwards whose team is in the last 16 at the World Cup, is awaiting global soccer body FIFA's judgement on Tuesday's incident when TV footage showed his mouth on the shoulder of Italian defender Giorgio Chiellini.
Luis Suarez: His controversial career in pictures
Luis Suarez: His controversial career in pictures
1/28 August 2006

Heads to Europe to join Groningen from Uruguayan side Nacional. Scores 10 goals in 29 league games.

GETTY IMAGES

2/28 August 2007

Joins Dutch giants Ajax from fellow Eredivisie side Groningen for €7.5 million. Finishes 2009-10 season with an incredible 49 goals in just 48 games.

GETTY IMAGES

3/28 February 2007

High followed by low. Suarez makes his international debut for Uruguay against Colombia but was sent-off in the final minutes after being shown a second yellow card for dissent.

GETTY IMAGES

4/28 November 2007

Fined by Ajax along with Albert Luque after an altercation in the dressing room at half-time in the match against fierce rivals Feyenoord.

GETTY IMAGES

5/28 July 2009: Named Ajax captain by manager Martin Jol after team meeting.

Named Ajax captain by manager Martin Jol after team meeting.

GETTY IMAGES

6/28 May 2010

Finishes season as Eredivisie top scorer with 35 league goals in 33 games. Named Ajax Player of the Year for the second straight time and Dutch Footballer of the Year for 2009-10 season.

GETTY IMAGES

7/28 July 2010

During the 2010 World Cup quarter-finals, Suarez prevented Ghana's Dominic Adiyiah's goal-bound effort with a deliberate handball on the line in the final-minute and was subsequently sent off. A penalty was awarded but missed by Asamoah Gyan with footage showing an elated Suarez celebrating. Uruguay eventually went through following a penalty shoot-out to reach semi-finals. Became a national hero

GETTY IMAGES

8/28 November 2010

Suarez was handed a seven-match ban by the Dutch FA and fined by his club for biting PSV midfielder Otman Bakkal during an Eredivisie match.

GETTY IMAGES

9/28 January 2011

Moves to Liverpool from Ajax for £22.8m. Suarez scored 111 goals in 159 games for Ajax. He makes an immediate impact against Stoke on his debut on February 2 as he comes off the bench to score in front of the Kop in a 2-0 win. He finishes 2010-11 season with four goals in 13 games as Liverpool finish sixth.

GETTY IMAGES

10/28 July 2011

Wins Copa America with Uruguay. Named player of the tournament.

GETTY IMAGES

11/28 October 2011

Involved in a tackle with Everton's Jack Rodwell and goes down with apparent minimal contact. Rodwell was then sent off.

GETTY IMAGES

12/28 October 2011

Suarez was alleged to have racially abused Manchester United's Patrice Evra during a Premier League match. Suarez was later found guilty by an independent regulatory commission and banned for eight matches and fined £40,000.

GETTY IMAGES

13/28 December 2011

Was seen making an offensive gesture towards Fulham fans. Handed a further one-match ban for the gesture.

GETTY IMAGES

14/28 February 2012

United and Liverpool met again at Old Trafford, but more controversy followed as Suarez refused to shake Evra's hand before kick-off.

GETTY IMAGES

15/28 February 2012

Wins his first trophy with Liverpool after 3-2 win on penalties against Cardiff City in the Carling Cup following 2-2 draw. Liverpool finish the season in eight place with Suarez scoring 11 league goals. In August he signs a new long-term contract.

GETTY IMAGES

16/28 August 2012

Named as Uruguay captain for Summer Olympics. Suarez fails to score as Uruguay are eliminated in first round.

GETTY IMAGES

17/28 September 2012

Suarez scores a stunning hat-trick as Liverpool thrash Norwich 5-2 at Carrow Road.

GETTY IMAGES

18/28 October 2012

Celebrated a goal against Everton by diving in front of Toffees boss David Moyes who had earlier claimed that "divers" such as Suarez were putting fans off the English game.

GETTY IMAGES

19/28 January 2013

More controversy as a clear handball preceded his winning goal for Liverpool as they defeat Mansfield Town 2-1.

GETTY IMAGES

20/28 March 2013

Suarez punches Gonzalo Jara during Uruguay's World Cup qualification defeat against Chile. The referee missed the incident.

21/28 March 2013

Suarez bites the arm of Chelsea defender Branislav Ivanovic at Anfield. Liverpool fined the defender before he was banned for 10 matches

GETTY IMAGES

22/28 May 2013

After days of hints over an exit, during a press conference in Uruguay Suarez confirms he wishes to leave Liverpool, blaming press intrusion for he desire to go. Despite strong interest from Arsenal, Liverpool refuse to let him leave

GETTY IMAGES

23/28 December 2013

Suarez performs the ultimate U-turn on his push for a summer exit by signing a new long-term contract to remain at Anfield. "I am so proud to represent them and go out to do my best for them every time I pull on the shirt," he says.

Getty Images

24/28 January 2014

Suarez goes down easily after Aston Villa goalkeeper Brad Guzan comes charging out of his goal, with referee Jon Moss giving the penalty

GETTY IMAGES

25/28 May 2013

Suarez hides his face after he is left in tears following the 3-3 draw with Crystal Palace that cost Liverpool the Premier League title

Getty Images

26/28 May 2014

But Suarez does secure silverware as he wins the Golden Boot via his 31 Premier League goals, as well as the PFA and Football Writers' Player of the Year awards after he appears to have ditched his controversial ways.

GETTY IMAGES

27/28 May 2014

Suarez leaves hospital in Uruguay after having surgery on his injured meniscus in his right knee just a month before the World Cup begins

Reuters

28/28 June 2014

Suarez is accused of biting Italy's Giorgio Chiellini during Uruguay's 1-0 victory in the World Cup

Getty Images
The Liverpool player has been punished twice in the past for biting, and also for racism. He earned notoriety at the last World Cup for a handball on the line against Ghana, denying the Africans a certain goal and spot in the semi-finals.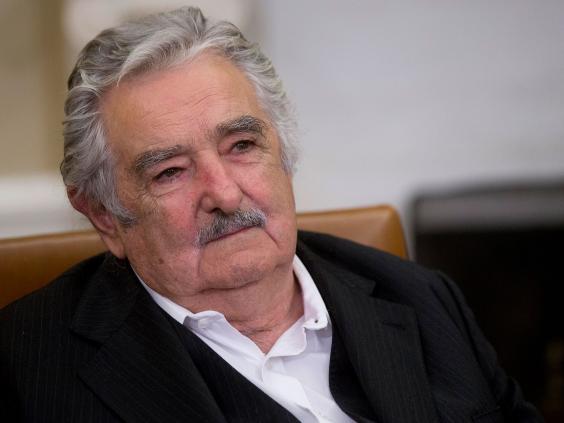 Many Uruguayans believe the global reaction against him, though, is over-the-top and hypocritical.
"In football, I was taught that you obey what the referee says," Mujica said.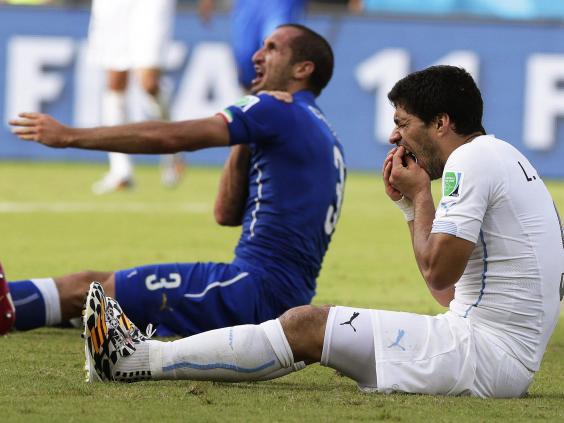 "If we're going to take decisions in football based on what TV says, then there are loads of penalties and handballs you'd have to give that weren't given, so bad luck."
Uruguay captain Diego Lugano, at a news conference in the Brazilian city of Natal after a training session, was equally protective of Suarez and tackled one English journalist head on.
"It's clear that Uruguay's triumph doesn't make you happy, it's obvious on your face," said Lugano.
"I understand that the figure of Suarez sells because he's very charismatic ... I'm calm because I know that Luis will pick himself up and is going to have success in the World Cup. That's what people fear. They're right to fear that."
Reuters
Reuse content