Former Liverpool defender Jamie Carragher has admitted that the 2014 World Cup will be remembered for Luis Suarez's bite on Giorgio Chiellini as much as the 1982 tournament is remembered for Harald Schumacher's shocking collision that left Patrick Battiston unconscious.
Suarez faces a lengthy ban after he was accused of biting an opponent for the third time, with Chiellini displaying marks on his shoulder after clashing with the striker during Italy's 1-0 defeat to Uruguay on Tuesday.
Suarez's former team-mate Carragher has had his say on the matter, in which he admits that he is struggling to comprehend why he resort to such an act during a football match.
Writing in his exclusive column for the Daily Mail, Carragher said: "I still find the incident in Natal completely bizarre. I worked with Luis every day for two-and-a-half years at Liverpool and if you spent time in his company at Melwood, you would struggle to believe he was capable of such ridiculous moments.
"He's a quiet lad, in the main. He's not someone who squares up to people on the training ground if things don't go his way and he's not overly-aggressive or a bully. Yes, his desire to win is fierce but that is no different from a lot of top professionals.
"I hardly saw the West Germany goalkeeper [Schumacher] play but mention his name and I know immediately he was responsible for the outrageous collision in the semi-final that left France midfielder Patrick Battiston unconscious.
Luis Suarez: His controversial career in pictures
Luis Suarez: His controversial career in pictures
1/28 August 2006

Heads to Europe to join Groningen from Uruguayan side Nacional. Scores 10 goals in 29 league games.

GETTY IMAGES

2/28 August 2007

Joins Dutch giants Ajax from fellow Eredivisie side Groningen for €7.5 million. Finishes 2009-10 season with an incredible 49 goals in just 48 games.

GETTY IMAGES

3/28 February 2007

High followed by low. Suarez makes his international debut for Uruguay against Colombia but was sent-off in the final minutes after being shown a second yellow card for dissent.

GETTY IMAGES

4/28 November 2007

Fined by Ajax along with Albert Luque after an altercation in the dressing room at half-time in the match against fierce rivals Feyenoord.

GETTY IMAGES

5/28 July 2009: Named Ajax captain by manager Martin Jol after team meeting.

Named Ajax captain by manager Martin Jol after team meeting.

GETTY IMAGES

6/28 May 2010

Finishes season as Eredivisie top scorer with 35 league goals in 33 games. Named Ajax Player of the Year for the second straight time and Dutch Footballer of the Year for 2009-10 season.

GETTY IMAGES

7/28 July 2010

During the 2010 World Cup quarter-finals, Suarez prevented Ghana's Dominic Adiyiah's goal-bound effort with a deliberate handball on the line in the final-minute and was subsequently sent off. A penalty was awarded but missed by Asamoah Gyan with footage showing an elated Suarez celebrating. Uruguay eventually went through following a penalty shoot-out to reach semi-finals. Became a national hero

GETTY IMAGES

8/28 November 2010

Suarez was handed a seven-match ban by the Dutch FA and fined by his club for biting PSV midfielder Otman Bakkal during an Eredivisie match.

GETTY IMAGES

9/28 January 2011

Moves to Liverpool from Ajax for £22.8m. Suarez scored 111 goals in 159 games for Ajax. He makes an immediate impact against Stoke on his debut on February 2 as he comes off the bench to score in front of the Kop in a 2-0 win. He finishes 2010-11 season with four goals in 13 games as Liverpool finish sixth.

GETTY IMAGES

10/28 July 2011

Wins Copa America with Uruguay. Named player of the tournament.

GETTY IMAGES

11/28 October 2011

Involved in a tackle with Everton's Jack Rodwell and goes down with apparent minimal contact. Rodwell was then sent off.

GETTY IMAGES

12/28 October 2011

Suarez was alleged to have racially abused Manchester United's Patrice Evra during a Premier League match. Suarez was later found guilty by an independent regulatory commission and banned for eight matches and fined £40,000.

GETTY IMAGES

13/28 December 2011

Was seen making an offensive gesture towards Fulham fans. Handed a further one-match ban for the gesture.

GETTY IMAGES

14/28 February 2012

United and Liverpool met again at Old Trafford, but more controversy followed as Suarez refused to shake Evra's hand before kick-off.

GETTY IMAGES

15/28 February 2012

Wins his first trophy with Liverpool after 3-2 win on penalties against Cardiff City in the Carling Cup following 2-2 draw. Liverpool finish the season in eight place with Suarez scoring 11 league goals. In August he signs a new long-term contract.

GETTY IMAGES

16/28 August 2012

Named as Uruguay captain for Summer Olympics. Suarez fails to score as Uruguay are eliminated in first round.

GETTY IMAGES

17/28 September 2012

Suarez scores a stunning hat-trick as Liverpool thrash Norwich 5-2 at Carrow Road.

GETTY IMAGES

18/28 October 2012

Celebrated a goal against Everton by diving in front of Toffees boss David Moyes who had earlier claimed that "divers" such as Suarez were putting fans off the English game.

GETTY IMAGES

19/28 January 2013

More controversy as a clear handball preceded his winning goal for Liverpool as they defeat Mansfield Town 2-1.

GETTY IMAGES

20/28 March 2013

Suarez punches Gonzalo Jara during Uruguay's World Cup qualification defeat against Chile. The referee missed the incident.

21/28 March 2013

Suarez bites the arm of Chelsea defender Branislav Ivanovic at Anfield. Liverpool fined the defender before he was banned for 10 matches

GETTY IMAGES

22/28 May 2013

After days of hints over an exit, during a press conference in Uruguay Suarez confirms he wishes to leave Liverpool, blaming press intrusion for he desire to go. Despite strong interest from Arsenal, Liverpool refuse to let him leave

GETTY IMAGES

23/28 December 2013

Suarez performs the ultimate U-turn on his push for a summer exit by signing a new long-term contract to remain at Anfield. "I am so proud to represent them and go out to do my best for them every time I pull on the shirt," he says.

Getty Images

24/28 January 2014

Suarez goes down easily after Aston Villa goalkeeper Brad Guzan comes charging out of his goal, with referee Jon Moss giving the penalty

GETTY IMAGES

25/28 May 2013

Suarez hides his face after he is left in tears following the 3-3 draw with Crystal Palace that cost Liverpool the Premier League title

Getty Images

26/28 May 2014

But Suarez does secure silverware as he wins the Golden Boot via his 31 Premier League goals, as well as the PFA and Football Writers' Player of the Year awards after he appears to have ditched his controversial ways.

GETTY IMAGES

27/28 May 2014

Suarez leaves hospital in Uruguay after having surgery on his injured meniscus in his right knee just a month before the World Cup begins

Reuters

28/28 June 2014

Suarez is accused of biting Italy's Giorgio Chiellini during Uruguay's 1-0 victory in the World Cup

Getty Images
"It was one of the most shocking incidents in World Cup history but, unfortunately, Suarez has put himself in that bracket after biting Giorgio Chiellini. Rather than being regarded as one of the finest forwards in the game, he's now simply known as the one who bites people."
Carragher went on to stress that while Suarez would be distraught with his actions, he is in no way defending the 27-year-old, whose actions he labelled "disgraceful" after everything Liverpool did to restore his reputation following his bite on Chelsea's Branislav Ivanovic.
The ex-defender-turned TV pundit explained how in his opinion, Suarez chose to bite Chiellini – and Otman Bakkal and Ivanovic in the past – because he felt he could get away with it.
"Luis will be distraught today," Carragher continued. "When he bit Branislav Ivanovic during a 2-2 draw with Chelsea in April 2013, in the days and weeks that followed you could see how much of an impact it had made on him. He was devastated, as was his wife, Sofia.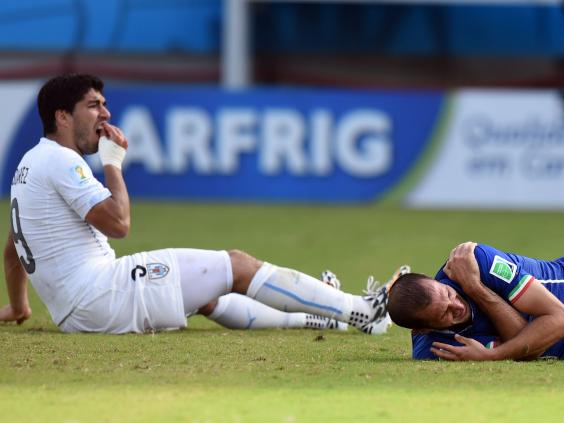 "Do not think, however, I am looking to defend him. I didn't when he tangled with Ivanovic and I'm not changing my view. Luis's actions have been disgraceful and it defies belief that he could behave as if he was in a playground once again after everything Liverpool have done for him.
"Could there be an element he felt he would get away with it?
"Think about it: why would you choose to bite someone? When the red mist descends on a footballer, you may expect a punch to be thrown, an elbow to be swung or even a headbutt but if you bite someone, it is virtually impossible to be detected by match officials. No referee will ever see you if you get in close enough and TV pictures may prove inconclusive."
Suarez is set to find out his fate later today when Fifa announce their verdict after hearing the defence from Uruguay's legal team on Wednesday night. Alejandro Balbi, a board member of the Uruguayan Football Association (AUF), has claimed that Suarez is the victim of a conspiracy from the English and Italians for helping to eliminate them from the World Cup as well as Brazilian media. He also went on to suggest Suarez came off worse than Chiellini.
AUF President Wilmar Valdez added that in his opinion there was not enough evidence to discipline the country's hero, who has been heavily defended by his compatriots, while the latest call of support came from Uruguayan President Jose Mujica, who said "I didn't see him bite anyone".
Carragher finished by admitting the incident could be the final straw for Liverpool, with interest reportedly coming from Real Madrid and Barcelona regarding a big-money transfer this summer.
"Now you get the feeling that Liverpool might actually be relieved if Barcelona or Real come in with a bid that triggers a move," he said. "If a lucrative offer arrives in the next few weeks, I am convinced Suarez will be playing his football somewhere else next season."
Reuse content