Do not blame Phil Jones. It was not his fault he was adrift as a midfield anchor in Turin last night. It was not entirely Roy Hodgson's either.
On the assumption that a deal was struck with Louis van Gaal not to start Michael Carrick, who has missed four months of the season with injury and only returned from his latest lay-off four weeks ago, he did not have many options at holding midfield. Indeed, in Carrick's absence earlier this season Hodgson played Jack Wilshere in  the role.
Nor was this new, only the identity of the patsy has changed. A previous friendly in this city, in the Stadio delle Alpi 15 years ago, is best known for caretaker-manager Peter Taylor making David Beckham England captain. Less well remembered is Jamie Carragher coming on as an early substitute and playing an uncomfortable hour as holding midfielder.
A month earlier Kevin Keegan, on what proved his last match as manager as well as England's last at the old Wembley, sent Gareth Southgate into the same void against Germany.
The English game used to breed midfield destroyers like Nobby Stiles and Peter Storey, but not any more. We like our midfielders with a bit of get-up-and-go, all-action heroes like Steven Gerrard.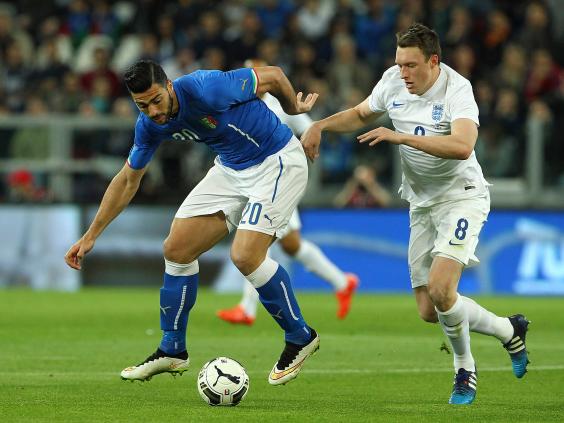 The men who do the job in the Premier League are generally foreign: Nemanja  Matic, Fernandinho and Fernando, Lucas Leiva, Mathieu Flamini, Morgan Schneiderlin, Carlos Sanchez,  Mile Jedinak.
Gareth Barry plays there, but his England days are over. So does Mark Noble at times, but it seems his England days will never arrive. Tom Huddlestone, meanwhile, has not been capped since 2010.
There have not been many English players like Claude Makélélé, and though there is an argument that Glenn Hoddle preceded Andrea Pirlo's redefining of the role, he was a one-off. Carrick, at present, is the best Hodgson has and England looked better balanced when he replaced Chris Smalling and Jones dropped back last night.
It was Jones's defensive inadequacies which were being mocked on social media last night, and the moment Giorgio Chiellini skipped past him like a latter-day Franco Causio to set up Graziano Pelle's goal will give him nightmares.
Italy 1 England 1 player ratings
Italy 1 England 1 player ratings
1/27 Gianluigi Buffon

Well beaten in the first half when Rooney's shot rattled against the crossbar. Difficult to criticise him for not stopping Townsend's rasping effort. 6

GETTY IMAGES

2/27 Andrea Ranocchia

Very effective in stifling the early runs of Walcott. 6

Getty Images

3/27 Leonardo Bonucci

Experienced defender but he did find himself being put under pressure by Kane and Rooney, a combination different to the one he came up against in the World Cup. 6

GETTY IMAGES

4/27 Giorgio Chiellini

Showed quick feet to send Jones the wrong way before he played a superb cross for Pelle to put Italy into the lead. Nearly embarrassed by Rooney though after misjudging the flight of the ball to let the England striker in. 7

GETTY IMAGES

5/27 Alessandro Florenzi

Exceptional performance while he was on the pitch. Strong and effective, he rarely made a mistake. 7

GETTY IMAGES

6/27 Marco Parolo

Played the entire 90 minutes and started to fade with 20 minutes to go as England attacked. 6

GETTY IMAGES

7/27 Mirko Valdifiori

Yet another impressive performance from the 28-year-old who has been exceptional for Empoli this season. 7

GETTY IMAGES

8/27 Roberto Soriano

Similar to Parolo, he played the entire match and looked jaded midway into the second half. 6

GETTY IMAGES

9/27 Matteo Darmian

Powerful on the left wing. Clyne found it difficult to track him. 7

GETTY IMAGES

10/27 Graziano Pelle

Used his sharpness to get ahead of Jagielka before he cleverly glanced his header beyond Hart. 7

GETTY IMAGES

11/27 Citadin Eder

Took a wild free-kick in the first half which went well over Hart's goal. 6

GETTY IMAGES

12/27 Best off the bench: Franco Vasquez

Made his international debut but it's one that he won't want to remember too much as he failed to worry England's defence when he came on. 6

GETTY IMAGES

13/27 Joe Hart

Beaten by a clever Pelle header. He made a fantastic reaction save to deny Eder in the second half. 6

GETTY IMAGES

14/27 Chris Smalling

A largely uninspiring match from the Manchester United defender before he was replaced by Carrick. The two long balls that found the Juventus Stadium crowd won't have impressed Arsene Wenger, who is supposedly interested in the young centre half. 5

GETTY IMAGES

15/27 Phil Jagielka

Did excellently to clear the ball when it looked as though Eder would tap home Darmian's cross in the first half. Could be argued that he should have got closer to Pelle for Italy's opener. 6

GETTY IMAGES

16/27 Kieran Gibbs

Lost a lot of bite when he was booked after just 30 minutes. He should have done better when a neat pass from Rooney allowed the Arsenal left-back time to compose himself but he could only shoot wide of Buffon's goal. 6

GETTY IMAGES

17/27 Jordan Henderson

Often went missing as England moved further up the pitch. He did tidy up well in the second half and he looks more and more composed each time the midfielder plays for either club and country. Replaced by Mason in the second half. 6

GETTY IMAGES

18/27 Phil Jones

Uncomfortable in the first half. He gave Chiellini far too much time on the ball in the build up to Pelle's opening goal. He settled down somewhat when he was put back in defence when Smalling was brought off and made a good tackle to stop Immobile getting further towards Hart's goal in the second half. 6

GETTY IMAGES

19/27 Fabian Delph

Again, as he did against Lithuania, he was chosen by Hodgson to start. Although he proved to be no lethal weapon here, he did hold the midfield together well. 6

GETTY IMAGES

20/27 Wayne Rooney

Hit the bar in the first half. Connected the midfield and the attack effectively. Supplied Walcott with a superb cross. Should have done better with chances in the second half. 7

GETTY IMAGES

21/27 Theo Walcott

His first start for England in 18 months. His runs on the left were poor and rarely did he cause the Italian defence any problems. He was replaced by Barkley on 55 minutes. 5

GETTY IMAGES

22/27 Harry Kane

Against the likes of Chiellini and Bonucci, it was always going to be a little more difficult for the Tottenham striker than it was against Lithuania. He should be happy with his contribution, though. He linked up well Rooney too. 6

GETTY IMAGES

23/27 Off the bench: Michael Carrick

Replaced Smalling. His presence was reassuring in the centre of midfield - just as it was against Lithuania. 6

GETTY IMAGES

24/27 Off the bench: Kyle Walker

His energy provided the England attack with a different dimension late on in the second half. 6

GETTY IMAGES

25/27 Off the bench: Ryan Mason

Made his debut when he came on for Henderson on 74 minutes. He provided the assist for Townsend's goal. 6

GETTY IMAGES

26/27 Andros Townsend

Equalised fantastically with a beautifully struck right-footed effort that arrowed past Buffon. 7

GETTY IMAGES

27/27 Off the bench: Ross Barkley

He produced a terrific performance when he came on for Walcott with 35 minutes remaining. He sat directly behind Rooney and Kane and orchestrated a number of England's attacks as Hodgson's side went for the winner. 7

GETTY IMAGES
But just as problematic was that whenever he received the ball he passed sideways or backwards, and rarely first-time either. In an England side already lacking width that meant their attacking play was further stymied.
Carrick's arrival put England on to the front foot as he switched play and probed forwards, always knowing the next pass as soon as he took possession.
Behind him Jones looked much happier too. It is easy to forget the Lancastrian is only 23, he seems to have been around so long. When he came through as an  18-year-old at Blackburn, Jones was seen as an outstanding prospect. His composure suggested it was not just because of his physique that he had been fast-tracked.
His subsequent capture by Manchester United was regarded as a coup, with Sir Alex Ferguson claiming he would become one of United's "great" players.
However, his progress has been hampered by a propensity to incur injury, a certain clumsiness in the challenge, and his versatility.
As Phil Neville and Carragher have discovered in the past, being able to play solidly in a variety of positions ensures selection in a lot of squads, but not necessarily in the first XI. Jones has played right-back, centre-back and midfield for England without nailing down a place in any of those positions.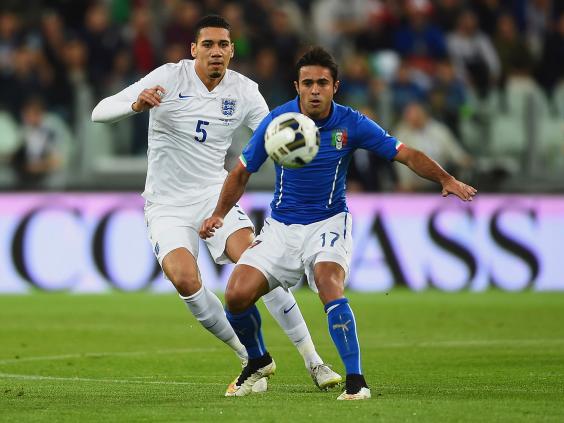 Central defence looks his best position. He lacks the distribution to be a modern full-back and the finesse to play midfield, but his power is an asset in central defence  and he has been settling into a run there at Old Trafford.  Then came the call from Hodgson to reprise a role he last filled regularly under David Moyes more than a  year ago.
If friendlies are a time to experiment, at least Hodgson has found out, more than a year before Euro 2016, that playing Jones in the midfield holding role does not work. Which means much rests on Carrick staying fit for 15 months. But when Euro 2016 finishes he will be on the brink of his 35th birthday. Then what?
Reuse content