It was almost a year ago that Eric Cantona likened a choice between Sepp Blatter and Michel Platini to having to choose between cholera and the plague.
Mercifully, such a decision will now never be forced on world football. Cholera has been eradicated. But the threat of the plague is resurgent.
It is now a week since Michel Platini looked his "friend, Sepp in the eye and told him, face to face, man to man, leave Fifa," those stern words of which he took absolutely no notice, won his fifth election and emerged utterly defiant, albeit briefly.
Contenders to replace Sepp Blatter as Fifa president
Contenders to replace Sepp Blatter as Fifa president
1/6 Michel Platini

Current president of Uefa. Voted for the Qatar World Cup, which makes position somewhat difficult. Asked Blatter to resign before elections.

Getty Images

2/6 Prince Ali Al-Hussein

The Jordanian was the only contender against Blatter when the elections took place. Managed to pick up 73 votes from the Fifa executive committee to Blatter's 133. Has already confirmed he will stand again.

PA

3/6 David Gill

The former Manchester United chief executive refused to take up his place on the Uefa executive committee after Blatter's re-election. 'My professional reputation is critical to me and I simply do not see how there will be change for the good of world football while Mr Blatter remains in post,' he said at the time.

Reuters

4/6 Luis Figo

Former Real Madrid and Barcelona player announced himself as a candidate for the most recent election but pulled out in protest at how it was being run, saying the process was 'anything but an election'.

AFP/Getty Images

5/6 Jerome Champagne

Also announced himself as president contender but failed to gain the minimum five nominations required. The Frenchman is a former Fifa deputy general secretary and has been a fierce critic of Uefa.

GETTY IMAGES

6/6 Michael van Praag

Dutch FA president was also a contender for president before pulling out in order not to split support between himself and Price Ali.

GETTY IMAGES
In Blatter's wake, Platini is the new colossus in football politics, seen by many as the White Knight charging football's reeking corridors of power. He is nothing of the sort.
If it was, ultimately the decision to give the 2022 World Cup to Qatar that has finally caused Fifa's house of cards to tumble, remember that Sepp Blatter didn't vote for it. Platini did. His friend Zinedine Zidane was reportedly paid huge sums to lobby for it. Platini dined with Nicholas Sarkozy and the son of the Emir of Qatar at the Elysees Palace, not long before the vote, and after which the Qatar Sports Investment fund bought Sarkozy's team Paris Saint Germain.
Two months ago, when the Qatar tournament was formally moved to December, trashing almost every major domestic football league in the world, and in direct contravention to the terms under which the vote was conducted, Platini claimed: "I always said I will vote for Qatar, but that I will do my best for it to be in winter and I hope it will be in the Gulf.
"I'm totally coherent with what I said four years ago, totally. I work for what I am convinced is good for football."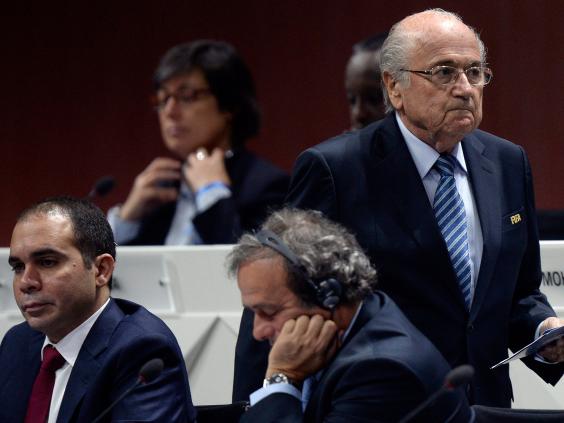 His claim, then, was that he voted for a Qatar Summer tournament on the basis that it would come to be jointly held all around the Gulf, and not in the summer. And if you believe that, then, well, I have a World Cup to sell you.
Blatter turned on Platini in the end. The successor was removed. But if Platini really is the bookies favourite for the top job, it is because there remains enough residual appeal from his days at the centre of Fifa's machinating heart to attract those who are still not convinced that a fundamental change is needed. It is for that reason that Europe, and the rest of the football world, must look beyond.
Reuse content