The greatest player of his generation has his place in football's greatest game. Lionel Messi will walk out at the Maracana stadium on Sunday to take on Germany in the World Cup final, an underdog for once in his life but given the opportunity to walk in the footsteps of the finest players ever to have played the game.
This semi-final victory over the Netherlands on penalties was not Messi's finest two hours on a football pitch. It was one for the dogs of war and it took extra-time and then a shoot-out for Messi and his team-mates to see off a Dutch team that showed little or no ambition
It was a game that was played out in stark contrast to the jaw-dropping circumstances of Germany's victory over Brazil the previous evening. But Argentina are there, they have made it to Rio de Janeiro, in a rematch of the 1986 and 1990 finals - and once again they have a maestro at No 10 to pin their hopes upon.
Video: Netherlands vs Argentina match report
It was far from a classic but shot through with tension from beginning to end, this World Cup semi-final went to extra-time without a meaningful chance at either end. The game's great attacking players –Messi, Robin Van Persie and Arjen Robben – were forced to take bit-parts in a match played out between two cautious defences and two zealous midfields.
Netherlands 0 Argentina 0 player ratings
Netherlands 0 Argentina 0 player ratings
1/22 Jasper Cillessen

Kept starting place after being taken off for Saturday's spot-kicks. Held on to a Messi free-kick and displayed fine turn of feet but had little to do. Didn't save a penalty. 6/10

Getty Images

2/22 Ron Vlaar

Aston Villa man came through injury worry and was strong as he relished physical battle in the rain. Positionally superb and put his body on the line. Weak penalty was saved in the shootout. 8

Getty Images

3/22 Bruno Martins Indi

Offered further muscle at the back and often resorted to pulls and checks to stop danger of Messi. Booked and replaced at the break by Janmaat. 5

Getty Images

4/22 Stefan de Vrij

Has come of age in these finals and continued to display calm authority in a defensive match. Strong challenge on Lavezzi went unpunished. 7

Getty Images

5/22 Dirk Kuyt

Mr Utility was switched to the right on his 102nd appearance for the national side. Adapted well and shut out Messi before moving over to the left. 6

Getty Images

6/22 Georginio Wijnaldum

Clashed heads with Mascherano but again unable to bring domestic form to international scene. All too often wasted momentum of Dutch attacks. 5

Getty Images

7/22 Daley Blind

Struggled to repel Argentina attacks down his side before being moved further back after the break as coach Louis van Gaal reshuffled.6

Getty Images

8/22 Nigel de Jong

Brought back into side a week after being ruled out of tournament. Did a fine job on containing Messi, keeping on the right side of the law – just. 7

Getty Images

9/22 Wesley Sneijder

Minimal impact on proceedings before the break and left field briefly for treatment. Failed to trouble Romero with free-kick after interval. Had his penalty saved in the shootout. 6

Getty Images

10/22 Arjen Robben

Flying Dutchman was grounded before break, touching the ball just six times. Improved in second half; denied at the last by Mascherano's challenge.6

Getty Images

11/22 Robin van Persie

Was he ever likely not to make the match? Just beaten to ball by Garay when poised to go clear but often left marooned up front. Hooked over.6

Getty Images

12/22 Sergio Romero

Made strong clearances after Dutch took time to find their feet. Liked to punch rather than catch but was confident. Was the hero in the shootout. 7

Getty Images

13/22 Pablo Zabaleta

Eager to advance but struggled to penetrate massed defence. Sprayed wide to Lavezzi to spark attack but gave away one dangerous free-kick.7

Getty Images

14/22 Marcos Rojo

Returned after missing win over Belgium through suspension. Got forward well but overhit ball at times. Late shot claimed easily by Cillessen.7

Getty Images

15/22 Ezequiel Garay

Displayed bravery in heading over from close range in midst of Vlaar's swinging foot. Cleared well from Van Persie and equally adept with just the one boot.7

Getty Images

16/22 Martin Demichelis

Manchester City stopper escaped card for swipe at Sneijder before being booked for holding Robben back. Has had a fine tournament.8

Getty Images

17/22 Javier Mascherano

Fell back to allow Rojo and Zabaleta forward. Left sprawled out after clash of heads with Wijnaldum. Sublime saving tackle on Robben late on.8

Getty Images

18/22 Lucas Biglia

Snuffed out danger as Robben broke free early in the second period. Crunching tackle on Janmaat ended with Lazio man clutching his arm.6

Getty Images

19/22 Enzo Perez

In-demand Benfica maestro was quick to settle and buzzed around Dutch penalty area in impressive display. Inswinging cross wasted by Higuain.7

Getty Images

20/22 Ezequiel Lavezzi

Delivered fine cross that Higuain was unable to reach. Lively down the right and was Argentina's main threat without producing telling final7

Getty Images

21/22 Lionel Messi

Fired free-kick straight at Cillessen but shadowed by Nigel de Jong. Sent fine ball to Perez before ballooning over and faded badly after interval.6

Getty Images

22/22 Gonzalo Higuain

Caught offside too easily and beaten to header by Janmaat. Had to work hard to get any joy out Vlaar and stabbed into side netting from close range.5

Getty Images
It went to extra-time without Van Gaal's side mustering a decent shot on goal. For the Manchester United fans who have followed their new manager's tactical nuances throughout this tournament, there was another new departure here. In 90 minutes he forbade his team to do much more than contain. It was Argentina who tried to take the game to the Netherlands.
It was not quite as gruelling to watch as the Netherlands' attempts to win the world Cup final four years' ago but it was not far off.
It told you all you needed to know that one of the game's few outstanding players were Vlaar, the Netherlands' centre-half who patrolled the defence, and Messi in particular, with a certainty that had not always been evident in his time at Aston Villa. Javier Mascherano, who looked like he might have been briefly knocked out in the first half, was superb, never more so than when he blocked a late run and shot by Robben

As for Van Persie, he was substituted halfway through the first period of half-time looking shattered but without having had a sight of goal. The introduction of Klaas-Jan Huntelaar was the last of the Netherlands' three substitutes.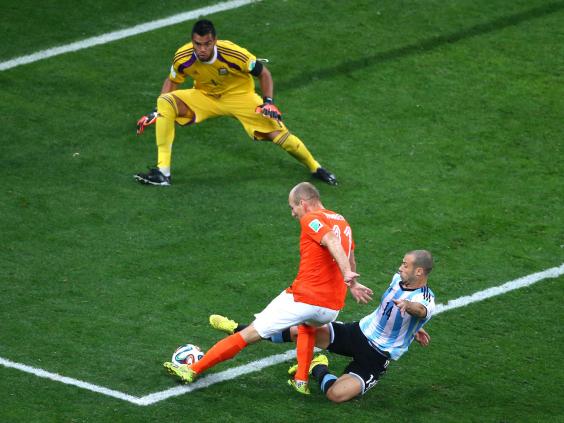 A pragmatic man, Van Gaal was not too proud to send out a Netherlands teams that was primarily set-up to neutralise the threat of Messi – as much as any team can – rather than try to exploit the explosive attacking force of Robben and Van Persie. It meant that the first half drifted by with very little of note from the Dutch, and just seven touches of the ball for Robben.
One of them was a half-volley lashed well wide on 13 minutes and as he came off at half-time, the Bayern Munich man looked like he was starting to get fed up with it all. Project Stop Messi meant sacrifices all around the men in orange shirts, including deploying Nigel De Jong almost exclusively to track Argentina's mesmeric No 10.
Messi has an effect on people that few sportsman do. As the television cameras tracked him walking into the tunnel area before the game, Van Gaal could be spotted with his staff and then moving over to catch Messi's eye and offer his hand. On the pitch, the Dutch never left Messi's side and they were so fearful of what he might do to them that they were very reluctant to leave their own half.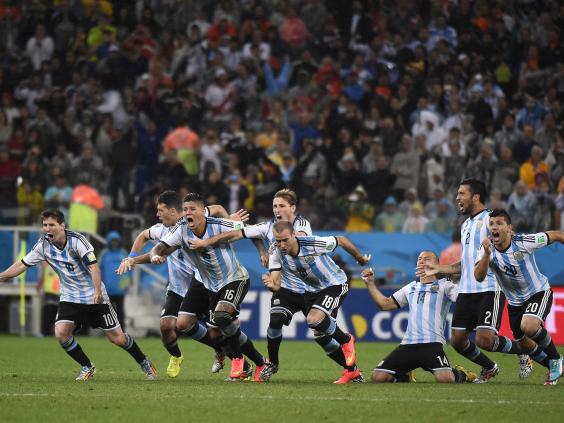 It was frustrating for Argentina who made all the running before the break with very few clear chances on goal to show for it. The defender Ezequiel Garay put a brave header wide from Ezequiel Lavezzi's cross. Messi had a good, low free-kick saved. But other than that the No 10 sent much of his time traversing the centre of the pitch looking around for the opportunity that would set him free to run at the Dutch.
He warmed up towards the end of the first half and drew two fouls from the defender Bruno Martins Indi, both of which were worthy of a booking, The Turkish referee Cuneyt Cakir let the Feyenoord defender have the first one but he could not spare him any longer when Martins Indi wrapped an arm around Messi's waist as the Argentine ghosted past him.
Bookings for opponents are crucial for Messi. The more who are on them, the fewer there are prepared to risk the tactical foul to stop him. In the first instance he whisked the ball away from a Dutch shirt on the right wing and was heading for goal before Martins Indi collided with him. Even the best defenders find themselves obliged to foul him on occasions. The key is to do it only once, and only for a booking.
Van Gaal's reaction to Martins Indi's booking, picked up seconds before half-time was immediate. The defender did not come back out for the second half and was replaced by another Feyenoord team-mate, the defender Daryl Janmaat. There was to be no risking the man on a booking with Messi scampering about, although he did a good deal less of that in the second half.
It was beset by tension but, still, what a drab old game in the rain in Sao Paulo with De Jong following Messi around like a bad undercover detective and Van Gaal's team showing little or no interest in bringing Robben and Van Persie into the game. After the hour, De Jong trudged off to be replaced by another Feyenoord man, Jordy Clasie who was assigned the Messi-watch for the rest of the game.
There was a strong performance from Vlaar who made one crucial tackle on Messi on the edge of the box on 54 minutes a challenge that had to be immaculately timed or risk another of those dreaded bookings. Although the Dutch had little imagination going forward, when they did win free-kicks in dangerous positions they failed miserably to deliver. Both Dirk Kuyt and Sneijder struck dead balls from the left straight out of play.
In 90 minutes it was hard to remember a chance of any note. Higuain got a foot to a near post cross and put it wide, although he had been flagged offside. Eventually he gave way to Sergio Aguero, playing for the first time since the last group game against Nigeria.
In those final minutes of normal time, the Dutch turned the screw and it took a brilliantly perceptive tracking run and block from Mascherano to prevent Robben from getting a shot on goal when he ran through onto Sneijder's flicked pass. The margins were tight and having let the Dutch near their goal so rarely that would have been the most extraordinary steal.
Messi gave the final address to his team-mates before extra-time. He created the best chances of that period, dinking a ball over the top for the substitute Rodrigo Palacio who headed it straight at Jasper Cillessen. A back-post cross to Maxi Rodriguez, another substitute, produced just a scuffed shot. They held the nerve for the penalties
PENALTIES: 2-4
Netherlands: Vlaar saved; Robben scored; Sneijder saved; Kuyt scored
Argentina: Messi scored; Garay scored; Aguero scored; Rodriguez scored
Netherlands (3-5-2): Cillessen; Vlaar, De Vrij, Martins Indi; Kuyt, Wijnaldrum, Sneijder, De Jong, Blind; Robben, Van Persie.
Subs: Janmaat/Martins Indi ht, Clasie/De Jong 62, Huntelaar/Van Persie 96
Argentina (4-3-1-2): Romero; Zabaleta, Demichelis, Garay, Rojo; Biglia, Mascherano, Perez; Messi; Higuain, Lavezzi.
Subs: Palacio/Perez 81, Aguero/Higuain 82, Rodriguez/Lavezzi 100
Booking: Netherlands Martins Indi, Huntelaar Argentina Demichelis
Referee: C Cakir (Turkey)
Man of the match: Mascherano
Rating: 4