As the Argentina squad raucously sang their supporters' chant following the 1-0 win over Belgium, and banged the dressing-room lockers in rhythm, there was one conspicuous moment's silence. It was when the news came through that Angel Di Maria's thigh injury would certainly keep him out of the semi-final against the Netherlands and possibly the final itself, if the team make it any further.
By that point, the entire squad were surrounding the Real Madrid midfielder as  they tried to offer words of encouragement and the noise grew again. The latter reflected the depth of spirit and unity within the camp. The silence displayed just how important Di Maria is.
Given the 51 times the  26-year-old lost possession in the last-16 win over Switzerland, his individual performances have provoked some debate, but there's no denying his importance to the team. The very fact he is on the ball so much fully displays that.
As a player who will drive at defences with his running and always offer something different with his technique, he is the one who can trouble the opposition in any way similar to Lionel Messi. That in turn offers the No 10 more freedom.
Argentina 1 Belgium 0 player ratings
Argentina 1 Belgium 0 player ratings
1/22 Sergio Romero

Only had one real save to make and that wasn't a difficult one. He will surely be tested more in the semi-final. 7

Getty Images

2/22 Pablo Zabaleta

A relatively quiet night by his standards but still played well. 6

Getty Images

3/22 Ezequiel Garay

Strong at the back and played well throughout, Lukaku did test him more when he came on though. 7

Getty Images

4/22 Martin Demichelis

Superb on his first World Cup start, blocked well, tackled everything and was in good positions throughout. Top game. 9

Getty Images

5/22 Jose Maria Basanta

Played well throughout and could keep his place in the semi-final on this showing. 7

Getty Images

6/22 Javier Mascherano

After a mixed start, settled into the game and played well. 7

Getty Images

7/22 Lucas Biglia

Did fine without any headlines. Yellow card for cynically tackle. 6

Getty Images

8/22 Angel Di Maria

Started well but had to go off through injury after half an hour. 6

Getty Images

9/22 Lionel Messi

Not his best night and missed a glorious chance at the death to settle it. He will need to return to his top form in the semi-final. 6

Getty Images

10/22 Gonzalo Higuain

Very good performance, man-of-the-match. Took goal brilliantly and hit the bar. Was a threat all afternoon. 9

Getty Images

11/22 Ezequiel Lavezzi

Did ok but not quite the attacking force that others such as Sergio Aguero could offer. 6

Getty Images

12/22 Thibaut Courtois

Saved well from Messi at the end of the game but had precious little to do apart from picking the ball out of his own net. 6

AFP

13/22 Toby Alderweireld

Picked up a yellow card for poor tackle but did fine overall. 6

AFP

14/22 Daniel van Buyten

Was good at the back once again and even went up-front for last ten minutes. 7

AFP

15/22 Vincent Kompany

Another good night's work and unlucky to be going home. Put in several top blocks and tackles. 7

AFP

16/22 Jan Vertonghen

Highlight for Belgium from full-back. Put in several good crosses but no one could convert his good work. 7

AFP

17/22 Marouane Fellaini

Probably his best game of the World Cup and played well throughout. 6

AFP

18/22 Axel Witsel

Didn't offer the protection that Belgium would have wanted, not his best night. 5

AFP

19/22 Kevin Mirallas

Did very little during his hour on the pitch. 4

AFP

20/22 Kevin de Bruyne

A highlight for Belgium once again and was a threat with his invention all game. 7

AFP

21/22 Eden Hazard

Failed to turn up at all and barely had a sniff. Poor. 4

AFP

22/22 Divock Origi

Wasn't nearly as effective has against the USA and didn't have chance at all. 4

Getty images
Now, it is possible that more of the Netherlands' players will be focused on stifling Messi tomorrow night, of shutting him out of the game and thereby Argentina out of the World Cup.
Alejandro Sabella, the Argentina head coach, is going to have to come up with something different to tilt the balance back. That was reportedly what the squad spent the majority of their training session yesterday trying to do.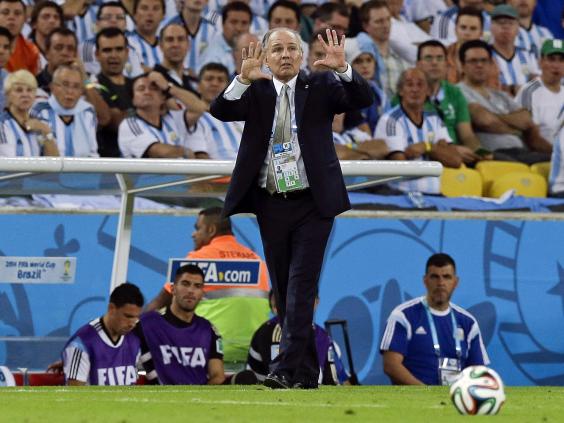 The expectation is that either Benfica's Enzo Perez or former Liverpool winger Maxi Rodriguez will come in. That should mean a 4-3-3 formation in which Ezequiel Lavezzi shuttles back, with Marcos Rojo returning to left-back. Those around the camp have also suggested Sergio Aguero might be fit enough to appear in the second half, having not played since the third group game, the 3-2 win over Nigeria.
Until that is the case, the onus will be on Sabella to ensure Argentina finally offer the one thing that has been missing from their World Cup so far: a sense of their attackers linking up convincingly. If, temporarily, there will be no other individual really firing behind Messi, Argentina need to get the collective to combine effectively in the way a front line like theirs should.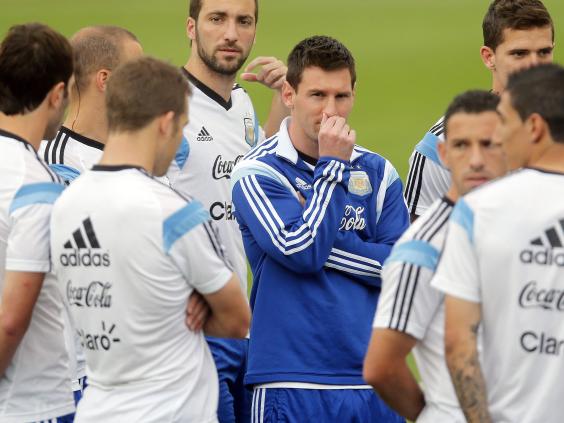 So far, Argentina have been resilient and durable rather than rampant or dynamic. If that continues, it will keep all the Dutch focus on Messi alone.
The value of that should not be underestimated, however. For all the doubts about the openness of Argentina's defence and the fact their team is not yet fluid, Messi's very ability gives him an importance way beyond his stellar input.
Because he is so devastating, every opposition side basically has to detail at least three or four players to try and suffocate him, or risk getting ripped apart. That in turn takes something away from their attack and means Argentina are under less pressure themselves. It has been an element that has ensured their matches have been relatively restrained.
In the Netherlands' case, it may mean that their midfielders will be a little too occupied to release Arjen Robben's pace so readily. That presents a real dilemma for Louis van Gaal and one that is arguably bigger than Sabella's over Di Maria.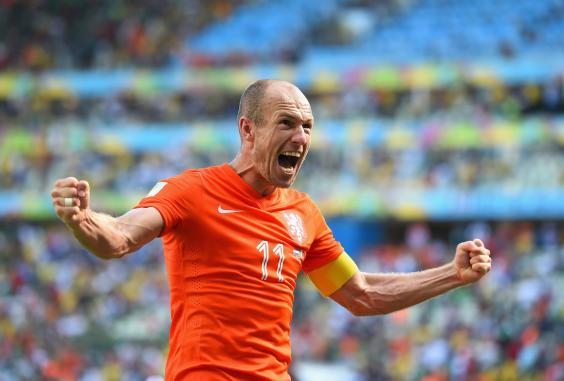 The Dutch head coach has at least displayed a tactical intelligence arguably beyond any other manager in this World Cup. At the same time, it is not his only problem. While the Netherlands looked like they were losing some of their energy in the penalty shoot-out win over Costa Rica, there is a sense of Argentina growing.
They have certainly grown together as a group. Those around the camp have been struck by the deep camaraderie that has developed. It was clearly evident in the way they gleefully chanted their supporters' mischievous version of Creedence Clearwater Revival's "Bad Moon Rising" after the win over Belgium.
Before it, Javier Mascherano set a certain tone as he gathered the players together.
"I say it to everyone," the midfielder roared. "I'm tired of eating shit. I want joy for those who follow us and everything. We're going out to play the game of our lives."
It meant Argentina are now two games from immortality. To get there, they have more mundane football problems to solve first.
Reuse content