Costa Rica are the biggest surprise among the last eight nations in Brazil. It may be worth putting your shirt on them to win the tournament – the odds on them triumphing in the final are 50-1 in places – but the current fashion is to put their shirt on your back.
The success of Los Ticos, as the Central Americans call themselves, is a rare triumph for a smaller kit maker, who have been increasingly squeezed out by the major brands. The Costa Ricans are the only nation whose kit is made by Lotto Sport Italia – they are the only team in the last eight who are not sponsored by Adidas or Nike – and sales in the UK and across the world multiplied 20-fold following the nation's qualification for the second stage.
Simon Forster, a manager at DW Sports in Derby, has reported a sharp rise in their kit sales. He said: "Everybody loves an underdog and this has certainly been reflected in the demand for their strips."
He added: "Originally we were not going to stock any of their kits, but due to a sudden demand we brought them in and they are selling really well."
World Cup 2014: 10 stars who have shone during the World Cup in Brazil
World Cup 2014: 10 stars who have shone during the World Cup in Brazil
1/10 James Rodriguez

The player who has most seized this World Cup, and thereby most seized attention. James might have been a marvellous talent on the radar of top clubs before this tournament, and the £38m Monaco paid last summer reflected his potential, but the 22-year-old has simply moved onto a different level. It is quite a quirk that Manchester United could have got him for £5m back in 2010, because he could command anything up to £80m now. Real Madrid are believed to be leading the chase. Rodriguez has set quite a pace.

Getty Images

2/10 Guillermo Ochoa

Was his display against Brazil the outstanding performance of the first round? Given the stakes, the pressure, and the extent of the siege, there is certainly an argument for it. Either way, there seems little argument that Ochoa has been the outstanding goalkeeper of the tournament so far. The sheer number of high-profile high-quality saves that the 28-year-old produced are in stark contrast to what has been a humble club career, having spent three years at lowly Ajaccio. Last season, they got relegated to Ligue 2. This summer, he should have earned a move to a better level.

Getty Images

3/10 Alexis Sanchez

All of a sudden, it seems ludicrous that Barcelona would consider selling Alexis, let alone use him as a mere makeweight on a deal to bring someone else in. The Chilean may have been largely under-whelming in his three years at Camp Nou, but this World Cup re-asserted why they initially signed him, as well as what kind of player he can be when used correctly. The two goals against Spain and Brazil were a display of his elite finishing, the pace that brought them the kind of dynamic play top clubs crave.

4/10 Karim Benzema

On top of the world right now, but also someone that finds himself in a similar situation to Alexis: Real Madrid would gladly bring in what they perceive to be a better forward, but he has used this tournament to illustrate the folly of that. Benzema has been one of the best players of the first four games, combining clutch finishing with classy build-up play that has been central to France's joyful resurgence as a world force again. He has also enjoyed his own resurgence. Benzema is finally looking like the devastating talent that Real first signed for so much money. He could command a similar figure again.

Getty Images

5/10 Vincent Enyeama

It was the 31-year-old goalkeeper's error that ultimately cost Nigeria the last-16 game against France, but that was all the more conspicuous because he had been so solid before then. In fact, it was arguably Enyeama's supreme late save against Bosnia and Herzegovina that brought Nigeria so far, given the ultimately slim margin with which they won that game 1-0 and then qualified. It was not the only such stop, and even the 2-0 defeat to France saw plenty of defiance. Lille can expect some interest.

Getty images

6/10 Islam Slimani

Algeria were one of the most progressive teams of the opening four games, and Slimani their brightest player. Just turned 26, his career has shown a steady upward curve, moving from CR Belouizdad to Sporting Lisbon in 2013, and now making his ability all the more widely known. The two goals in four World Cup games also mark a superior scoring ratio to recent seasons, and the type of productivity he should be offering as he approaches his prime. Slimani looks ready for one of Europe's primary leagues.

Getty images

7/10 Daryl Janmaat

Beyond the three established stars of Wesley Sneijder, Robin van Persie and Arjen Robben, it is Daryl Janmaat who almost personifies the youthful nature of this Netherlands team. He is 24, still based at home with Feyenoord, and is one of their many defenders that has impressed in this tournament with his maturity. Janmaat has arguably made himself the pick of them, especially for the solid consistency he has demonstrated throughout, as well as the way he allows a more counter-attacking Dutch side to turn defence into attack. It won't be too long until he personifies this team in another way: moving abroad.

Getty images

8/10 Miralem Pjanic

The Roma midfielder's easy talent was widely known before this tournament, but perhaps the key is that he's applied it in difficult circumstances. Out of a Bosnia and Herzegovina side that almost totally under-performed and went out in such disappointing fashion, Pjanic was one of a handful players – as well as Muhamed Besic – that played above his level. A host of top European clubs were interested in the 24-year-old before this World Cup. They will now have to pay even more than anticipated.

Getty images

9/10 Bryan Ruiz

To think that this was a player Fulham have been all too happy to discard, banishing him on loan to PSV Eindhoven last season. Of course, much of that was the fault of Ruiz himself . He looked conspicuously lazy in a team full of languid attackers. That appears to have revitalised him. Ruiz has been the driving force of Costa Rica's historic tournament. It was not just about the goals he scored that brought such momentous results against Italy and Greece. It is also about the touches and technique, as he's now really doing what a player of his talent should. Fulham can surely earn a much higher price now.

Getty Images

10/10 Ricardo Rodriguez

With the way he surges forward from full-back, the 21-year-old has epitomised the adventurous and brave nature of this impressive Swiss team, and he has proven so productive in their energetic attacks. The exceptional Xherdan Shaqiri has particularly benefited from the space that Rodriguez spots and creates. That follows on from the nine assists he cleverly created for Wolsfburg last season. Having already spent two years in the Bundesliga after a move from Zurich, he has undoubtedly displayed that he is prepared for a higher level.

Getty images
It is not because England fans had to find another strip to wear after Costa Rica qualified for the second stage ahead of them in Group D, but being drawn in the same group has certainly raised awareness of the Latin American team.
"Their profile was definitely raised when they played against England and even more so now that they have progressed further in the competition, seemingly against all the odds," said Forster.
The Italian manufacturer's president Andrea Tomat has said: "We have far fewer resources than the major brands, so we have to work with someone that can be an underdog, someone that can come from behind and has something a little special."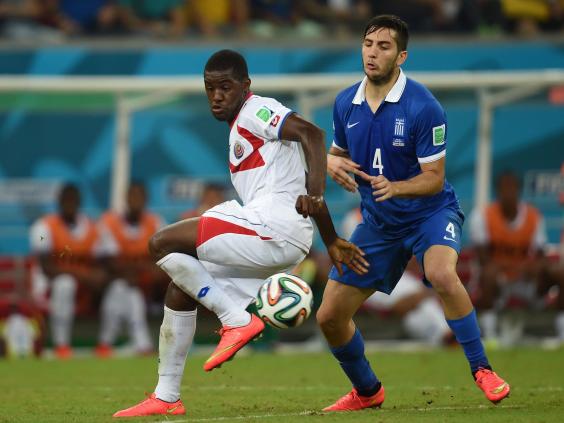 The company is struggling to keep up with the demand, and it has been reported that an extra 50,000 shirts have been sold since they won their opening game against Uruguay. Major UK retailers such as Sports Direct have almost completely sold out of their online stock.
Lotto took a chance on Costa Rica by beginning their association with them before the 1990 World Cup in Italy when they fielded a number of amateur players – but still beat Scotland and Sweden.
As Los Ticos reach the quarter-finals for the first time in their history, after starting the World Cup as 4,000-1 outsiders, their progress gives hope to the smaller kit suppliers as well as the lesser footballing nations.
Tomat said: "We are now having trouble organising some fast production to let everyone have this shirt that will become a memory of a historic achievement."