Brazil fans are still in uproar over the challenge that led to their star player, Neymar, being ruled out of the rest of the tournament with a fractured vertebrae.
And all of this anger seems to be being channelled in the direction of one person.
Juan Zuniga, the man responsible for the 'tackle' that put pay to Neymar's World Cup and, quite possibly Brazil's chance of winning a record sixth World Cup title, is now Public Enemy No 1 in the host nation.
Brazilian newspapers have called him "cowardly", supporters have labelled him a "cheat" and social media has been rife with Brazilians calling for him to be punished by Fifa.
Although it is probably not advisable for Zuniga to organise a trip to Rio's Copacabana anytime soon, Zuniga should find some comfort in the knowledge that he is not the first and, definitely, will not be the last footballing Public Enemy Number One.
Neymar's best and worst moments of the 2014 World Cup
Neymar's best and worst moments of the 2014 World Cup
1/9 Neymar scores his first against Croatia

After going a goal behind in the very first match of the tournament courtesy of a Marcelo own goal, Neymar got his tally off the mark as he scored from long range to drag Brazil level.

GETTY IMAGES

2/9 He adds his second in controversial circumstances

Despite a stop-start, jerky run up, Neymar converts from the penalty spot to give Brazil the lead and they would go on to secure a 3-1 victory. However, the Croatians were infuriated by what they perceived as a dive from striker Fred to win the penalty. Not that it mattered to Neymar, who duly took his chance from the spot.

GETTY IMAGES

3/9 But was he lucky to be on the pitch?

A stray elbow on Luka Modric could have warranted a red card for Neymar, but he escaped with a yellow and was on hand to score later in the match when the opportunity arose.

Getty Images

4/9 Tears of pride

Neymar in tears during the Brazil national anthem before the game with Mexico, such is the importance of the occasion

GETTY IMAGES

5/9 Neymar left frustrated against Mexico

An unimpressive Brazil side were left hugely frustrated by Mexico goalkeeper Guillermo Ochoa. In a man-of-the-match display, Ochoa kept out a close range header from Neymar to see the match end as a goalless draw.

GETTY IMAGES

6/9 Back on form and back in the goals

You can't keep a quality player quiet for long though, and unfortunately for Cameroon, their dismal World Cup campaign came to an end at the hands of another Neymar brace. Taking his tally to four goals, Neymar put himself in the reckoning for the Golden Boot, although his injury has put paid to that dream for now.

Getty Images

7/9 Caught with his pants down

Despite being the poster boy of Fifa's World Cup, the governing body confirmed that they were investigating Neymar for allegedly breaching sponsorship rules by partially showing the top of his underwear that may or may not have been part of a sponsorship stunt. Eventually, Fifa conformed they would take no further action.

GETTY IMAGES

8/9 Neymar's penalty prowess sees off Chile

After a hard-fought 120 minutes, Brazil and Chile were locked at 1-1 courtesy of David Luiz and Alexis Sanchez strikes. Mauricio Pinilla and Sanchez both saw their penalty shootout efforts saved by Julio Cesar, but Willian and Hulk followed suit. With the weight of a nation on his shoulders, Neymar coolly slotted home from the spot, which turned out to be the match-winner as Gonzalo Jara then hit the post to send Brazil through to the quarter-finals.

9/9 One assist, no goals and a trip to hospital sees Neymar done

The forward had seen his impact in the quarter-final against Colombia somewhat limited due to the rough and tumble nature of the match – although the Brazilians were just as guilty of using the tactic against James Rodriguez. His corner allowed Thiago Silva to bundle the ball across the line for the opener, before Juan Camilo Zuniga's ill-timed knee in the back cracked on of Neymar's vertebrae and ended his run at this year's World Cup.

GETTY IMAGES
So to make poor Juan feel a little bit better about his self, we have compiled a selection of four of football's other Public Enemy No 1s.
Howard Webb: Poland's Public Enemy No 1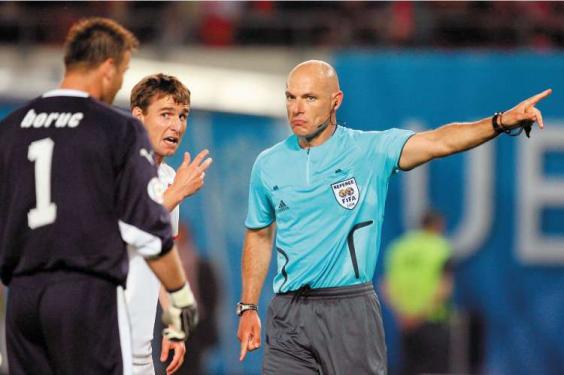 Howard Webb might be used to a certain level of abuse at Premier League grounds across England; however, not much could have prepared him for the abuse he received from the whole Polish nation in 2008. While refereeing a game between Austria and Poland at the Euros in Austria and Switzerland, Howard Webb gave the Austrians a controversial 93-minute penalty, allowing them to snatch a draw, which ultimately ended Poland's hopes of progressing into the knockout stages. So outraged was the whole Polish nation they decided not to hold back in vocalising their hatred for the policeman from Rotherham. Webb had death threats, his face was put on dartboards and even the Polish Prime Minister Donald Tusk said he wanted to "kill" the Yorkshireman.
Thierry Henry: Ireland's Public Enemy No 1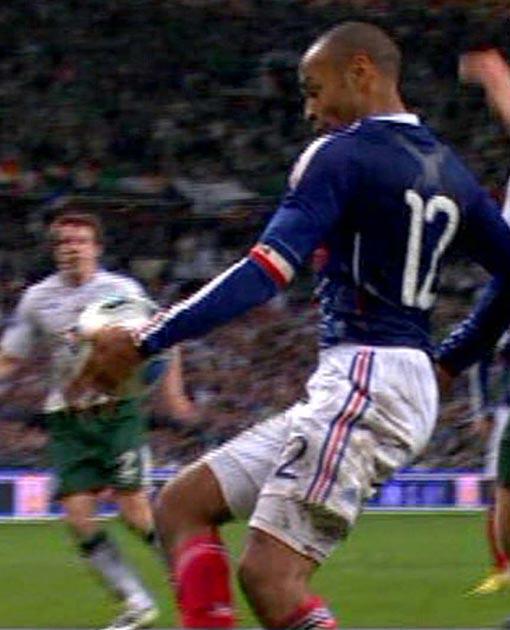 Everyone knows Thierry Henry to be the cool, affable bloke who wasn't too bad at football either. However, say that to any Irish football fan and they might disagree. "Le Hand" as he is now known in Ireland, was responsible for one of the biggest controversies in Irish national team history. With the game poised at 0-0 in extra-time, it looked as if the match was heading toward penalties. That was before Henry, with the help of his left arm, was able to keep the ball in play and set up William Gallas for a last minute goal that would send the French to the World Cup in South Africa. The Irish fans reacted, brandishing Henry a "cheat "and "despicable". Even Ireland's Justice Minister Dermot Ahern got involved, pleading with the Fifa to replay the match saying, "if the result remains, it reinforces the view that if you cheat, you will win."
David Beckham: England's Public Enemy No 1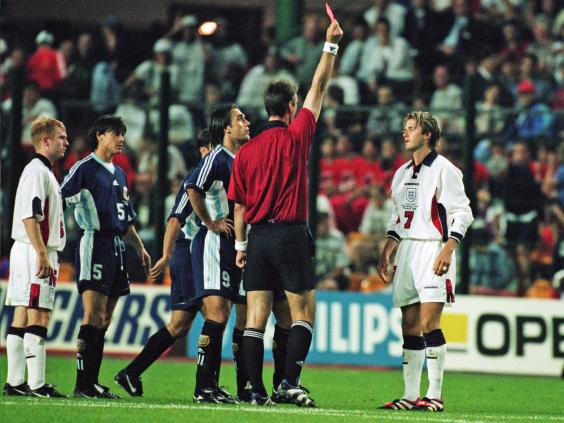 There was a period before he got the tattoos, the model girlfriend and became an international superstar, when David Beckham was actually the 'most hated man in England'. Selected for the France 1998 World Cup squad, it initially went well for him. Decent performances against Tunisia and Romania were followed up by a peach of a free-kick against the Colombian's. However, it then turned sour. Sent off for kicking out at Argentina's Diego Simeone, he had to watch from the sidelines as ten-man England were eventually knocked out on penalties. With the nation in need of a scapegoat, they inevitably blamed Beckham. Insults were thrown, effigies were burned and it took a lot of work, plus a free-kick against Greece, before he could seek full redemption from English football fans.
Ahn-Jung-hwan: Italy's Public Enemy No 1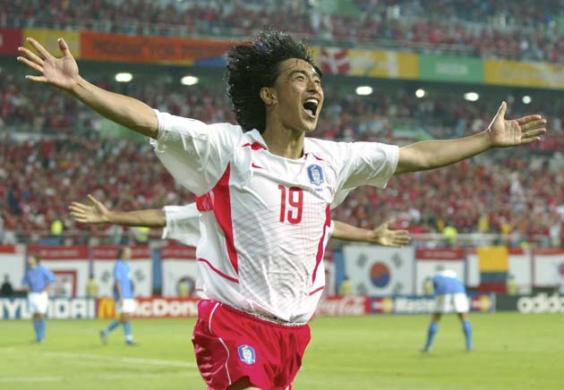 The success of the South Korean team at the 2002 World Cup was remarkable, not only because they became the first Asian nation to reach a World Cup semi-final, but also because of the footballing heavyweights they had to defeat in the process.  One of these giants was Italy. Well into the "golden goal" stage of their Quarter-Final match against Azzurri, the Perugia player Ahn Jung-hwan stepped up to scorew the goal that would send South Korea into the semi-finals. He instantly became a hero in his homeland, but as quickly became a hate figure in Italy. His Perugian chairman was particularly unimpressed with Ahn's exploits, and hours after the match the Perugia owner Luciano Gaucci announced that Ahn would "never step in Perugia again", claiming he would "never pay the salary of a guy who has been the ruin of Italian soccer."
Reuse content