When Brazil's players gather in their dressing-room in Belo Horizonte's Mineirao Stadium ready to face Germany in Tuesday's semi-final, they will see two things. One will be Luiz Filipe Scolari's statuette of Our Lady of Caravaggio. The other will be a selection of quotes from famous authors that Big Phil has stuck to the wall. They will, as usual, all be about overcoming adversity, for there is suddenly an awful lot of adversity to overcome.
Brazil's manager had predicted that Friday's game with Colombia would not be a "war". But it contained more fouls than any other match in this World Cup and by the end Scolari had suffered two irreplaceable casualties. That Neymar has been ruled out of the remainder of the tournament with a fractured vertebra in his lower back will trigger some of Brazil's deepest fears about their own team. If they were to reach the Maracana and a seventh World Cup final, then it seemed essential that the 22-year-old led them there.
The irony is that the sight of the Barcelona midfielder being stretchered from the Castelao after being kneed in the back by Juan Zuniga came at the climax of a match that had seen Brazil, in general, and Fernandinho, in particular, dish it out ruthlessly to Colombia's two most dangerous players, Juan Cuadrado and James Rodriguez. The Manchester City midfielder did not even find himself booked. Zuniga's explanation for his challenge was: "I was just defending my shirt."
The question of who will fill Neymar's shirt will obsess the nation until the semi-final kicks off. Scolari could switch to a 4-4-2 with Jo and Fred, whose names seem redolent of an Accrington works team, up front. However, Scolari won the World Cup in 2002 with two holding and three attacking midfielders and now is not the time to be tinkering with formations.
Neymar's best and worst moments of the 2014 World Cup
Neymar's best and worst moments of the 2014 World Cup
1/9 Neymar scores his first against Croatia

After going a goal behind in the very first match of the tournament courtesy of a Marcelo own goal, Neymar got his tally off the mark as he scored from long range to drag Brazil level.

GETTY IMAGES

2/9 He adds his second in controversial circumstances

Despite a stop-start, jerky run up, Neymar converts from the penalty spot to give Brazil the lead and they would go on to secure a 3-1 victory. However, the Croatians were infuriated by what they perceived as a dive from striker Fred to win the penalty. Not that it mattered to Neymar, who duly took his chance from the spot.

GETTY IMAGES

3/9 But was he lucky to be on the pitch?

A stray elbow on Luka Modric could have warranted a red card for Neymar, but he escaped with a yellow and was on hand to score later in the match when the opportunity arose.

Getty Images

4/9 Tears of pride

Neymar in tears during the Brazil national anthem before the game with Mexico, such is the importance of the occasion

GETTY IMAGES

5/9 Neymar left frustrated against Mexico

An unimpressive Brazil side were left hugely frustrated by Mexico goalkeeper Guillermo Ochoa. In a man-of-the-match display, Ochoa kept out a close range header from Neymar to see the match end as a goalless draw.

GETTY IMAGES

6/9 Back on form and back in the goals

You can't keep a quality player quiet for long though, and unfortunately for Cameroon, their dismal World Cup campaign came to an end at the hands of another Neymar brace. Taking his tally to four goals, Neymar put himself in the reckoning for the Golden Boot, although his injury has put paid to that dream for now.

Getty Images

7/9 Caught with his pants down

Despite being the poster boy of Fifa's World Cup, the governing body confirmed that they were investigating Neymar for allegedly breaching sponsorship rules by partially showing the top of his underwear that may or may not have been part of a sponsorship stunt. Eventually, Fifa conformed they would take no further action.

GETTY IMAGES

8/9 Neymar's penalty prowess sees off Chile

After a hard-fought 120 minutes, Brazil and Chile were locked at 1-1 courtesy of David Luiz and Alexis Sanchez strikes. Mauricio Pinilla and Sanchez both saw their penalty shootout efforts saved by Julio Cesar, but Willian and Hulk followed suit. With the weight of a nation on his shoulders, Neymar coolly slotted home from the spot, which turned out to be the match-winner as Gonzalo Jara then hit the post to send Brazil through to the quarter-finals.

9/9 One assist, no goals and a trip to hospital sees Neymar done

The forward had seen his impact in the quarter-final against Colombia somewhat limited due to the rough and tumble nature of the match – although the Brazilians were just as guilty of using the tactic against James Rodriguez. His corner allowed Thiago Silva to bundle the ball across the line for the opener, before Juan Camilo Zuniga's ill-timed knee in the back cracked on of Neymar's vertebrae and ended his run at this year's World Cup.

GETTY IMAGES
It was that reluctance to change that saw Scolari keep faith with Bernard Duarte rather than select Paris St-Germain's Lucas Moura, who had enjoyed a far better season. Bernard once said that he played "with joy in my legs". After a season at Shakhtar Donetsk that had seen him lose his place amid fears that the Donbass Arena might suddenly find itself no longer in Ukraine, the joy would have gone and the legs would have felt heavier. However, he has something of Neymar's ability to run at a back four that looks the weakest part of Joachim Löw's side.
Others would prefer Willian,  another graduate of Ukrainian winters but who has blossomed at Chelsea. When he was nine, watching the 1998 World Cup, he yearned to be Ronaldo. Now he will have to be Neymar. "My money would be on Willian," said Carlos Alberto, captain of the immortals who won the 1970 World Cup. "He has the talent and he tracks back to defend. I can't see anyone who could replace Neymar better."
If Neymar were the only absentee at the Mineirao on Tuesday, you might still back Brazil to go through. However, Scolari will also be without his captain and best defender, Thiago Silva, booked for attempting to stop Colombia's keeper, David Ospina, from kicking the ball out of his hands, a piece of idiocy for which Brazil are likely to pay a heavy price.
Löw will be reminded that Germany may have made the semi-finals for the fifth successive time in a major tournament, but four have been lost. However, the demons surrounding Brazil seem far more vivid. It is not just a concern that they have lost their two best players, it is the lack of replacements in a nation that exports up to 1,200 pros a year.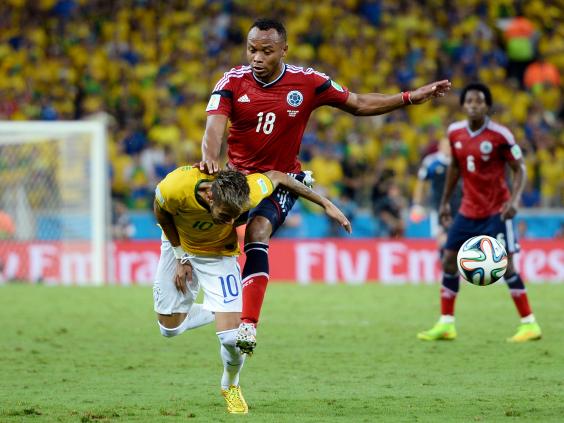 In 1962, Pele, who had inspired Brazil to a World Cup win four years before, got injured midway through their second group game. His place as the team's inspiration was taken effortlessly by Mane Garrincha.  When Scolari was last in charge of Brazil, he saw Ronaldinho, who carried a similar presence to Neymar's until Friday, dismissed in the quarter-final against England. Not only did Brazil recover to win the game in Shizuoka, they rolled on to win the final,  the only previous occasion they have met Germany in the World Cup. Brazil no longer have these deep reserves to call upon.
The encounter with Colombia was a thrilling, raw, wild game that at no time seemed to settle into a pattern. Scolari said: "When we conceded, it triggered a momentary bout of panic and then we had to endure an avalanche. I told them to hold the ball up but they kept on pressing forward. They had no need to do that but people have not believed in this team for so long that I suppose they needed to prove something."
The last time Brazil hosted a World Cup, the nation believed in its players too much. Before the final match of the 1950 tournament the headlines in the Brazilian newspapers were so arrogantly certain of their team's success that the Uruguay captain, Obdulio Varela, scattered them on the floor of the Maracana's dressing room and ordered his players to urinate on them. This time the papers have gone the other way and are clouded by doubt. It is difficult to know which Scolari would prefer.