You reap what you sow. For Fifa and Luiz Felipe Scolari that is the grim reality of Neymar's departure, in agony on a stretcher, from this World Cup.
The referees in Brazil have clearly been given instructions to let the game flow and to limit red and yellow cards. Scolari took advantage of this leniency in the quarter-final against Colombia, instructing his players to neutralise the threat of James  Rodriguez, hitherto the tournament's star, by roughhouse methods.
After referee Carlos Velasco Carballo allowed Fernandinho, in particular, to kick Rodriguez with impunity Colombia responded in kind. In this fetid atmosphere Neymar paid a terrible price.
The culprit, Juan Camilo Zuniga, is in the dock, but Scolari is equally to blame. Brazil's approach, one veteran observer of the country's football observed on Friday, was reminiscent of Scolari's unlovely Gremio team of the 1990s.
Video: Neymar's message after injury
Carballo is also at fault but the guiltiest party is Fifa. It is the governing body which sets the tone and, after the brutality that scarred the last World Cup final, when Howard Webb's attempt to let the game flow and keep 22 players on the pitch backfired, it should have known better.  It did once. Back in the early 1990s, when Sepp Blatter and Michel Platini still put the good of the game ahead of their own personal aggrandisement, the pair combined to clean up the sport after the grim tableaux of Italia '90.
Neymar's best and worst moments of the 2014 World Cup
Neymar's best and worst moments of the 2014 World Cup
1/9 Neymar scores his first against Croatia

After going a goal behind in the very first match of the tournament courtesy of a Marcelo own goal, Neymar got his tally off the mark as he scored from long range to drag Brazil level.

GETTY IMAGES

2/9 He adds his second in controversial circumstances

Despite a stop-start, jerky run up, Neymar converts from the penalty spot to give Brazil the lead and they would go on to secure a 3-1 victory. However, the Croatians were infuriated by what they perceived as a dive from striker Fred to win the penalty. Not that it mattered to Neymar, who duly took his chance from the spot.

GETTY IMAGES

3/9 But was he lucky to be on the pitch?

A stray elbow on Luka Modric could have warranted a red card for Neymar, but he escaped with a yellow and was on hand to score later in the match when the opportunity arose.

Getty Images

4/9 Tears of pride

Neymar in tears during the Brazil national anthem before the game with Mexico, such is the importance of the occasion

GETTY IMAGES

5/9 Neymar left frustrated against Mexico

An unimpressive Brazil side were left hugely frustrated by Mexico goalkeeper Guillermo Ochoa. In a man-of-the-match display, Ochoa kept out a close range header from Neymar to see the match end as a goalless draw.

GETTY IMAGES

6/9 Back on form and back in the goals

You can't keep a quality player quiet for long though, and unfortunately for Cameroon, their dismal World Cup campaign came to an end at the hands of another Neymar brace. Taking his tally to four goals, Neymar put himself in the reckoning for the Golden Boot, although his injury has put paid to that dream for now.

Getty Images

7/9 Caught with his pants down

Despite being the poster boy of Fifa's World Cup, the governing body confirmed that they were investigating Neymar for allegedly breaching sponsorship rules by partially showing the top of his underwear that may or may not have been part of a sponsorship stunt. Eventually, Fifa conformed they would take no further action.

GETTY IMAGES

8/9 Neymar's penalty prowess sees off Chile

After a hard-fought 120 minutes, Brazil and Chile were locked at 1-1 courtesy of David Luiz and Alexis Sanchez strikes. Mauricio Pinilla and Sanchez both saw their penalty shootout efforts saved by Julio Cesar, but Willian and Hulk followed suit. With the weight of a nation on his shoulders, Neymar coolly slotted home from the spot, which turned out to be the match-winner as Gonzalo Jara then hit the post to send Brazil through to the quarter-finals.

9/9 One assist, no goals and a trip to hospital sees Neymar done

The forward had seen his impact in the quarter-final against Colombia somewhat limited due to the rough and tumble nature of the match – although the Brazilians were just as guilty of using the tactic against James Rodriguez. His corner allowed Thiago Silva to bundle the ball across the line for the opener, before Juan Camilo Zuniga's ill-timed knee in the back cracked on of Neymar's vertebrae and ended his run at this year's World Cup.

GETTY IMAGES
That tournament began with the spectacle of Cameroonian defenders crudely hacking at Argentina's Claudio Caniggia. It finished with a nine-man Argentina side beaten by a West German penalty won – to global relief – by a dive.
After this, and aware of the injuries suffered in previous years by the likes of Marco van Basten and Diego Maradona, Blatter and Platini cracked down. The tackle from behind was outlawed and, aided by video evidence, the thugs were pushed into hibernation.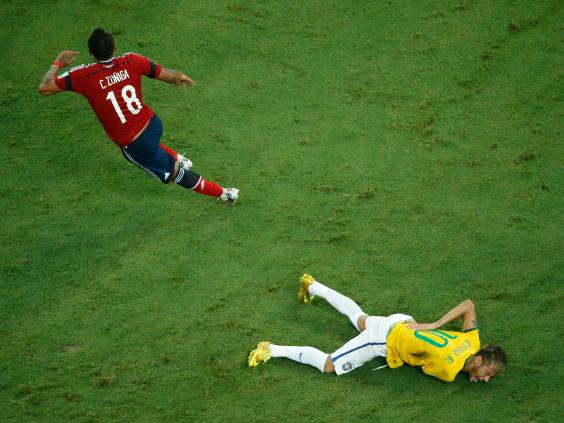 It took time. Yellow cards per match at a World Cup had averaged 2.56 in 1986, rose to 3.71 in 1990 and 4.25 four years later. They peaked in 2006 (5.39). Red cards followed a similar pattern as defenders had to find fairer ways to stifle talent. In this environment the likes of Lionel Messi, and indeed, the tiki-taka of diminutive Spain flourished.
Now, however, the merchants of menace are back. At 2.89 and 0.17 respectively the average number of yellow and red cards per game is the lowest since 1986. In eight of the 60 matches only one yellow card has been shown.
Yet this has hardly been a World Cup of shrinking violets. Honduras and Ecuador used physicality to make up for a lack of ability. Brazil and others have less excuse.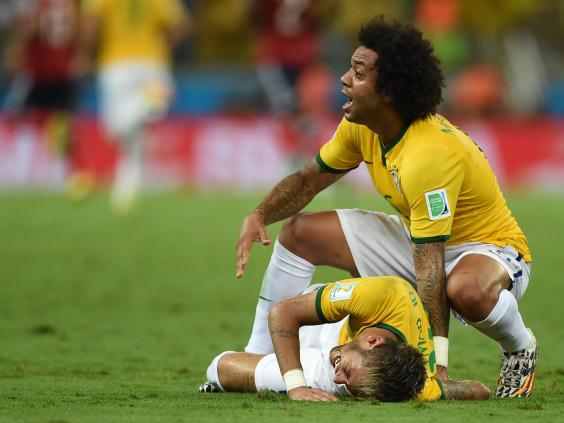 Indeed, Brazil's games, perhaps because of the pressure-cooker atmosphere, have been notably physical. It has not been one-way: Mexico dished out some old-fashioned reducers and Chile were happy to mix it as Webb, again, sought to let the game flow. Many players, from Diego Godin halting Daniel Sturridge with a forearm to Junior Diaz clattering Arjen Robben one time too many, have been spared by referees' reluctance to give out a second yellow.
It would be wrong to  suggest the tournament has been violent. For brutality look at 1966, 1978, 1990 and others. Many games have been open and fluid, and there have been some good advantages played (Carballo played one when Neymar was crunched), but, too often the flair players have been stopped by  bruising means and a young man's dreams have been shattered because of it.