Even when their national team is underperforming – which, most people agree, has been for most this World Cup – Brazilians have comforted themselves with knowledge that they have Neymar.
"He is the only Brazil player who can decide games on his own," Rai, Brazil's 1994 World Cup veteran, told me a few weeks ago. The entire country knew, he added, that Brazil's only chance of winning the tournament lay with Neymar. The view that the 22-year-old would "sort it out" became the mantra of the Brazilian fans.
Now Neymar will miss the rest of the tournament with a fractured spine. The country is in shock. The brief mood of celebration that Brazil had reached a World Cup semi-final for the first time since 2002 has become one of sadness and anger.
Video: Neymar's message to fans
"To lose your best player, the only trump card that the team has to beat its enemies, was not part of anyone's script. Not even in the most pessimistic of predictions," wrote Luiz Antonio Prosperi, sports editor of the Estado de S. Paulo yesterday. "Without Neymar, the Seleção will have to reinvent itself, to look for a new path. But there isn't anyone in Scolari's group with a lamp to light the way."
Neymar's injury has become a national tragedy, overshadowing all other World Cup coverage. Dilma Rousseff, Brazil's president, tweeted after Friday's game: "Like all of Brazil, I'm rooting for our great player to get better #ForçaNeymar". She tweeted support for Neymar two more times that evening.
Neymar's best and worst moments of the 2014 World Cup
Neymar's best and worst moments of the 2014 World Cup
1/9 Neymar scores his first against Croatia

After going a goal behind in the very first match of the tournament courtesy of a Marcelo own goal, Neymar got his tally off the mark as he scored from long range to drag Brazil level.

GETTY IMAGES

2/9 He adds his second in controversial circumstances

Despite a stop-start, jerky run up, Neymar converts from the penalty spot to give Brazil the lead and they would go on to secure a 3-1 victory. However, the Croatians were infuriated by what they perceived as a dive from striker Fred to win the penalty. Not that it mattered to Neymar, who duly took his chance from the spot.

GETTY IMAGES

3/9 But was he lucky to be on the pitch?

A stray elbow on Luka Modric could have warranted a red card for Neymar, but he escaped with a yellow and was on hand to score later in the match when the opportunity arose.

Getty Images

4/9 Tears of pride

Neymar in tears during the Brazil national anthem before the game with Mexico, such is the importance of the occasion

GETTY IMAGES

5/9 Neymar left frustrated against Mexico

An unimpressive Brazil side were left hugely frustrated by Mexico goalkeeper Guillermo Ochoa. In a man-of-the-match display, Ochoa kept out a close range header from Neymar to see the match end as a goalless draw.

GETTY IMAGES

6/9 Back on form and back in the goals

You can't keep a quality player quiet for long though, and unfortunately for Cameroon, their dismal World Cup campaign came to an end at the hands of another Neymar brace. Taking his tally to four goals, Neymar put himself in the reckoning for the Golden Boot, although his injury has put paid to that dream for now.

Getty Images

7/9 Caught with his pants down

Despite being the poster boy of Fifa's World Cup, the governing body confirmed that they were investigating Neymar for allegedly breaching sponsorship rules by partially showing the top of his underwear that may or may not have been part of a sponsorship stunt. Eventually, Fifa conformed they would take no further action.

GETTY IMAGES

8/9 Neymar's penalty prowess sees off Chile

After a hard-fought 120 minutes, Brazil and Chile were locked at 1-1 courtesy of David Luiz and Alexis Sanchez strikes. Mauricio Pinilla and Sanchez both saw their penalty shootout efforts saved by Julio Cesar, but Willian and Hulk followed suit. With the weight of a nation on his shoulders, Neymar coolly slotted home from the spot, which turned out to be the match-winner as Gonzalo Jara then hit the post to send Brazil through to the quarter-finals.

9/9 One assist, no goals and a trip to hospital sees Neymar done

The forward had seen his impact in the quarter-final against Colombia somewhat limited due to the rough and tumble nature of the match – although the Brazilians were just as guilty of using the tactic against James Rodriguez. His corner allowed Thiago Silva to bundle the ball across the line for the opener, before Juan Camilo Zuniga's ill-timed knee in the back cracked on of Neymar's vertebrae and ended his run at this year's World Cup.

GETTY IMAGES
ForçaNeymar – be strong Neymar – was yesterday still the top trending topic on Twitter. The second was #FIFAOCamisa18daColombiaMereceSerPunido, which translates as Fifa Colombia's number 18 deserves to be punished.
Yet the sadness that Brazilians feel about the loss of Neymar is not only because he is their best player. It is also because of the type of player he is. With his improvisational guile, flamboyant skills and playful nature, he is the only one of the current generation that reminds Brazilians of their past greats.
"Neymar is what Brazilian football should be, the football of kickabouts with friends, the football of people who play like they are having fun – who have a happiness with the ball," said the filmmaker Walter Carvalho. "Neymar is the most recent and, currently, the only expression of this type of football, which is all about creative shortcuts, not straight lines, and that's what is beautiful about it."
The absence of Neymar is doubly sad because of the realization that even if Brazil are still in the tournament, the team is not so "Brazilian" any more. Looking towards Tuesday's semi-final against Germany, the mood is bleak. A confidence that Brazil had a great chance to win the World Cup, even though they had not played as well as expected, has been replaced with pessimism. The overwhelming feeling is that to get to the final, let alone win a record sixth title, is now a "mission impossible".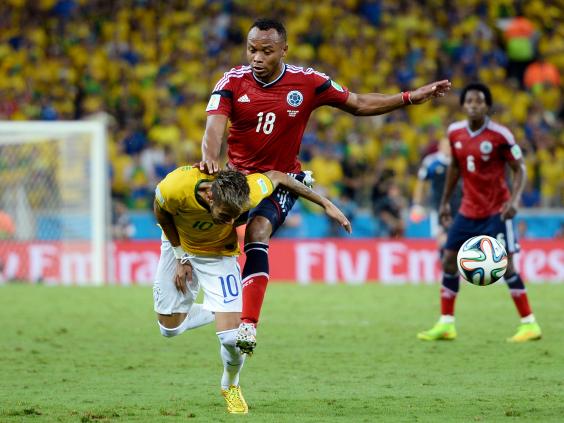 Writing in the Folha de S. Paulo, the columnist Juca Kfouri said: "The Germans aren't just favourites, it'll be a cinch for them. The fans that go to Belo Horizonte on Tuesday know they will be going hoping for a miracle."
The ESPN pundit Antero Greco was also glum: "I don't think that fighting spirit will be sufficient against Germany. It can get things going, but it's not everything." 
Yet some were desperately trying to find silver linings, such as Paulo Vinicius Coelho: "It's worth remembering that the Germans are always terrified of playing Brazil."
Many Brazilians were also remembering what happened in the 1962 World Cup, where Pelé got injured and was replaced by his understudy Amarildo. Brazil went on to win the tournament.
Tostão, who played alongside Pelé in 1970 and whose daily column is indispensible reading, wrote: "It is sad to be without Thiago Silva, and, especially, Neymar at this crucial time. It is possible that the team overcomes the difficulties, that a saviour appears like Amarildo did in 1962, when Brazil didn't have Pelé. If Brazil wins the World Cup this time it will be even more heroic. But if it loses, there is already a convenient excuse."
Neymar is Brazil's most popular player, especially adored by children, and his face is ubiquitous on magazine covers, newspaper adverts, street billboards and TV ad breaks. These images will haunt Brazil over the next few days.
Reuse content