The story goes that when Kyle Lafferty was sold by Palermo last summer, the Italian club's president, Maurizio Zamparini, despairingly told the local Sicilian radio station that the transfer was all but forced upon them as Lafferty is "an Irishman without rules".
Lafferty, Zamparini claimed, was an "out-of-control womaniser", which in the land of Silvio Berlusconi is either some accusation or some achievement. What must Palermo think now when they see Lafferty scoring the goals that may well take Northern Ireland to next summer's European Championship finals in France? What must Norwich City think?
Norwich were the club Lafferty joined from Palermo, but after 20 appearances – and one goal – the 27-year-old was sent on loan in January to Turkish club Caykur Rizespor.
Lafferty has one goal in Turkey but he has five for Northern Ireland this season and has become emblematic of the transformation occurring under the careful stewardship of Michael O'Neill.
Certainly, Lafferty does not sound like the character portrayed by Palermo. "I don't like calling myself a hero," he said on Sunday after his two goals saw off Finland at Windsor Park to make it four wins from five for Northern Ireland in Group F. "I think all the boys were heroes out there."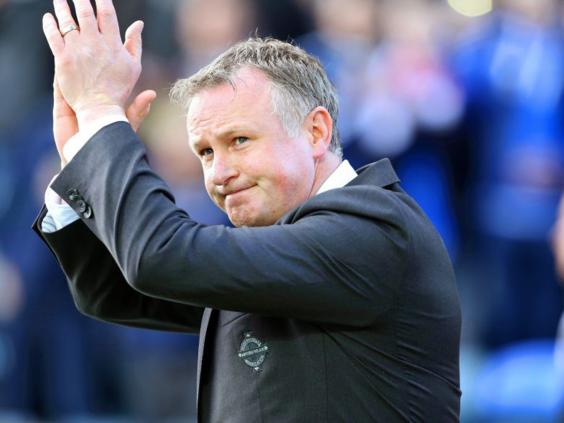 Lafferty has scored in all four victories, beginning with the late winner in Hungary in the opening game. He scored in Greece, at home to the Faroe Islands and his two on Sunday in Belfast were evidence of a player in a groove. He is unrecognisable from the man Norwich stuck in left midfield. But then Northern Ireland are unrecognisable from the team that lost to Luxembourg in World Cup qualification 19 months ago, despite six of Sunday's starting XI beginning that game.
Northern Ireland came out of pot four in the draw for Brazil and finished fifth, winning one of their 10 games. Lafferty didn't score once. Ranked 39 of the 54 Uefa countries, they came out of pot five for this draw. Now they are second behind Romania, who travel to Belfast in June, Lafferty has five goals and Northern Ireland are on the brink of their first major finals since the 1986 World Cup, the year before Lafferty was born.
"In the last campaign I let everyone down," he said. "Michael [O'Neill] had a word with me and it really hit home. He is the best manager I've played under and he gets the best from me. I'm buzzing playing for him."
Having begun his career with Burnley, then had four years with Rangers before a season in Switzerland with Sion, then Palermo, Lafferty said he would like to return and establish himself at Carrow Road. "I'm a Norwich player and, hopefully, after my loan spell I'll go back and get in the team," he added. "Hopefully, by then they will be in the Premier League."
O'Neill is too wise to say that he has solved the riddle of Lafferty – "I only have him for a week," he joked – but he did compare the player's effect on Northern Ireland to Gareth Bale's and Aaron Ramsey's for Wales.
"I just felt that once this team had belief it had a lot of potential," O'Neill said. "In the last campaign we missed opportunities, but we've learnt. Defensively we look solid and we have loads of creativity as well. Now we have the goal threat of Kyle. You need someone to win you games. It's really significant that we have that."
Reuse content