When Wayne Rooney was asked what he made of the Norway defender Vegard Forren calling him "chubby", he smiled and said he was "not too interested".
Maybe not, but it was the firmest impression this unknown Norway squad has made on the England camp ahead of their friendly.
Few other than Roy Hodgson may be able to name names, as he did at his pre-match press conference when he started to talk through the starless squad. "Looking at them," Hodgson said, "Brede Hangeland has retired, Morten Gamst Pedersen is still there, outside of that it is only people like [Rune] Jarstein, who has played a few games but has lost his place in goal, [Tom] Hogli, the full-back, who played in Norway when I was there and moved to FC Copenhagen and has 30-odd caps."
Hogli actually has 41 but the point was clear. Hodgson, as he said, "knows quite a lot about the Norwegian team", even if to most England fans at Wembley or watching at home, they will be a team of strangers.
It was not always this way. The Norway squad that went to France '98, for example, had 11 players who played in England, including some famous names: Henning Berg, Ronny Johnsen, Stig Inge Bjornebye, Egil Ostenstad and Ole Gunnar Solskjaer.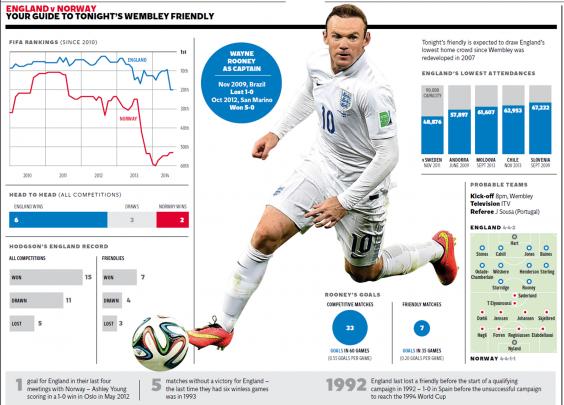 Click HERE to view full-szie version of graphic
This Norway squad, though, has just three players who play in England, and all of them in the Championship. Mats Moller Daehli, Cardiff City's impish little creative midfielder, is the best of them, the others are Alex Tetty and Joshua King.
Even younger, smaller and more gifted than Daehli is Martin Odegaard, the 15-year-old who has been dazzling at Stromsgodset this season but he will be playing for the under-21s instead, against Portugal on Thursday.
What, then, is behind this new era of relative Norwegian anonymity? The quality of the players has almost certainly declined. Norway qualified for the World Cups of 1994 and 1998, and for Euro 2000, but have not reached a single major tournament since. Their appearances at those two World Cups came under veteran coach Egil Olsen, a long-ball devotee whose tactics – 4-5-1, with an emphasis on hitting the big man early – were very effective 20 years ago but have been overtaken.
Football has moved beyond Olsen's Norway. The veteran coach returned to the role in 2009 but left again last September, having failed to take Norway back to the level they were once at. Nineteen years ago, Norway were ranked second in the world. Earlier this year they were down at 60th.
The Premier League has changed too, though, with fewer teams deploying the type of tactics that made hard-working Norwegian players so popular in the 1990s. The scouting departments of top-flight English teams have transformed and are now far more globalised, looking across the world for players rather than relying on the rather convenient resource they found in Norway: reliable English-speaking players who fitted the early era of the Premiership perfectly well.
In Daehli and Odegaard Norway have started to create a new type of footballer, faster, smaller and more technical, but the task of changing a whole football culture – as England are seeing now – is not something that happens easily. 
Norse code: Norway's England links
Vegard Forren
Centre-back spent six months at Southampton last year without making a single appearance.
Morten Gamst Pedersen
Winger was at Blackburn for nine years before leaving last year, playing 350 times.
Alexander Tettey
Ghanian-born defensive midfielder has been at Norwich for the last two seasons.
Stefan Johnansen
Joined Celtic last January.
Mats Moller Daehli
Winger unable to prevent Cardiff's relegation last season.
Joshua King
Forward of Gambian descent. Began career with Man United and spent loans at Preston and Hull before joining Blackburn. Has scored twice in 11 caps.