Under-fire World Cup pundit Phil Neville has thanked the critics who blasted his commentary style during England's defeat to Italy.
The Former Manchester United and Everton player drew a huge amount of scorn for his "montone" words while covering the game for the BBC in Manaus on Saturday night.
But Neville has shaken off the backlash and even thanked his critics for the feedback.
"1st live co-comm last night - sometimes u [sic] have to take the criticism - it will only make me better - thanks for the feedback (ahhahaha)!" he posted to his Twitter page on Sunday.
He later admitted the co-commentator role was more difficult than he was anticipating, telling Radio 5 Live: "Co-commentary is harder than I thought it would be...I will get better...I'm glad I helped everybody sleep!"
Fellow broadcaster Danny Baker was among his critics, but said the BBC should share the blame.
He said: "Phil Neville has acknowledged he wasn't great during England commentary. But what were the BBC doing giving him THAT game to 'learn his craft'?"
The BBC also moved to defend Neville, who drew a mountain of fury on Twitter during the game.
"Phil is an important, well respected member of our team and will continue to play a key role throughout the tournament, both as a studio guest and match commentator," said a BBC spokeseman.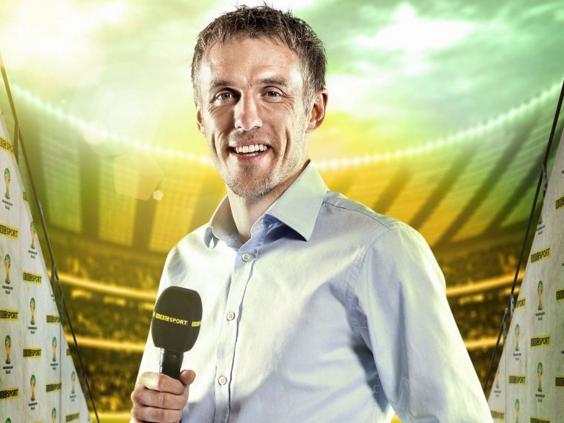 Here are a few of the best Tweets from Saturday night...
Is Neville doing the shipping forecast?

— Tom Foot (@tomfoot1) June 14, 2014
Alcohol dependency groups have suspended sales of their cessation video narrated by Phil Neville after millions more people hit the bottle

— Neil Yates (@neilayates) June 15, 2014
Phil Neville could make Zippity Doo Dah sound like a cancer diagnosis

— Frankie Boyle (@frankieboyle) June 14, 2014
The most important button on the sky remote when Phil Neville commentates #worldcup pic.twitter.com/e9O3A5Yo9x

— Everything Liverpool (@scouseliving) June 14, 2014
"And the BBC have just made one change for the second half. They've taken off Phil Neville and brought on a speak-your-weight machine."

— Danny Baker (@prodnose) June 14, 2014
England's physio stretchered off after falling into a coma listening to Phil Neville's commentary. pic.twitter.com/ZcdJbwyUf0

— NeiLFC Davies (@NDAV5L) June 14, 2014
Phil Neville. If a Wild Bean Cafe pasty could talk.

— Chris Addison (@mrchrisaddison) June 14, 2014
I'm sure this is what phil neville was thought he was watching last night pic.twitter.com/PibjYUJZKn

— AP FROM HIGHBURY (@adamparsons70) June 15, 2014
#PhilNeville The man doing the subtitles for Phil Neville last night #zzzzzzzzzzzz pic.twitter.com/CGRkjhVXIU

— Danny smith (@doglab) June 15, 2014
Phil Neville with fantastic analysis of the 5mins of extra time. 'There have been stoppages'. Sorry Gary

— Michael Carlson (@Carlsonsports) June 14, 2014
Phil Neville - the people's sleeping pill. #WorldCup2014 #BBC #WorldCup2014

— Renegade Economist (@RenegadeEcon) June 14, 2014
BBC have apologised for sound problems during the game after Phil Neville's microphone was mistakenly left on.

— tom jamieson (@jamiesont) June 14, 2014
No wonder #ManUtd came 7th. Having Phil Neville in the dressing room must have been like having a death eater present. #EnglandvsItaly

— Greg Rutherford (@GregJRutherford) June 14, 2014
If the entire stadium burns down, Phil Neville will mumble "Well, that's what flames can do. If they're not marked."

— Mark Steel (@mrmarksteel) June 14, 2014
My SatNav has more enthusiasm than Phil Neville!

— PNE Police (@PNEPolice) June 14, 2014
If I was stranded on a desert island with a tin of corned beef and Phil Neville I would eat Phil Neville and talk to the corned beef.

— Jeff (@Schofij) June 15, 2014
will be playing recordings of Phil Neville all night to keep the streets all calm and sleepy. Remember respect residents #KnowYourLimit

— Policing South Warks (@SWarksCops) June 14, 2014
Neville's commentary drew 445 complaints from viewers, which pulled in a peak audience of 15.6m viewers.