Uefa – 13 teams
The dominant continent, having provided both finalists in the last two World Cups, Europe are sending 13 teams to Brazil – nine group winners and four from the play-offs – with two confirmed so far.
Click image above to enlarge graphic
The Netherlands and Italy are the first two to get through, both winning their groups on Tuesday night. No one has a better record than the Dutch – eight games, 22 points, and eight goals for Robin van Persie. A Mario Balotelli penalty, predictably enough, secured Italy victory in Group B.
Other even stronger sides can almost touch the finishing line. The two most likely teams to challenge Spain's hegemony – Belgium and Germany – are each one result away in groups B and C respectively, with remaining fixtures that should be more than manageable.
Spain, the relentless results machine, just need two more home wins to stop faltering France from catching them. It has not been the champions' easiest year – they were routed in the final of the Confederations Cup by Brazil – but that should not be beyond them.
Of the bigger remaining names, England and Russia both need to win their last two games to progress, with Ukraine and Portugal lying in wait in groups H and F respectively. Bosnia and Switzerland, in pole position in their own groups, should be more watchable.
CONMEBOL – Four teams, plus one into a play-off
The biggest single group – with nine teams – will send four direct to the World Cup, along with hosts Brazil, while the fifth team will play-off against Asia's fifth, now known to be Jordan.
Argentina are the first team through, after beating Paraguay 5-2 on Tuesday. With Lionel Messi, Angel Di Maria and Sergio Aguero they were likely to click eventually and since Alejandro Sabella took over as coach they certainly have.
Colombia are in second place, fired by their best set of players for a generation. Radamel Falcao, James Rodriguez and Fredy Guarin have dragged them up, while Chile – with Gary Medel, Alexis Sanchez and Arturo Vidal – are in a safe third. Ecuador – a good start but now fading – and Uruguay – a poor start but on the rise – are fighting for the fourth automatic spot. Whoever loses out and has to play-off against Jordan will not be too disappointed though.
CONCACAF – Three teams, plus one into a play-off
The "Hexagonal" is the fourth stage of four in north and central America – with the six remaining teams playing their last league, the top three going through and the fourth playing off. The United States and Costa Rica, who played two tempestuous games between themselves, have now safely qualified, the US beating Mexico 2-0 on Tuesday.
Mexico, the Olympic champions, with one of the world's most watched domestic leagues, are surprisingly down in fifth. Honduras are currently third and with four more points can ensure qualification. That would leave Mexico and Panama, rather implausibly, fighting for the right to face New Zealand over two legs. The sides meet at the Azteca in Mexico City on 11 October.
AFC – Four teams, plus one into a play-off
Asian qualification is at a pause of sorts now. Four teams qualified quickly for the World Cup, after the best 10 sides split into two groups of five. Iran won Group A and were closely followed by South Korea, who squeezed out Uzbekistan on goal difference. The other group was taken by the two 2011 Asian Cup finalists – Australia and Japan – with Jordan in third.
So it was Jordan and Uzbekistan who fought to be the fifth-placed team, with the right to play in a difficult tie against the fifth side from South America. The first leg in Amman was 1-1, as was the nervous second leg in Tashkent. During extra-time the floodlights failed, causing a very tense 18-minute delay. Eventually power was restored, it went to penalty kicks and it was Jordan, who have never played in a World Cup before, who held their nerve.
CAF – Five teams
The only major association from which no team has yet qualified. The second round of groups has produced 10 winners who, on Monday, will be drawn into five play-offs to be contested next month and in November. There are some surprises there: South Africa, who hosted the last World Cup, finished behind Ethiopia in Group A, while recent competitors Tunisia and Morocco did not make it through either.
The seedings will be based on the next set of Fifa rankings but as it stands, Egypt, Cameroon and Senegal will be among the unseeded five – along with Burkina Faso and Ethiopia. Egypt, winners of the 2006, 2008 and 2010 Africa Cup of Nations, but underachievers in World Cups, would not be a fun opponent for any of the seeds, who should be Ivory Coast, Ghana, Algeria, Nigeria and Cape Verde.
OFC – One into a play-off
Now that Australia play their football in Asia, the Oceania Football Confederation qualifiers are a lower-profile place. New Zealand had won all their third round group games by March and are now waiting for their CONCACAF opponent.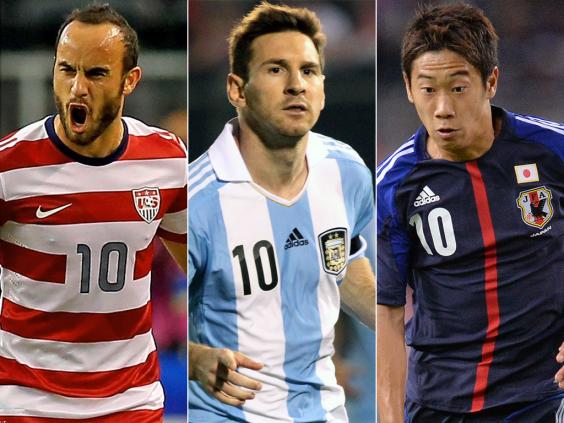 Europe: How it stands with two games to go
Group A
Eden Hazard's Belgium and Croatia are the two teams left with a chance. If Belgium draw in Zagreb next time out they book their ticket. Even if they lose, beating Wales at home will finish the job. Croatia need two good wins to come first.
Group B
Italy won the group on Tuesday, after beating the Czech Republic in Turin. The Czechs remain in contention for second but Bulgaria or Denmark are more likely.
Group C
Germany are on the brink of qualification - five points clear of Sweden with two games left. Only Austria can keep Sweden out of second place.
Group D
The Netherlands are through, and at a canter. Just one point separates Hungary, Turkey and Romania for second place with Romania probably the likeliest to go through.
Group E
Ottmar Hitzfeld's Switzerland are top and are two points away from winning it. One might even be enough. Iceland look the likeliest to follow them, squeezing out Slovenia.
Group F
Just one point separates Russia from Cristiano Ronaldo's Portugal. Two wins for Fabio Capello's side in Luxembourg and Azerbaijan will send them through while Portugal must win their two home games and hope for a mistake.
Group G
Bosnia's crucial 2-1 win in Slovakia on Tuesday night hauled them back into first place, ahead of Greece. Two wins will take them to their first World Cup. Greece need a favour.
Group H
England need victories from their last two to win the group. If they do not then the chasing pack - Ukraine, Montenegro and Poland - will take advantage.
Group I
World and European champions Spain have two home games left - Belarus and Georgia - and four points would send them back to defend their title in Brazil. France are waiting for any slip-up.
Reuse content