Radamel Falcao managed to use last night's friendly between Colombia and Bahrain to send a message to Manchester United.
Having scored just four goals since joining on loan from Monaco, the 29-year-old is now struggling to be given a game by Louis van Gaal. He came on in the 83rd minute in their two most recent games, against Liverpool and Tottenham, whilst he was an unused substitute for the FA Cup exit to Arsenal before that.
However, after starting for Colombia in their Copa America warm-up match, Falcao showed his eye for goal with strikes in the 32nd and 36th minutes. The brace took his tally to 23 in 55 internationals.
Carlos Bacca, Adrian Ramos, Johan Mojica and Andres Renteria were also on target at the National Stadium in Riffa for Colombia, who were without World Cup ace James Rodriguez for the friendly.
Ahead of the match, Colombia manager Jose Pekerman spoke of Falcao's problems at Old Trafford.
"It's a huge problem that we need to resolve; this problem is as large as the sadness that Falcao is going through right now," said Pekerman.
"I feel I need to support him because I understand how hard it is for him and the difficult moment he is experiencing. I want to work with him again and help him restore his confidence."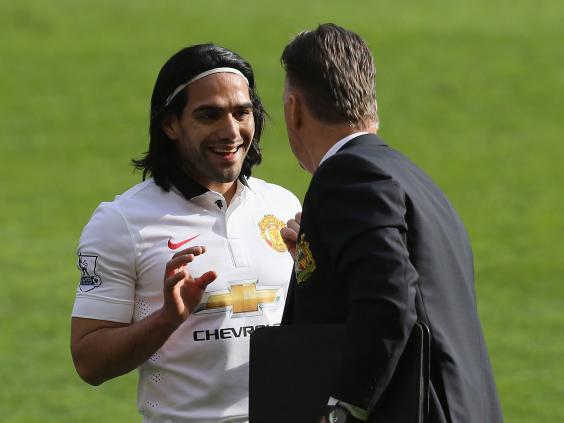 With Manchester United understood to be unlikely to make his transfer a permanent one, Falcao has found himself linked with a host of clubs and according to Pekerman the man second on Colombia's all-time scorer list will get back to his best.
"I know Falcao's strengths, his mentality and his fighting spirit, and I've never doubted that he'll come out the other side," Pekerman said. "He's in a bad moment, but he's looking after himself and this week is going to be very important for him.
"Of course, on a human level I'm on Falcao's side because I know that he's suffering and he deserves the opportunity to work better and to have his chance to show that he's okay. But it's not my job to judge the decisions of another coach."
Reuse content