Like many teenagers, Raheem Sterling is not given to long, detailed explanations about the genesis of his career, or deep insight into his feelings. He likes to keep it simple and respectful, and there were many occasions on his England press conference debut yesterday when he deferred to the experience and achievements of the players in the squad. But there was one moment when he sat back in his chair and reflected on how far he had come.
"I grew up a five-minute walk from [the site of] Wembley stadium. I used to ride my bike round this little car park that was by the stadium. I used to say to myself, 'One day, when the stadium is built, I'd like to play in there. Hopefully I could do that.' And I am really grateful to be given that opportunity."
As a story, the progression of Sterling's young life can sometimes seem too good to be true. He came from Maverley in Jamaica, with his mother, Nadine, and his sisters, at the age of five and lived in St Raphael's, part of the wider Stonebridge estate, in north-west London and one of the most notorious in the city. To the south-east are four lanes of the North Circular and to the north-west, the shimmering £757m Wembley Stadium.
England 1 Italy 2 player ratings
England 1 Italy 2 player ratings
1/22 Joe Hart

Didn't stand a chance for either goal, but almost at fault for another. 6/10

GETTY IMAGES

2/22 Glen Johnson

Never really exposed, but never entirely uncomfortable. 5

GETTY IMAGES

3/22 Gary Cahill

Partially at fault for both goals, and generally struggled with Balotelli. 5

GETTY IMAGES

4/22 Phil Jagielka

Sometimes caught out, but in the right place for Mario Balotelli's chip. 6

GETTY IMAGES

5/22 Leighton Baines

Repeatedly exposed and never got chance to display his attacking abilities, other than one superb slipped pass for Rooney. 5

GETTY IMAGES

6/22 Jordan Henderson

Putting him right beside Gerrard made England, and the player, look a little flat. 6

GETTY IMAGES

7/22 Steven Gerrard

Typically effective in attacks, less dependable when forced to defend. 6

GETTY IMAGES

8/22 Danny Welbeck

A productive showing that dismissed doubts over whether he should start. 7

GETTY IMAGES

9/22 Raheem Sterling

The player who best defined some of the new optimism around England. 8

GETTY IMAGES

10/22 Wayne Rooney

One fine assist, a lot of futile play. Poor. 5

GETTY IMAGES

11/22 Daniel Sturridge

A Gary Lineker-style finish to a cap a fine World Cup debut. 7

GETTY IMAGES

12/22 Salvatore Sirigu

Stepped in for the injured Gigi Buffon and then stepped up, making some excellent saves. 7/10

Getty Images

13/22 Matteo Darmian

A good performance, even if his pace wasn't as penetrative as usual. 7

Getty Images

14/22 Andrea Barzagli

So dependable, and perpetuating a fine line of Italian defenders. 8

Getty Images

15/22 Gabriel Paletta

The hair might be thinning, but the former Liverpool player made his own presence felt. 7

Getty Images

16/22 Giorgio Chiellini

Some cynical challenges, and still doesn't look entirely comfortably at left-back. 6

Getty Images

17/22 Claudio Marchisio

A brilliantly precise finish, a productive performance. 7

Getty Images

18/22 Daniele De Rossi

The necessary aggression amid so much Italian elegance. 7

Getty Images

19/22 Marco Verratti

Barely misplaced a ball, and played a key role in the first goal. 7

Getty Images

20/22 Antonio Candreva

An utterly exceptional cross for Balotelli's goal, and a surprise he was taken off. 7

Getty Images

21/22 Andrea Pirlo

The clever passes are too plentiful to remember, but the dummy for the opening goal impossible to forget. 7

Getty Images

22/22 Mario Balotelli

Frequently a threat, occasionally wasteful, but ultimately the match-winner. 7

Getty Images
On the inside of his left forearm, Sterling has a tattoo of the Wembley arch and a boy with a football under his arm looking up at it. The boy is wearing a No 10 shirt, which caused some amusement when he showed it to the press today, given the debate over his and Wayne Rooney's best position. Sterling permitted himself a little smile, but this is his story and suddenly the boy with the ball under his arm has big responsibilities.
Sterling has been England's breakthrough star of the tournament and Roy Hodgson needs a big performance from him against Uruguay tomorrow if his team are going to stay in the tournament. As for the man himself, he is remarkably composed given that at 19 the expectation has risen considerably in the last six months. He came to the United Kingdom in 1999. He does not remember Euro 2004. He does not remember the Twin Towers. He is unburdened by England's mostly onerous history.
Does he know about the great cycle of broken dreams since 1966? "I know there have been some great players who have played for this country. For me to be selected in the national team was a great achievement for me. It is a real honour to represent this country. As I was growing up, I knew a lot about the players. I watched Wayne, Frank, Stevie and they are players I look up to. It is a real honour to be alongside players like this that have done so much for their club and country."
As for the first tournament he "100 per cent" remembers; that is 2010, by which time he had been sold by Queen's Park Rangers, the club that developed him, to Liverpool. "That's a scary thought," said Frank Lampard, sat alongside him and approaching his 36th birthday this month.
Sterling listened with interest as Lampard dealt with the big issues of the day, mostly Rooney and what the former perceived as an agenda when it came to England's most famous current player. The thought occurred that when Rooney fades from the international scene it could well be Sterling who emerges as one of those capable of taking on the mantle of star turn.
This whole experience will be changing his perception of the game on and off the pitch; how he deals with the demands that come from his club, his country, his sponsors – basically those people who are going to make him very famous and very rich.
The trick will be to hang on to what has made him very successful, namely the drive that took a boy from a school on Wembley High Road, where the stadium arch that rose in 2004 (before the stadium opened three years later) frames the playing fields.
He talked about his mum, and her strong influence: "She can be tough on me, she has said I didn't put the ball into the back of the net enough." Then there was the moment on Saturday when he pinched the ball off Andrea Pirlo. "I knew it was him on the ball, but in the first half there was no point pressing him because he is such a good player he'd just bounce it around the corner. I tried to sit off and wait for a chance to go at him. That was one of the opportunities I had to do it."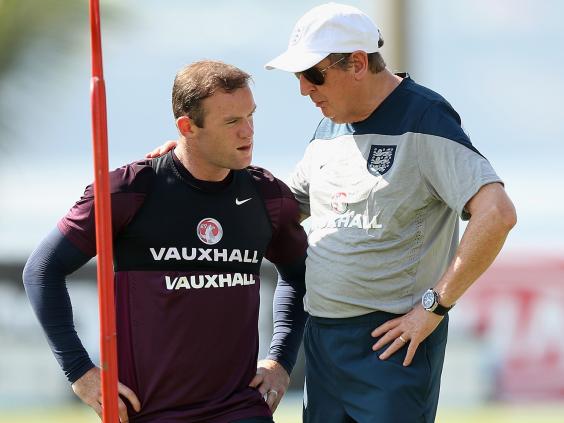 It was only when he was asked about Rooney and others being moved aside for him that he looked even mildly irritated. "I don't think they've been moved to the side for me. I just think that the manager thought at the time that was the best thing to do. I don't think the team was built around me necessarily. The manager thought that was the right position for me at the time, with my pressing and my closing down. I don't think he changed anything for me."
In the end, though, it is the star of the show who is afforded chief billing and Sterling is heading in that direction. What, if anything, worries him? "I'm young, I'm learning and I'm taking every day as it goes but I've got a lot to learn and grow up. I do worry about stuff but at the same time I'm learning." It has been a promising start but the challenges do not come much bigger than the one which presents itself tomorrow.
Reuse content