With the sun out and England clad all in white, this June fixture in Dublin was redolent of that golden summer of 1970, when the nation's footballers were held in the highest regard and harboured serious aspirations at the Mexico World Cup.
Regrettably, the only attribute this generation has in common with the Bobbies Moore and Charlton is the short back and sides preferred by the Premier League's beau monde. Even then there are no combovers for this lot. At the first sign of a receding hairline, the Wayne Rooneys of this world make straight for Harley Street and a reconstituted quiff.
This was always going to be a soporific duty too far, a game notionally required to bond the squad ahead of Sunday's European qualifier in Slovenia and loosen limbs at the end of a long season. But in this era of the beautiful game, when international football is subservient to club matters and the Champions League, there was little appetite for the contest on and off the pitch. "Waste of an afternoon, an end of season waste of space" was how Independent columnist Paul Scholes described it.
Republic of Ireland 0 England 0 player ratings
Republic of Ireland 0 England 0 player ratings
1/24 Keiren Westwood

Unfortunately for Roy Hodgson the Irish keeper had absolutely nothing to do. Didn't make one save of note, but generally looked assured and comfortable. 6

GETTY IMAGES

2/24 Seamus Coleman

Failed to provide the kind of dynamic attacking drive from the right that we are used to seeing at Everton, but he defended stoutly for the most part. 6

GETTY IMAGES

3/24 John O'Shea

Marshalled his defence extremely well and hardly put a front wrong – although England hardly provided the biggest test he will have seen in his long career. 7

GETTY IMAGES

4/24 Marc Wilson

Made a couple of excellent recovery blocks when Raheem Sterling appeared to get half a yard on him, the Stoke man made one big error but England couldn't capitalise. 7

GETTY IMAGES

5/24 Robbie Brady

Usually a winger, Brady was outstanding at full-back, not allowing Sterling any room when he tried to drift to the right; some excellent set-pieces too. 8

GETTY IMAGES

6/24 Jeff Hendrick

Worked hard but lacked a bit of quality on the ball in comparison to his teammates. Still, the Derby man helped keep England on the back foot. 6

GETTY IMAGES

7/24 James McCarthy

The Everton man always wanted the ball and picked the right option more often than not, never allowing England's midfielders to take control. 7

GETTY IMAGES

8/24 Glenn Whelan

Protected his back four perfectly, read the danger before it happened and was very neat and tidy when in possession. 8

GETTY IMAGES

9/24 Aiden McGeady

Ireland's biggest threat going forward, McGeady gave Phil Jones a tough time on the left. He was also excellent in helping Brady deal with the threat of Sterling. 7

GETTY IMAGES

10/24 David McGoldrick

One of the few people who looked like he actually wanted to play here; worked harder than anyone before coming off at half-time. 7

GETTY IMAGES

11/24 Daryl Murphy

The top scorer in the Championship this season showed some sharp movement to force Joe Hart into a good first-half stop; held the ball up well throughout. 7

GETTY IMAGES

12/24 Best of the Bench: Jon Walters

Stung Joe Hart's palms with a thunderous effort that went straight at the keeper; the Stoke man worked hard, as one would expect. 6

GETTY IMAGES

13/24 Joe Hart

Made one very good save from Murphy – given as a goal-kick – but didn't look his usual commanding self when high balls came into the box. 6

GETTY IMAGES

14/24 Phil Jones

A good defender but lacks the quality on the ball to be a right-back. Made one good first-half burst but his cross was poor with two waiting. 6

GETTY IMAGES

15/24 Gary Cahilll

Much more assured than his partner, the Chelsea man continued his fine end to the season with a solid performance. Stood tall under early pressure. 7

GETTY IMAGES

16/24 Chris Smalling

Struggled to deal with the physical presence of Murphy and was caught out badly for Ireland's best chance. Will need to be better if he plays against Slovenia. 5

GETTY IMAGES

17/24 Ryan Bertrand

A solid afternoon's work but will need to do much more if he is eventually to usurp Leighton Baines as Roy Hodgson's first-choice. 6

GETTY IMAGES

18/24 Jordan Henderson

Too often played the easy, early ball forward when some more intricate passing would have served the team better. Was clever in covering Jack Wilshere's forward runs. 5

GETTY IMAGES

19/24 Jack Wilshire

Easily England's best and most positive player, although he isn't quite 100 per cent sharp – Wilshere made a couple of loose passes but drove the team forward. 8

GETTY IMAGES

20/24 James Milner

Worked as hard as ever and made a couple of nice passes, but the new Liverpool signing barely had an impact in the attacking third. 5

GETTY IMAGES

21/24 Raheem Sterling

Had spells on the right, left and in the centre but didn't make his mark in any of them. Ireland doubled up on Sterling and gave him no space. 5

GETTY IMAGES

22/24 Wayne Rooney

His worst England game in a long time. Before he blew the best chance with an extremely heavy touch, he'd given the ball away a few times. 4

GETTY IMAGES

23/24 Adam Lallana

Looked better when he had drifted inside rather than wide on the left, Lallana had a couple of decent efforts but couldn't make that final ball. 6

GETTY IMAGES

24/24 Best of the Bench: Andros Townsend

Extremely positive when he came on in trying to beat his defender and force something. Put in a couple of good crosses and forced Shay Given into a decent save. 7

GETTY IMAGES
Arguably this was a more valuable enterprise for Brendan Rodgers, the Liverpool manager handed an early opportunity to see how his new signing, James Milner, might dovetail in a midfield that, to a large degree, will be at his disposal next season, surrounded as the former Manchester City midfielder was by new team-mates Jordan Henderson, Adam Lallana and Raheem Sterling. Milner is an intelligent footballer, neat and tidy in possession, practised in the art of recycling the ball and with an engine as reliable as a Volkswagen Golf.
The problem is one of casting. Milner's aerobic attributes were seen by coaches as perfectly suited to the wing-back role, a willing runner up and down the flank, keeping the opposing full-back quiet while getting out wide to supply the crosses in attack. Theory and practice rarely dovetailed successfully. The choice of Milner on the wings was more a defensive reflex since he has never had the pace required to open defences. Neither, you will argue, had David Beckham, the man who did the job before him. But Beckham compensated for a lack of velocity with a historic right boot, the accuracy of which we had never seen.
Milner is effectively Steven Gerrard with legs, if not goals; the kind of versatile player the modern coach so admires and who might yet keep Rodgers in a job. He has been signed to give Liverpool ballast where he is most effective, in the middle of the park, and to provide the likes of Lallana and – who knows? – maybe even Sterling, licence to roam.
Milner was back and forth here, a shuttle service on the left of the midfield triangle in the first half, knitting the play alongside Henderson and Jack Wilshere. In this kind of low-key engagement, Milner is almost guaranteed to shine on work rate alone. With Wilshere, he was one of the few to emerge in credit during a torpid opening 45 minutes.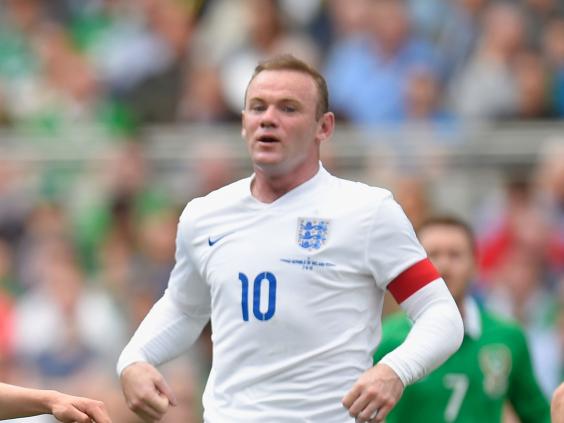 Up front, England were dire. The puzzling inertia that gripped Rooney towards the end of the season at Manchester United shows no sign of abating. His first touch has disappeared. Rooney was always more busy than quick, his sense of anticipation and intuitive grasp of the game seeing him to the ball first. That is no longer the case and, unless he can conjure the urgency and hunger of his younger days, it is hard to see how he will survive in the vanguard of England's or United's attack.
Compare Rooney to the man at the point of the most feared trident on earth – Luis Suarez at Barcelona – and you begin to see how deep the problem lies. Suarez was never the quickest from A to B, but football is not played in straight lines and his footballing radar – his sense of space and ability to read play – makes him the sharpest striker in the game today.
If we persist with the Barça comparison, Lallana is asked to fill the Neymar role and Sterling approximate to Lionel Messi. This being impossible on both counts it is easy to see where England need to improve most. Against modest opposition, they enjoyed plenty of possession without threatening a goal.
It is not all bad for Roy Hodgson. There is pace on the bench in the shape of Theo Walcott and Andros Townsend, and purpose, too, when Alex Oxlade-Chamberlain is firing. It is almost 12 months since England last lost a match and they take a 100 per cent qualifying record to Ljubljana. The team will not look a lot unlike yesterday's starting XI and if they all give it as much as Milner they are likely to maintain the percentages and the gap at the top of Group E, which presently stands at six points.
Reuse content