When Roy Hodgson was Fulham manager more than five years ago, watching his team struggle to an FA Cup third round replay against Bristol Rovers he recalled yesterday how a striker on the opposing side caught his eye.
Hodgson said that at the time he asked Lennie Lawrence, then working for Rovers, about a 25-year old Rickie Lambert who was also part of the Bristol side that eliminated Fulham in the replay. At the time, the now England manager said he had even considered signing the player.
"I said to Lennie: 'Lambert looks interesting'. Lennie said: 'He's been all through the leagues, he is a good player but already 25.' Like I am certain many other managers, we looked at it and thought: 'League One? Is he going to be able to step up?' And we didn't take the chance but other clubs did. Every club who has taken a chance on him has been rewarded."
Yesterday, the two were finally united in circumstances that would have been unlikely five years ago. At 31, Lambert, whose wife gave birth to their daughter, Bella, yesterday, was selected for his first England squad. He is by no means the oldest new selection in recent years – Kevin Davies was 33 when won his first cap in October 2010 – but having played just one season in the Premier League his has been an unusual journey.
Rejected by Liverpool, having played in the same age-group as Steven Gerrard, he played for Blackpool, Macclesfield Town, Stockport County, Rochdale and Bristol Rovers before he joined Southampton in 2009. He scored 15 league goals last season following his club's back-to-back promotions from League One to the Premier League and now has a chance of a first England cap against Scotland on Wednesday.
Asked whether Lambert's inclusion was a reflection of the lack of options he has in attack, Hodgson conceded that it was factor: "We've discussed the paucity of competition at forward level, especially as seeing as many times during that 15 months we've had injuries, I haven't had an awful lot of choice.
"It would be harsh if you then turn that against him [Lambert]. I would still like to say he's a very good technician, good in the air, his understanding of the game is good and he's scored goals. You could argue what more criteria do you want when you are selecting a forward?
"You always run the risk as a footballer that if you are playing in a lower league and doing well, people will always ask the question, 'Ah, but it's a lower league, how is he going to be in the next league?' Rickie is not a player who is exceptionally fast. Exceptionally fast players people take a chance on them a bit more than those with other abilities. Southampton did with Rickie."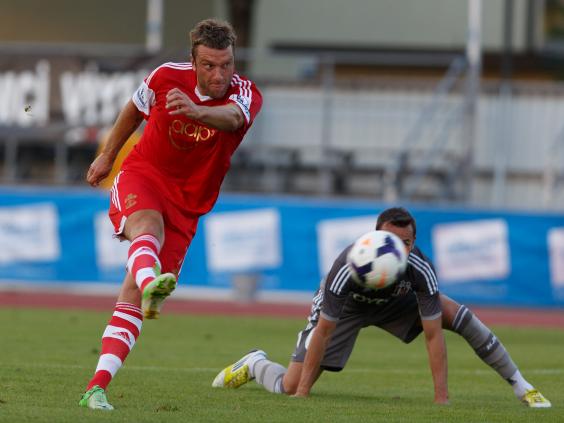 Reuse content