Poor old two-time Fifa World Player of the Year Ronaldinho.
First, the former Barcelona and Brazil international was released by his club Fluminense by mutual consent, having played just 9 games for the club.
The 35-year-old, once ranked alongside Pele and Diego Maradona as one of the best players of all time, was not performing well enough on the pitch for the Brazilian club despite his immense talent.
Then, he crashed his flash 4x4 into a ditch at the side of a Brazilian road, as his bad week got even worse.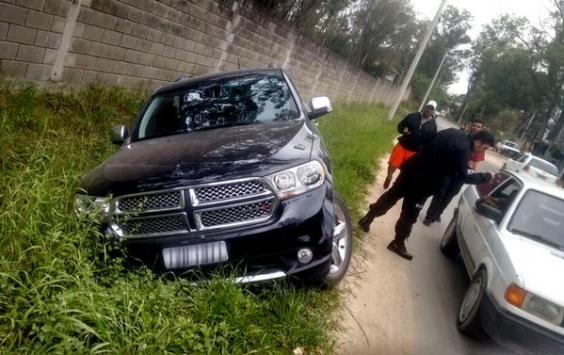 And then, as if that wasn't all, a nearby fan thought the traffic accident's aftermath would be a perfect time to ask Ronaldinho for a selfie.
It's to the footballer's credit that he obliged but the end result was not a pretty picture.
This is superb: Ronaldinho crashes into a ditch at the side of the road, fan seizes opportunity for awkward selfie pic.twitter.com/rZyYm2aDoT

— Jack Lang (@jacklang) October 2, 2015
Tired, teary-eyed and visibily peeved, Ronaldinho's dead eyes are glistening with tears as he poses next to the delighted young devotee.
Noticing he'd obviously forgot to say 'cheese', the player posed for another shot, smiling with his thumbs up. The initial photograph, however, paints the real picture.
Thankfully, Ronaldinho was not seriously injured in his accident and, as a free agent, is looking for a new club.
Reuse content