Everyone was here to see the magical goal No 50 of Wayne Rooney's England career: Kai Rooney, Colleen Rooney, a veritable who's who of San Marino society, some people from the Football Association. That they all had to go home still awaiting this moment of history was, truth be told, a bit of an anti-climax.
Roy Hodgson is a stickler for a plan, and perhaps the FA had one eye on selling out Wembley for the visit of Switzerland on Tuesday too, but either way, Rooney was summoned to the bench before the hour to be replaced by Harry Kane with just one goal required. By then, he had scored goal No 49 to take him level with Sir Bobby Charlton's 45-year England goalscoring record but the final step on this long journey up the list of famous English strikers will just have to wait.
It was not Rooney's best afternoon's work in an England shirt and he struggled to find that killer touch of his on a sub-standard pitch against the determined team of amateurs from the Most Serene Republic of San Marino. The 4,378-capacity stadium was full of mainly England fans, here to witness this moment, with more stood on the hills overlooking the ground, and when Rooney scored from the penalty spot on 12 minutes it looked inevitable that a second would come.
San Marino 0 England 6 player ratings
San Marino 0 England 6 player ratings
1/13 Joe Hart

His only notable moment was nearly failing to pick up the ball. Perhaps San Marino were intimidated by the magnetism of a two-time Premier League champion? 6

2/13 Nathaniel Clyne

Seemed to have more touches in the opposition area than his own half, he got forward whenever required and dovetailed nicely with Oxlade-Chamberlain. 7

Getty Images

3/13 Phil Jagielka

Passed the ball well and won headers as and when required. Couldn't really contribute any more. 6

Getty Images

4/13 John Stones

Won an exceptionally dubious penalty and even beat three defenders as he broke into the area late in the first half. Well there isn't much point evaluating his defensive performance is there? 6

Getty Images

5/13 Luke Shaw

His crossing forced England's second goal and he was one of the few attacking options to suggest he could create something or force a chance. 7

Getty Images

6/13 Jonjo Shelvey

Showed a neat and tidy passing range from the base of the England midfield, tempering his early desire for raking thirty yarders to help England build attacks and, as the opposition tired, pick holes in their backline. 8

Getty Images

7/13 James Milner

An acceptable performance from an acceptable player, who passed the ball neatly without ever threatening to do anything exciting. 6

Getty Images

8/13 Jamie Vardy

Took his opportunity to show Hodgson that being quick does not mean you are worthy of being an international footballer. Showed his lack of composure by picking out a defender when he could have assisted in Rooney's 50th England goal. 5

9/13 Alex Oxlade-Chamberlain

After years on the carpet of the Emirates he struggled more than most with the explosive surface in San Marino, but his crossing and pace were still England's best offensive weapon. 7

Getty Images

10/13 Wayne Rooney

Unsurprisingly rather enjoyed playing against these plucky minnows. Finished his penalty neatly before barging around for an hour. 7

Getty Images

11/13 Fabian Delph

His introduction brought more attacking verve to England's midfield, with the Manchester City man showing a willingness to take players on and get forward. 7

12/13 Theo Walcott

Took his chances well, showing the sort of calm precision that both Hodgson and Arsene Wenger will expect if he is to secure a starting role for Arsenal and England. 7

Getty Images

13/13 Harry Kane

An excellent chipped finish for his goal in what was otherwise a quiet cameo from the Spurs man. 7

Getty Images
He leaves us waiting that little bit longer. In the meantime, England have qualified for Euro 2016 with three games to spare, and it is indicative of how easy Group E has been that this stroll to the tournament in France became a footnote to Rooney's day.
They won on a pitch had all the quality of a badly-laid front lawn and it steadily disintegrated under the feet of the players throughout the game. In the first half, Roy Hodgson's team struggled to breakdown San Marino's usual grim determination but as legs tired among the home side, whose own domestic season has not yet started, the goals started to come including two for Theo Walcott and another for his fellow substitute Kane.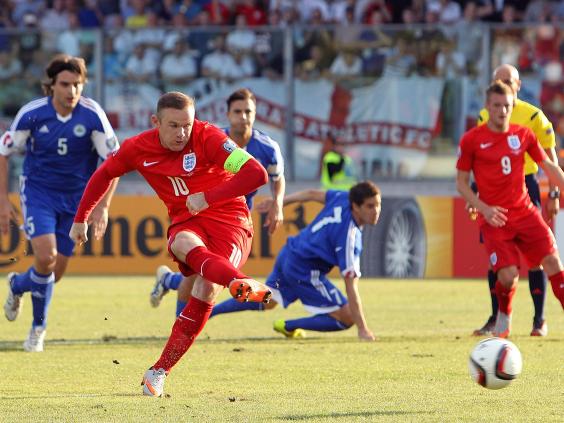 It had been hard-going at first and there was a moment on ten minutes when Alex Oxlade-Chamberlain darted to the touchline, twisted to change direction and the turf just gave way under his foot. Goodness knows what kind of inquest would have followed if he had injured himself badly. It was the same with some of the ill-judged San Marino tackles that required evasive action from Hodgson's players.
The Sammarinese have not got any better over the years, it is simply that England's means of breaking them down seems to take longer. The San Marino striker Andy Selva who scored the goal in the only win in their history still leads the line at the age of 39. They played five at the back again and scored yet another own goal against England.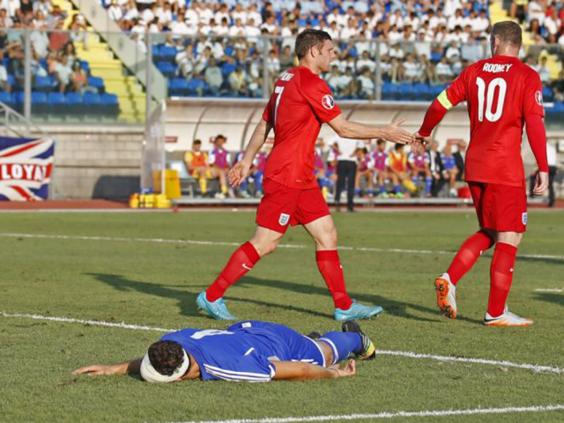 Hodgson picked a 4-3-3 formation with the full-backs Nathaniel Clyne and Luke Shaw pushed high up the pitch. In the centre, Jonjo Shelvey picked out the most imaginative passes in the England team and was the side's best player. On the wings, Jamie Vardy, making his first start at 28, and Oxlade-Chamberlain, found themselves squeezed for space.
Ross Barkley made just his third start for England – remarkable when you consider his potential and the fact he made his debut two years ago. He played to the left of Shelvey in the first half but was more advanced after the break and scored his first England goal at the start of the second half.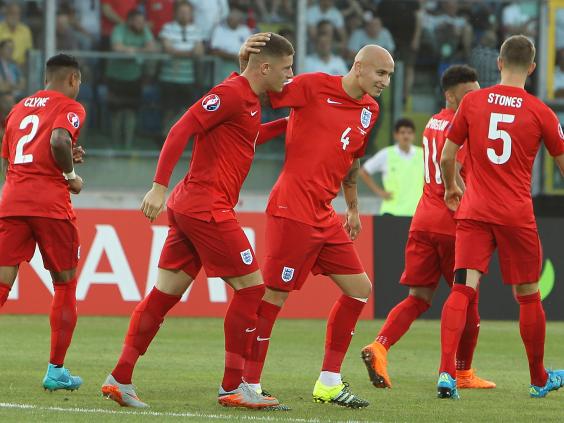 It was hard to divine what England's penalty was given for on 12 minutes shortly after the ball was crossed in from the right by James Milner. The Cypriot referee Leontios Trattou seemed to think that John Stones had his shirt pulled. Rooney was up against a goalkeeper who is well accustomed to picking the ball out the net. It was a familiar fate for Aldo Simoncini who saw the 49th goal of Rooney's England career dispatched past him.
A few minutes later Simoncini did much better to keep out a Rooney shot for the golden 50th and then the follow-up from Milner. He also threw himself in the way of another from Oxlade-Chamberlain when the defender David Simoncini had done his best to mess things up.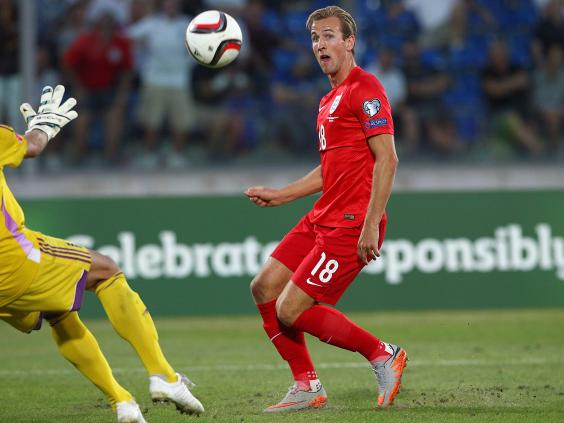 There were fewer chances for Rooney after the break and he came off just as San Marino really started to tire. Barkley had tapped in from Oxlade-Chamberlain's cross seconds after half-time and, once the substitutes arrived, the holes in the home side's defence began to appear. Walcott scored from substitute Fabian Delph's cross. Kane chipped another over Simoncini. Walcott slotted in a sixth and should have had a hat-trick.
England have averaged six goals a game against San Marino over the six meetings in their history so this could be considered par for Hodgson's team. They have three qualifying games now, starting against Switzerland on Tuesday in which to begin their preparations for France next summer while some of the more successful European sides still fret over qualification. As for Rooney he inches ever closer to the record, and where better than Wembley to nudge over the line and into history?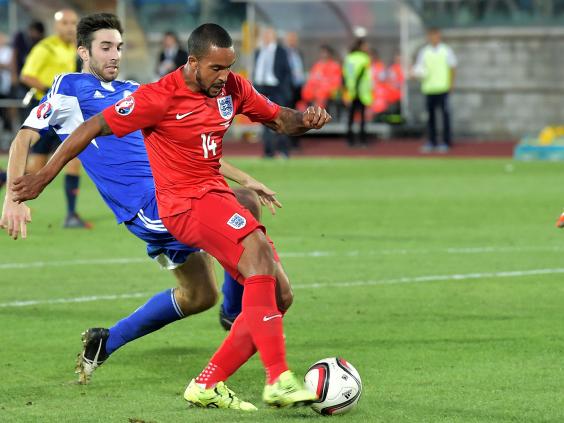 England (4-3-3): Hart; Clyne, Stones, Jagielka, Shaw; Milner (Delph, 58), Shelvey, Barkley; Oxlade-Chamberlain (Walcott, 67), Rooney (Kane, 58), Vardy.
Substitutes not used: Heaton (gk), Butland (gk), Smalling, Cahill, Carrick, Mason, Sterling, Gibbs.
San Marino (5-4-1): A Simoncini; Bonini, Brolli, D Simoncini, Palazzi, Berardi; Hirsch (Alessandro Della Valle, 80), Battistini (Tosi, 72), Chiaruzzi, M Vitaioli; Selva (Rinaldi, 75).
Substitutes not used: Muraccini (gk), Benedettini (gk), Berretti, Alex Della Valle, Golinucci, Mazza, Stefanelli, Valentini, F Vitaioli.
Booked: Berardi
Referee: L Trattou (Cyprus).
Man of the match: Shelvey
Reuse content