According to Scottish tradition, beating England means the transference of whatever title the old enemy currently hold. In 1967 that made the Scots world champions. Last night there was no such bragging to be had – losing to the worst team at the 2014 World Cup is not something to shout about.
History hangs heavy across this fixture – "The Spirit of 67" proclaimed one banner – it always has and always will, but north of the border, where the fixation has always been greater, there is a desperation to move on.
Scotland's recent football past, a painful decade and counting, is one most fans would happily airbrush from history. The here and now, though, is promising something different, something better, something even to believe in again. Maybe even a bit of pain relief. "Is it," wondered one Scottish newspaper's editorial yesterday morning, "too much to hope for a home win?"
Afraid so. This was a tired performance from Scotland, a game too far in what has been a draining week. Beating the Republic of Ireland had taken more out of his side than manager Gordon Strachan might have sensed.
Pass after pass went astray and, although England fluffed a few of their own lines, it was too comfortable a night for Scotland's most unwelcome visitors.
Strachan sent out the strongest team he could, with Chris Martin the sole change from the side that had battled to that key win in the Euro 2016 qualifiers on Friday. Strachan is an admirer of the Derby striker. It was Strachan who made the phone call to persuade Martin, capped by England at Under-19 level, to play for his father's country. He has scored plenty of goals in the Championship, the highest domestic level he has played at, but never had the sniff of a chance last night. England's six changes included four who have played in the Champions League, more than the Scots could muster in their entire 11.
It is that level of experience that Strachan is acutely aware he lacks in his squad. Playing in games like this, in arenas like this, in front of crowds like this is learning on the job for his side, and explains in no small part why Strachan wanted his main men to get the first go at it last night.
Scotland 1 England 3 player ratings
Scotland 1 England 3 player ratings
1/22 David Marshall

Survived an early fumble from a Danny Welbeck shot but there was little he could do about Alex Oxlade-Chamberlain's header. 6

2/22 Steven Whittaker

Had a couple of shots blocked following short set-pieces, the right-back got little joy going forward in the second half but was dependable at the back. 6

3/22 Grant Hanley

The Blackburn centre-back's lack of mobility told at times. 5

4/22 Russell Martin

Came close with a header but found it difficult to cope with England's movement up front. 5

5/22 Andrew Robertson

Lost the first goalscorer and inadvertently set up the second but showed his character with an excellent first goal for Scotland. 5

6/22

Distribution was not as accurate as his man-of-the-match display on Friday and his misplaced pass and crude block on Alex Oxlade-Chamberlain ultimately led to England's second goal. 5

7/22 Scott Brown

Withdrawn at half-time after a decent if uninspiring display. 5

8/22 Ikechi Anya

Lifted the home crowd with a couple of early runs but could not make a telling contribution. 6

9/22 Steven Naismith

Was out on his feet at the end of Friday's win over the Republic of Ireland and lacked a spark both up top and just off the front. 6

10/22 Shaun Maloney

Was well off target when given a chance to shoot late in the first half, although from much further out than his goal against the Irish. Otherwise failed to threaten. 5

11/22 Chris Martin

Held the ball up well at times but was unable to make a major impact and rarely had the ball with his face to goal during his 45-minute run-out. 5

12/22 Fraser Forster

The former Celtic goalkeeper's defence allowed him one of his quieter 45 minutes at Parkhead but was exposed for Robertson's goal. 6

13/22 Nathaniel Clyne

The Southampton right back's well-timed tackles and ability to break quickly gave England an edge down his flank. 8

14/22 Luke Shaw

Dealt well with the threat of Shaun Maloney. 6

15/22 Gary Cahill

Came close from an early header and marshalled Martin well in the first half. 7

16/22 Chris Smalling

Totally comfortable in central defence and showed his confidence as the game progressed. 8

17/22 James Milner

A disciplined display in the anchor role. 7

18/22 Jack Wilshere

Floated an inch-perfect cross over the top of the Scotland defence to set up the opener and had a hand in both other goals, the Arsenal midfielder imposed himself on the game. 8

19/22 Alex Oxlade-Chamberlain

Drifted into the goalmouth to head the opener. 6

Getty Images

20/22 Stewart Downing

Showed enterprise and control in central midfield. 7

21/22 Danny Welbeck

Caused some problems going forward in the early stages and put in a power of work to disrupt Scotland further back. 7

22/22 Wayne Rooney

Overtook Jimmy Greaves in the England scoring stakes with his 45 and 46th international goals. The skipper showed hunger and drive as he led from the front. 9

Getty Images
It did not have the feeling of a friendly when the teams emerged – one of the four young bearers of the St George's flag paraded on the pitch pre-kick-off appeared to flick a couple of fingers in the direction of the jeering home fans – nor when Danny Welbeck, who threw himself into the occasion throughout his hour on the field, flew into Shaun Maloney, leaving the Wigan player in a heap. Moments later Steven Whittaker got one back on behalf of his diminutive team-mate. The bemused Swedish referee, Jonas Eriksson, ticked off the Norwich full-back and then had even sterner words with Charlie Mulgrew after he flattened James Milner. By then Scotland were behind.
Strachan has achieved plenty during his 18-month tenure, but he does not have a first-rate centre-half to call on and it shows. The Scotland manager, a noticeably more relaxed figure from the irritable jack-in-the-box English audiences are used to, has sought to address this through rigorous work on the training pitch and four clean sheets in the previous four home games are a sign of some progress.
Last night, though, best-laid plans went awry – it was too simple for Alex Oxlade-Chamberlain to ghost on to Jack Wilshere's cute chip and head past David Marshall.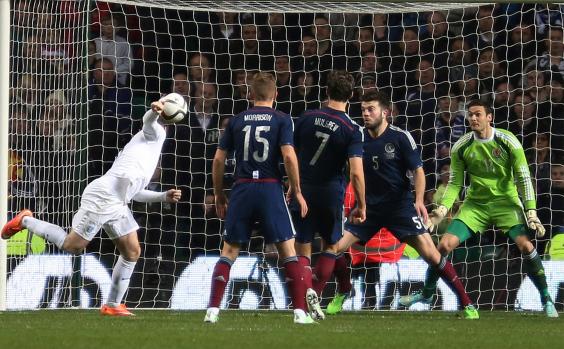 Championship player Ikechi Anya provided most of Scotland's flickers of brightness.
The Watford man's partnership with Andy Robertson down Scotland's left is one of the most promising routes to goal developed under Strachan. Robertson is 20, a product of Dundee United's successful youth system and has impressed Hull City's manager, Steve Bruce, with the panache with which he has taken to the Premier League.
Robertson, who was to score Scotland's neat consolation, and Anya troubled Nathaniel Clyne and the Arsenal player Oxlade-Chamberlain, but still it did not lead to any threat on Fraser Forster's England goal in the opening period.
It was not until six minutes into the second half that Forster was required to make a save of any note, tipping over Russell Martin's header.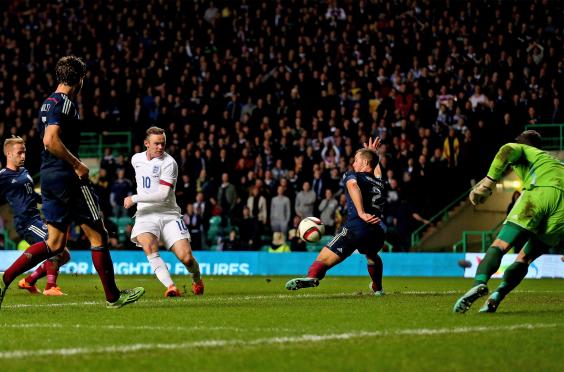 Wayne Rooney's header a couple of minutes earlier – again a soft goal after the ball had careered around the Scotland area – had all but put the long-desired win beyond Scotland's reach.
The intensity so obvious against the Republic of Ireland on Friday was missing. Even before the vital but sapping win against the Irish there was a suspicion that this was a game Scotland's limited squad did not need. England wanted this – with an hour gone Rooney snapped persistently at the heels of his clubmate Darren Fletcher. Wilshere too did not let Scotland's midfield draw breath.
As the hour mark passed so the substitutions began to mount. On came Raheem Sterling, one of England's brightest talents. On came Sheffield Wednesday's Stevie May, one of Scotland's brightest talents.
There is the gulf and Strachan has to cut his kilt accordingly. Strachan has given Scotland a genuine chance of making Euro 2016 from the competition's toughest qualifying group.
Should they make it, and it remains a tall order, then last night will be happily consigned to the history books.
Reuse content