Dele Alli believes his aggressive edge has actually aided his career and says he is not looking to curb his temper, despite regretting "mistakes" like the challenge on Gent's Brecht Dejaegere that saw him sent off in Tottenham Hotspur's Europa League campaign this season.
Although widely praised for his performances in again winning the PFA's Young Player of the Year award, the 21-year-old says he is aware of the debate around his occasional aggression and incidents he gets involved in. 
Alli also noted the retrospective ban he received for punching West Bromwich Albion's Claudio Yacob at the end of the 2015-16 season, but said that while he was hoping to learn from such moments, he is not "looking to change" and feels that edge may even have benefitted him.
"I know there are a lot of mixed opinions about it but that's the player I am and it's been in my game every since I was a youngster," the Spurs player said. "That's not something I am looking to change to be honest. Obviously I have made a few mistakes and hopefully you can tell that I have learnt from them but, like I say, it's not something that I am worried about.
"Maybe if I didn't have that in my game I wouldn't have achieved as much as I have done so far at this age. Like I say I am going to keep doing what I do and keep looking to improve. You have to make mistakes to learn from them and I have learnt from every one so far so I am just going to keep playing my game.
"There are different things like the West Brom one. Obviously after the game I regretted that straight away. It was one of those moments that I have learnt from and I've not done anything like that again. There was also the challenge in the Europa League. I know it looked really bad and it was a really bad tackle but I know, myself, that I would never go our to hurt someone. It was just a poorly timed tackle and, like I said, I apologised to the guy straight away. I felt to be doing a challenge like that on someone is horrible. Horrible for me as well to think about it. I apologised and felt sorry and I've learnt from it, it was a mistake.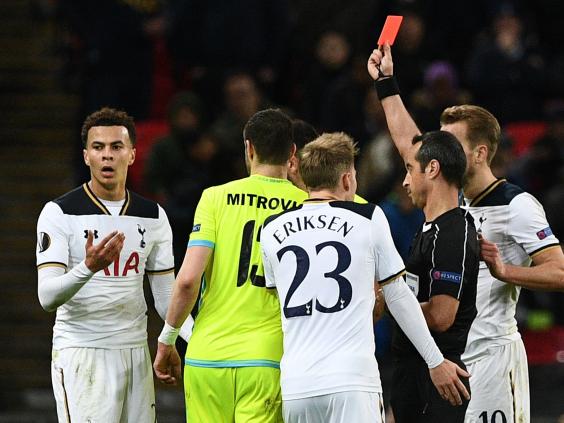 "When I was younger I always used to get into tackles and things like that… it's something that has always been in my game and like I say it's not something I'm looking to change."
Alli did admit he had evolved some of his attacking game, and the 2016-17 did see a jump in his productivity, as he hit 18 goals in 37 games compared to 10 in 33 the previous season.
"Personally I think it was a good season for me. Obviously there's still a lot room for improvement. The start of the season was quite slow, after winning Young Player of the Year the season before, I think opponents started to recognise me a bit more, so I had to change my game a little bit."
Alli meanwhile said that England had gone to "dark places" regarding the "low point" of the 2-1 defeat to Iceland, but said they had Gareth Southgate has been consciously looking to use the lessons of that game as a positive.
"We've done a lot of work in the camp, we've talked about it, and I'm sure Gareth's aware of how hard it is to talk about it as players, such a low point in our career so far as players, it's important that we do go to them dark places to improve as a team and he's explained that to us and it's one of them, I think, we were shocked the situation we found ourselves in at the time, when maybe as a team we hadn't worked enough to realise how to come back from that and to deal with being in a situation like that. It's something to work on as a team, and hopefully won't happen again.
"It wasn't really until I came back here when I'm out with England, and Gareth coming, until then you don't really want to talk about it or think about it because it's such a hard thing, you know, it still makes your heart go and you know you get a lump in your throat.
"I think it's important, as a team that when something like that does happen and there's fans as well, you do need to go through it and see what happened and where we went wrong because you know there are so many fine inches in football to be successful and it's important that when you have the chance to improve as a team you have to take it, even if it does mean going through something like that.
Alli meanwhile stated he is currently not even thinking about leaving Spurs, and wants to just focus on his game, despite speculation on his future after another fine season.
"It's nothing really something I am thinking about too much. I think people get to worried about where they are going to end up and lose focus on the journey and not enjoying it. So for me as a player I'm signed at Tottenham and I am enjoying it. Who knows where I am going to end up but I am enjoying the journey.
"Whether I stay at Tottenham for the rest of my career or if I do happen to go somewhere else I'm sure if it happens, if I do go somewhere else, it will be at a time when I think that's what's needed. For me personally I am just looking forward to enjoying the journey I have."
Reuse content