It would be easy for the current crop of English players not to realise quite how much this meant to the Scottish, but from the first moment their boots touch Hampden's luscious verdant carpet, a wall of noise let them know. 
This was an occasion where it felt pre-match as if the football was outweighed by the significance of the game to the home fans, and the quality on show soon echoed that hierarchy of importance. Scottish supporters had not massed at Hampden to watch a masterclass of the beautiful game, this was about pride and country, about their oldest rival by any measure, not to mention the oldest rivalry in football history, and beating the English - by any means necessary. 
For all the gap between the respective sides in terms of quality, Glasgow was alive with the prospect of this meeting. Kilted gentlemen and tartan-clad ladies filled the streets of Scotland's largest city from early in the morning. Glasgow Central station's glass roof bounced around the bellowing songs and the droning bagpipes, powered by Buckfast. Hampden itself was raucous, teeming with home supporters who booed God Save the Queen louder than they even sang Flower of Scotland - and the latter was deafening. 
Scotland vs England player ratings
Scotland vs England player ratings
1/22 Craig Gordon – 4 out of 10

Will be disappointed with himself. Should have saved Oxlade-Chamberlain's strike, which itself stemmed from him misjudging a backpass from Tierney.

2/22 Christophe Berra – 6 out of 10

A decent display and cannot be blamed for either of England's goals, though could have organised his backline better.

3/22 Charlie Mulgrew – 5 out of 10

Guilty of ball-watching for England's late equaliser and losing track of Kane, though could have done with a shout from Robertson.

4/22 Kieran Tierney - 7 out of 10

Impressive from the youngster. One goal-line clearance, one vital block to deny Rashford a clear shot at goal, but let himself down on the Oxlade-Chamberlain goal.

5/22 Ikechi Anya - 6 out of 10

Had an opportunity to get at a nervy Walker but did not take it.

6/22 Andrew Robertson – 6 out of 10

Troubled England's right flank, though benefitted from Rashford's hesitancy to track back. Mix-up with Mulgrew cost his side.

7/22 James Morrison – 5 out of 10

Hampered by an early knock, failed to find his rhythm in the game. Substituted at half-time.

8/22 Scott Brown – 6 out of 10

Took only three minutes to pick up a yellow card. If only he had put as strong a foot in on Oxlade-Chamberlain in the build-up to the goal.

9/22 Stuart Armstrong – 6 out of 10

Showed neat touches around England's box and his movement troubled red shirts at times, but should have held the ball up better before Kane's equaliser.

10/22 Robert Snodgrass – 5 out of 10

Scotland needed a performance from him, but he was quiet and ineffective, much like he was throughout the second half of the season.

11/22 Leigh Griffiths - 9 out of 10

Two incredible late free-kicks and both deserved. Suffered from poor service but did not let that deter him, pressing England's backline throughout.

12/22 Joe Hart – 4 out of 10

Largely untroubled until the late goals, both of which he should have saved. Questions have to be asked whether he is still England's best 'keeper.

13/22 Kyle Walker – 5 out of 10

Poor. Penalty call against him for the trip on Griffiths could have gone either way, but it was just one of several mistakes.

14/22 Chris Smalling – 6 out of 10

Recovered from a nervy start that included one horribly shanked clearance over his own goalmouth.

15/22 Gary Cahill – 7 out of 10

More assured than his defensive partner for the majority of the game, until that reckless challenge to concede first fatal free-kick.

16/22 Ryan Bertrand – 7 out of 10

Bright down the left, especially going forward.

17/22 Jake Livermore – 7 out of 10

His selection raised the odd eyebrow but, particularly in the first half, he was England's most composed player.

18/22 Eric Dier – 5 out of 10

Paled in comparison to Livermore on a real off-day for the Tottenham midfielder. Picked up a needless yellow card, too.

19/22 Marcus Rashford – 5 out of 10

On his first competitive international start, a display that suggested he remains only an impact player for now. Did not take to his role on the right flank.

20/22 Dele Alli – 5 out of 10

Totally failed to get going, looking tired and cumbersome at times. England's best player on his day, but that was not today.

21/22 Adam Lallana – 7 out of 10

England's best attacking outlet and particularly came the fore after half-time, once he began to find more space in Scotland's half.

22/22 Harry Kane – 7 out of 10

Missing his usual composure in front of goal but found it when it mattered. A simple finish but one he needed to make.
England kicked off and Leigh Griffiths hurtled towards the England midfield, chasing down and blocking the pass to a primitive, blood-curdling roar. Ikechi Anya chased the bouncing ball out for a throw-in, he was met with a standing ovation from parts of the ground. 10 seconds in the tone had been set. Low on quality, high on fire. And for 85 minutes that continued. 
There was a physicality and bite to Scotland that, for all their high-tech preparation and time at St George's Park, Gareth Southgate's men didn't seem altogether that prepared for. 
The stereotype is of pampered Premier League millionaires "not liking it up 'em" but how far is that from the truth when facing a team so brimming with passion that England never even hinted at matching?
It is the old football cliché of 'wanting it more' - a meaningless, intangible analysis but one that was not just felt at Hampden but quite clearly seen. The difference ultimately comes down to whether teams can make their quality show or not. In Dele Alli, Marcus Rashford and Harry Kane, England had three of world football's most exciting young players and even the likes of Raheem Sterling, on the bench, would be a star in this Scotland side.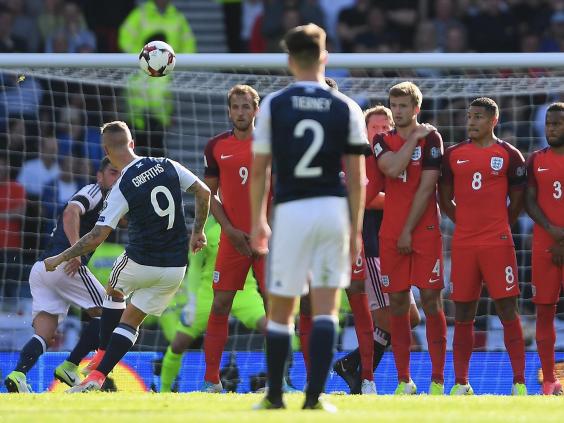 But it suited Scotland to be without big names. Leigh Griffiths is more niggle and bustle than he is superstar but he would have his stamp on this game in the shape of two incredible late free kicks. One in each corner of Joe Hart's goal, and one in the eye for England who appeared to have blown a win against a motivated by unambitious opponents. 
In defence of Gareth Southgate's Three Lions, they showed the fight to get back into it when Griffiths' brace had felt like a punch in the stomach, winded while all around them Glasgow roared with unbridled ecstasy. 
Harry Kane's late equaliser was celebrated with similar passion by the players, albeit against a backdrop of comparative silence. A game that barely deserved a winner didn't have one, and both sets of fans left ultimately disappointed. 
Scotland's support deserve better than what their team offered but improving that will require far greater work on multiple fronts. For now, if they can bring this much fire to every game then qualification for a major tournament - considering how fast the competitions are expanding - isn't out of reach. 
It just feels very distant right now, after a gutting late equaliser that so quickly turned their passionate, burning joy into silence. 
Reuse content