Gordon Strachan has been forced to go back to his hotel room and think again over the last couple of days.
Such has been the desire of his entire squad to feature against England at Celtic Park – the supposed friendly to follow Friday's ultra-competitive Euro 2016 qualifier against the Republic of Ireland – that the Scotland manager admitted on Monday he has had to rethink his starting selection.
Strachan will make changes to the side that beat Ireland. Chris Martin is likely to start up front and Craig Gordon, once Britain's most expensive goalkeeper, will earn his first cap in four years, but the changes will be nothing like the wholesale alterations he promised in the aftermath of Friday's game as his battered and bruised troops made their way back to Scotland's base on the edge of Glasgow.
Like Roy Hodgson, Strachan believes the game will be as competitive as any qualifier, but the eagerness of his first-choice players to be involved from the start again has still taken him by surprise.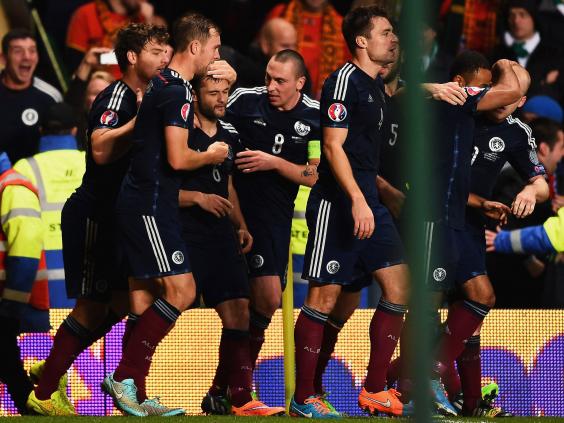 "The players that played the other night keep banging on about how they are fit enough to play again, they are dropping hints everywhere I go," said Strachan. "I need to rethink my strategy."
Strachan oversaw training at the five-star Mar Hall hotel Monday morning and, despite a chill wind whipping off the River Clyde and dark clouds dumping showers on his squad, was impressed by the vigour of the session as it matched anything he witnessed ahead of the Ireland game.
"From the training today nobody wants to be rested," said Strachan. "If we were playing some team 70-odd in the world we wouldn't be as excited. Footballers only want real competitive games. This is a competitive game – there's no points for it but it is competitive. We did an intensive warm-up and I thought, 'This is as intense as the first day of  pre-season'."
Strachan has a history with this fixture, as a manager, player and supporter. Somewhere in a garden in Dundee is a piece of turf the young Strachan brought home from Wembley in 1977.
It is a fixture unmatched in the world for its history but it was not the focus of Strachan's attention when the squad got together last week. Three points against Ireland was the only goal. It is a measure of what Strachan has achieved in his year and a half in the job – one defeat, in Germany, in 10 games – that he took the nation's focus with him, even if it has now shifted back.
"This game is not as big as it was six months ago because of the performances of Ireland and Scotland," he said. "The main focus of the Scottish people over the last two months was that game the other night – no doubt about it. This is a game to be enjoyed.
"We need to keep up the standard, you can only play it if the public want it. They enjoyed the last game [England's 3-2 win at Wembley in August last year], not just the football, everyone in London enjoyed the atmosphere. The players like it."
Strachan brushed off questions over whether his side were underdogs tonight and suggestions that Scotland were an overly physical side. A number of his players said yesterday it was the men in blue who sought to get the ball down and play against Ireland, unlike their opponents. But Strachan accepts there is an obvious gulf for a Scotland squad drawn from the lower reaches of the Premier League and the Championship.
"We haven't got the same pool of players as England, that's for sure," said Strachan. "We started the game the other night with only three players from the English Premier League."
He drew attention to the fact that only Charlie Mulgrew and Scott Brown from the side against Ireland have Champions League experience. Games like Friday and tonight in front of a large and passionate crowd, as well as fixtures in Poland and Germany, are crucial in developing his side.
A tough road already travelled towards Euro 2016 and the gripping competitiveness of their qualifying group is one area where this Scotland, a better footballing side than many distant observers realise, are more equipped than tonight's opponents, given England's bland schedule. Scotland are battle hardened.
"The players are learning and I'm learning so it's a good exercise," said Strachan. "Every game but the first one [in Germany] has been called a 'must-win game'. I don't know if Roy [Hodgson] has faced that yet [in this qualifying stage]. It's the intensity of our group. We're enjoying that, we're enjoying the atmosphere in the grounds, in Poland, Germany. At this moment it has been a fantastic experience for everybody around the Scotland team."
Reuse content