The year 2014 has not been kind on Roy Hodgson at times, but he closed with an old crowd-pleaser tonight, a confident dispatching of the Scots on their own turf and another small step in the development of the young team that will be their manager's legacy.
These kind of victories do not mean what they once did to English sides venturing north of the border, not when only two of the Scots in the starting XI play in the Premier League, but it was at least a controlled, sophisticated performance. The record since England got an early flight home from Brazil is six wins from six which will make Hodgson's Christmas considerably more comfortable than the second half of his summer must have been.
For Wayne Rooney at Celtic Park, this was the night when he went within four goals of breaking Sir Bobby Charlton's goalscoring record for England which has stood for more than four decades. When he belted in the 46 goal of his international career, and the third of the night for England, we saw a glimpse of the old Rooney with that tumbling, cartwheel celebration that was emblematic of his youthful promise at Euro 2004.
Scotland 1 England 3 player ratings
Scotland 1 England 3 player ratings
1/22 David Marshall

Survived an early fumble from a Danny Welbeck shot but there was little he could do about Alex Oxlade-Chamberlain's header. 6

2/22 Steven Whittaker

Had a couple of shots blocked following short set-pieces, the right-back got little joy going forward in the second half but was dependable at the back. 6

3/22 Grant Hanley

The Blackburn centre-back's lack of mobility told at times. 5

4/22 Russell Martin

Came close with a header but found it difficult to cope with England's movement up front. 5

5/22 Andrew Robertson

Lost the first goalscorer and inadvertently set up the second but showed his character with an excellent first goal for Scotland. 5

6/22

Distribution was not as accurate as his man-of-the-match display on Friday and his misplaced pass and crude block on Alex Oxlade-Chamberlain ultimately led to England's second goal. 5

7/22 Scott Brown

Withdrawn at half-time after a decent if uninspiring display. 5

8/22 Ikechi Anya

Lifted the home crowd with a couple of early runs but could not make a telling contribution. 6

9/22 Steven Naismith

Was out on his feet at the end of Friday's win over the Republic of Ireland and lacked a spark both up top and just off the front. 6

10/22 Shaun Maloney

Was well off target when given a chance to shoot late in the first half, although from much further out than his goal against the Irish. Otherwise failed to threaten. 5

11/22 Chris Martin

Held the ball up well at times but was unable to make a major impact and rarely had the ball with his face to goal during his 45-minute run-out. 5

12/22 Fraser Forster

The former Celtic goalkeeper's defence allowed him one of his quieter 45 minutes at Parkhead but was exposed for Robertson's goal. 6

13/22 Nathaniel Clyne

The Southampton right back's well-timed tackles and ability to break quickly gave England an edge down his flank. 8

14/22 Luke Shaw

Dealt well with the threat of Shaun Maloney. 6

15/22 Gary Cahill

Came close from an early header and marshalled Martin well in the first half. 7

16/22 Chris Smalling

Totally comfortable in central defence and showed his confidence as the game progressed. 8

17/22 James Milner

A disciplined display in the anchor role. 7

18/22 Jack Wilshere

Floated an inch-perfect cross over the top of the Scotland defence to set up the opener and had a hand in both other goals, the Arsenal midfielder imposed himself on the game. 8

19/22 Alex Oxlade-Chamberlain

Drifted into the goalmouth to head the opener. 6

Getty Images

20/22 Stewart Downing

Showed enterprise and control in central midfield. 7

21/22 Danny Welbeck

Caused some problems going forward in the early stages and put in a power of work to disrupt Scotland further back. 7

22/22 Wayne Rooney

Overtook Jimmy Greaves in the England scoring stakes with his 45 and 46th international goals. The skipper showed hunger and drive as he led from the front. 9

Getty Images
For Scotland it was a mournful reminder of their place in the pecking order, in spite of a brief resurgence when Hull City's Andrew Robertson scored in the 83rd minute. As England were able to call upon the likes of Adam Lallana, Kieran Gibbs and Raheem Sterling from the substitutes' bench, Gordon Strachan's reserves beyond Darren Fletcher and James Morrison were, like much of his starting XI, Championship players.
In midfield, Jack Wilshere did much to run the game again although his real test in front of the England defence is yet to come. Perhaps it will be against Italy in March when Hodgson's squad next convenes. Danny Welbeck covered the hard yards yet again and was substituted in the second half having gestured that his hamstring might have been troubling him. Welbeck is developing into more of the bully than he ever was and it suits him.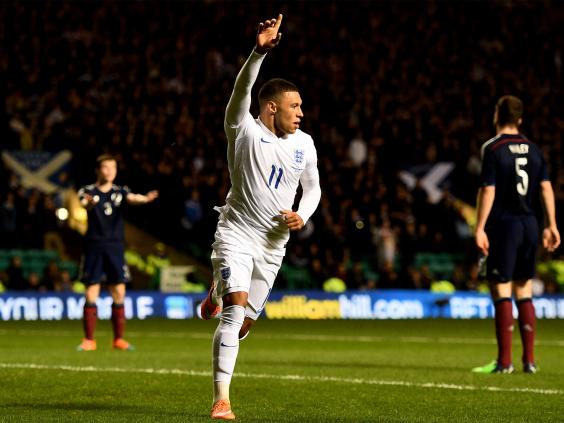 The promised hostility of Celtic Park never quite materialised, despite an early effort: some dutiful-sounding booing for the arrival of the England team bus and a half-hearted abusive song about Rooney. The stadium itself was not full and although there was a determined drowning out of the national anthem played on England's behalf, it was hardly fever pitch.
For reasons best known to themselves, the English fans, making much greater noise, sang "F*** the IRA" for long periods of the first half enthusiastically accompanied on the drums by the official FA-approved England band. That was the atmosphere done with and the football barely raised itself above the usual friendly-standard for the entirety of the first half.
Strachan picked a team comprising of seven Championship players, as well as two from both the Scottish Premier League and its English counterpart. The previous Friday they had played like more than the sum of their parts. For long period this time they looked very much like what they essentially are, a Championship-standard side who struggled to land a blow on England.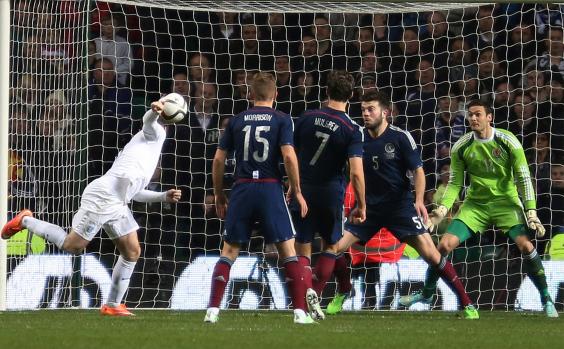 Were it not for their laboured finishing, Hodgson's team would have gone in more than just one goal ahead. Welbeck had a shot saved in the sixth minute when he should have done better, played in by Rooney down the left channel. The Arsenal man did not feel like he was sufficiently in tune with the game at that point then but he soon warmed to the occasion, dispatching the diminutive Shaun Maloney over the touchline with one tackle.
Hodgson's line-up was a curiosity, beginning as a 4-4-2 confection that changed to 4-1-4-1 which featured Welbeck out left and Stewart Downing partnering James Milner in the centre, with Wilshere essaying his own unique interpretation of holding midfield position. Whatever it was, this England team did not feel like the future.
It was Wilshere's cross from the right that was perfectly flighted to meet Alex Oxlade-Chamberlain's run into the area on 32 minutes where he directed a header nicely beyond the reach of David Marshall. Previously, they had tried to pass their way through the brave heart of Scotland's midfield and defence but the quick ball into the box proved that much more effective.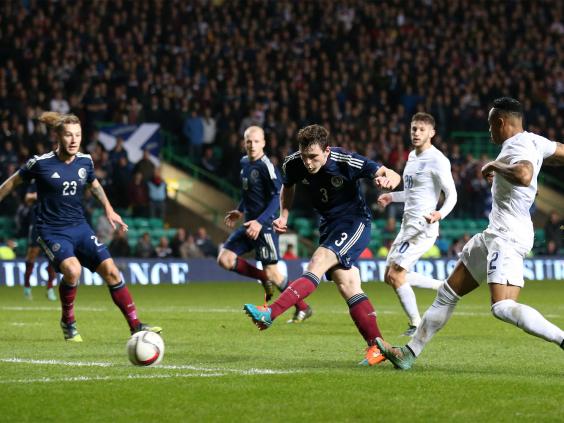 It was hard to remember a decent chance for the Scots before the break. Shortly after the goal, Milner had to take evasive action to get out the way of a tackle by Charlie Mulgrew that looked like something from one of those mid-1980s Auld Enemy games. Down Scotland's left wing Ikechi Anya had plenty of pace but then so too does Nathaniel Clyne and the Southampton man is that much more accomplished. He had a good game at right-back.
The game was over by the second minute of the new half, when Rooney stooped to direct a punchy header past the substitute goalkeeper Craig Gordon. You could tell from the celebration that this goalscoring record is a landmark that means something to him, and rightly so
The sequence had started from a free-kick conceded in brutal fashion by the wrecking ball Mulgrew. Beaten handsomely for pace by Oxlade-Chamberlain down the right, the Scottish midfielder thrust out an arm across the throat of his opponent and felled him in the traditional wrestling style.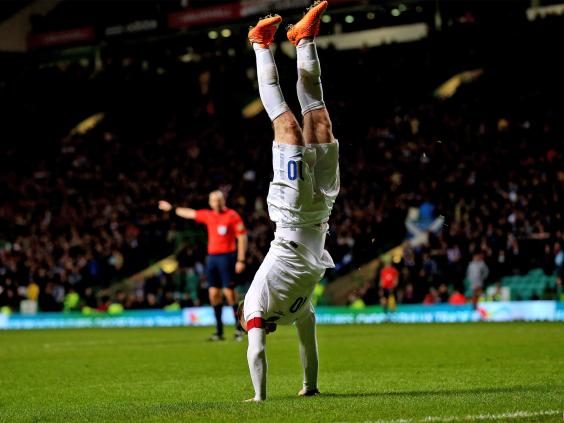 Milner's free-kick fell to Shaw on the left side of the box, his shot bounced off Robertson and presented itself nicely for Rooney to dispatch. The pace and tempo of England was often too much for Scotland to match although they had a good moment soon after the second goal when Mulgrew's header had to be pushed over by Fraser Forster.
Lallana replaced Downing at half-time and Phil Jagielka came on for Gary Cahill, with Sterling and Gibbs joining the game soon after the hour. Darren Fletcher, on at half-time, had some entertaining duels with his old friend Rooney who snapped around his ankles in midfield.
Robertson's strike inside the near post gave Scotland some hope. England responded magnificently, working the ball down the right where eventually Lallana cut the ball back to Rooney and the finishing touch was applied for the 46 time in an England shirt. Just a matter of time now before that august record falls.
Scotland (4-2-3-1): Marshall; Whittaker, R Martin, Hanley, Robertson; Brown, Mulgrew; Maloney, Anya, Naismith; C Martin.
Subs: Fletcher/Brown ht, Morrison/C Martin ht, Gordon/Marshall ht, Bannan/Anya 61, May/Hanley 66, Russell/Maloney 81
England: (4-4-2): Forster; Clyne, Cahill, Smalling, Shaw; Oxlade-Chamberlain, Milner, Wilshere, Downing; Welbeck, Rooney.
Subs: Jagielka/Cahill ht, Lallana/Downing ht, Gibbs/Shaw 66, Sterling/Welbeck 66, Lambert/Oxlade-Chamberlain 80, Barkley/Wilshere 87
Referee: J Eriksson (Sweden)
Man of the match: Wilshere
Rating: 7
Attendance: 49,526