It is an oft-told tale that when Sir Alf Ramsey was welcomed to Scotland by a local journalist at Glasgow Airport in 1967 England's World Cup-winning manager brusquely replied with the sort of language that would require bleeping on national television.
Ramsey, though, was merely in tune with the spirit of the times. Two years earlier Nobby Stiles, playing for England under-23s, had trotted over to his friend Denis Law before kick-off, extended his hand, wished his Manchester United team-mate luck, and was stunned to be told, 'F*** off you little English b*****d'. Stiles promptly kicked Law around the park in a game so brutal England finished with nine men - due to injuries, not dismissals.
In the wake of the highly-charged Devolution referendum it might be thought that passions at Celtic Park on Tuesday will run even higher, but if they do it will be largely one-sided. The globalisation of the Premier League, and the reduction in Scottish players in England's top flight, means much of the edge has gone out of the fixture for the visitors. This is especially so for the manager, Roy Hodgson, who may have a tendency to swear, and to speak his mind, but is unlikely to repeat Ramsey's crude retort.
England 3 Slovenia 1 - player ratings
England 3 Slovenia 1 - player ratings
1/11 Joe Hart

After being almost redundant for the last home game against San Marino and given another quiet night in Estonia, he would have expected a little more work but was barely tested again, except by Henderson's unstoppable header. Acted as sweeper well whenever he was called into action to do so. 6/10

AP

2/11 Nathaniel Clyne

Happy to get forward as the full-backs need to when England play with a narrow diamond formation, the young Londoner had an acceptable debut with no obvious errors. Less attack-minded after half-time when Sterling went wider. 6

Getty Images

3/11 Phil Jagielka

Less solid than his central defensive partner, losing Novakovic to allow him to head a corner wide in one uncomfortable moment and slipping to let in Kampl for another. As one of the players in the side with England goals to his name, the Evertonian produced one good header for the team's first effort on target. 5

Reuters

4/11 Gary Cahill

The Chelsea man is becoming England's most dependable defender, further improved by his regular Champions League experience. Upset Novakovic with some of his headed challenges and got a kick for his pains. One lax pass led to Jagielka's booking. 7

Getty Images

5/11 Kieran Gibbs

After a first start for four years against San Marino the Arsenal full-back was given another one unexpectedly soon as stand-in for Leighton Baines. He did fine defensively and had a hand in the third goal without offering Baines's attacking brio. Booked for a stab at Birsa's Achilles. 6

Getty Images

6/11 Jordan Henderson

Without a goal in 18 England appearances and would not have wanted to break his duck by scoring at the wrong end. Sitting on the right of the midfield diamond the Liverpool player has been an ever-present in the national side this season without influencing many games. 5

Getty Images

7/11 Jack Wilshere

Unenviably stationed in the centre circle, the worst area of the pitch, for his 25th cap. Got mud on his shirt early on in giving and taking some hefty challenges before playing some neat forward passes. But then he had a quiet second half. 7

Getty Images

8/11 Adam Lallana

Not a natural winger, we know, and almost too eager to drift inside. He delivered ome poor free-kicks and corners which failed to clear the first defender until he put one on Rooney's head in the second half and the Liverpool man did then help to force Welbeck's first goal with his own shot. 5

Getty Images

9/11 Raheem Sterling

Not too tired to play this time, although as he discovered against the defensive San Marino he found the middle congested and took until the second half to move wide much more often, when he looked more dangerous. Set up Welbeck nicely for the third goal. Booked. 6

Getty Images

10/11 Danny Welbeck

Put in a poor performance in Estonia last month and having a mixed season for Arsenal, which was reflected here early on. Brought Rooney or Clyne into the game well enough and he worked hard to be rewarded with his two goals later on. 7

Getty Images

11/11 Wayne Rooney

Having received his golden 100th cap from Sir Bobby Charlton, the captain won the penalty cleverly by wriggling through defenders and then converted it with a thump for his fourth goal in the last five England games. Played almost up alongside Welbeck throughout the match and linked well with him in setting up chances for each other. 8

Getty Images
"I rather like the Scots," he said. "I have a lot of close friends who are Scots, that the idea that because you are English you immediately dislike the Scots that passed me by.
"We will take the game very seriously, but my 100 per cent focus has been on [yesterday's Euro 2016 qualifier] against Slovenia. It's a great game to play, a great occasion, but from my point of view it is a friendly and there is no comparison in importance. Qualifying is what counts - friendlies are opportunities to have a look at one or two players who didn't play in the qualifier."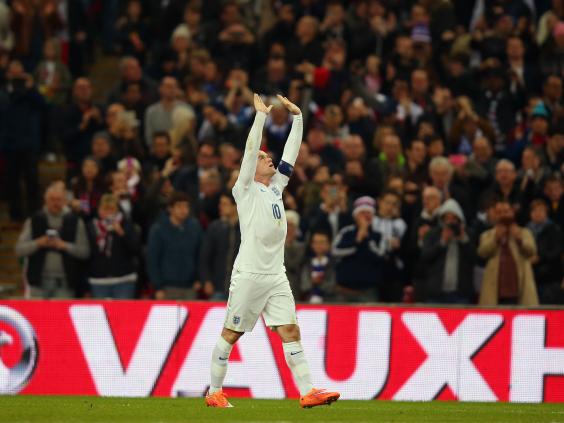 Ramsey, perhaps because he transmitted his animus to his players, had a good record in Scotland, winning three and losing only the first of six matches. Hodgson is unbeaten against them. He oversaw a win in the friendly at Wembley last year but says "the important games for me" were with Switzerland in the early Nineties. Hodgson recalled: "At the time Switzerland had not qualified for a World Cup since 1962 whereas Scotland had not missed one for five tournaments. And we beat them in Berne. That was a big result for us." Later the teams drew in Aberdeen, a result that effectively secured Switzerland's place at USA'94, and Scotland's absence.
By contrast Tuesday's match has low stakes, indeed, Hodgson even thinks it could be a good game. "The matches when you can say 'you can take the ball out of the game' are fewer and far between.
"Scotland are a footballing team. I've worked with guys like James Morrison and Graham Dorrans [at West Brom], they are good footballers and I think we've got good footballers. So I think it will be a fierce footballing contest rather than a fierce physical contest."
Reuse content