Sepp Blatter has insisted that he is not corrupt and that he has a "clear conscience" despite the FBI corruption investigation into Fifa.
Speaking to German magazine Bunte, Blatter reiterated that he has not committed any crimes during his time as Fifa president. Last month, Blatter announced that he would be standing down from the roll after 18 current and former Fifa members were arrested on corruption allegations led by United States officials and Swiss authorities.
Blatter could yet run for president again when an Extraordinary Congress is called - likely to be in December this year - but with calls for the 79-year-old Swiss to stand down immediately, Blatter added that anyone who accuses him of corruption "should be jailed".
Contenders to replace Sepp Blatter as Fifa president
Contenders to replace Sepp Blatter as Fifa president
1/6 Michel Platini

Current president of Uefa. Voted for the Qatar World Cup, which makes position somewhat difficult. Asked Blatter to resign before elections.

Getty Images

2/6 Prince Ali Al-Hussein

The Jordanian was the only contender against Blatter when the elections took place. Managed to pick up 73 votes from the Fifa executive committee to Blatter's 133. Has already confirmed he will stand again.

PA

3/6 David Gill

The former Manchester United chief executive refused to take up his place on the Uefa executive committee after Blatter's re-election. 'My professional reputation is critical to me and I simply do not see how there will be change for the good of world football while Mr Blatter remains in post,' he said at the time.

Reuters

4/6 Luis Figo

Former Real Madrid and Barcelona player announced himself as a candidate for the most recent election but pulled out in protest at how it was being run, saying the process was 'anything but an election'.

AFP/Getty Images

5/6 Jerome Champagne

Also announced himself as president contender but failed to gain the minimum five nominations required. The Frenchman is a former Fifa deputy general secretary and has been a fierce critic of Uefa.

GETTY IMAGES

6/6 Michael van Praag

Dutch FA president was also a contender for president before pulling out in order not to split support between himself and Price Ali.

GETTY IMAGES
"Whoever accuses me of being corrupt has to prove it to me first. But nobody can do that because I'm not corrupt," Blatter told Thursday's edition of Bunte, extracts of which were released Wednesday.
Four days after being re-elected for a fifth term, Blatter said on 2 June that he would step down amid a crisis provoked by American and Swiss federal investigations of corruption linked to Fifa.
American law enforcement officials have confirmed that Blatter is a target of their investigation into widespread bribery and racketeering linked to broadcast rights and hosting votes for international tournaments.
Blatter told Bunte that he happily accepts "fair and constructive criticism, also to consider what can be done differently. But when someone says, 'Blatter is corrupt because Fifa is corrupt', I can only shake my head. Anyone who makes such claims without proof should be jailed."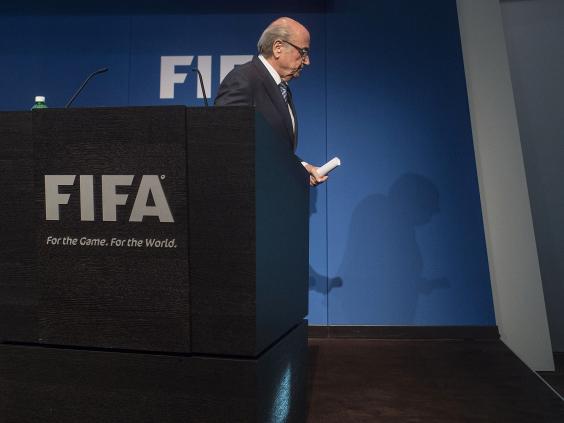 Blatter said that his faith helped him through the weeks since criminal investigations into Fifa officials began.
"I'm a believer. I also pray," said Blatter, who added that he had a golden cross that was blessed by Pope Francis.
The date for a new presidential election will be set at a Fifa executive committee emergency meeting on July 20 in Zurich.
Additional reporting by Reuters
Reuse content