Football Association chairman Greg Dyke said Sepp Blatter's decision to stand down as Fifa president is "brilliant for world football".
Blatter's announcement comes after FIFA admitted it paid 10million US dollars destined for the South Africa World Cup to an account controlled by the disgraced former vice-president Jack Warner. The payment followed a letter from the South African FA to FIFA secretary general Jerome Valcke.
Dyke, speaking on BBC Radio Five Live, said: "It is a good afternoon! I think it's brilliant for world football. This is the start of something new."
UEFA president Michel Platini, now one of the possible contenders, welcomed the announcement.
Platini said: "It was a difficult decision, a brave decision, and the right decision".
It is only four days since Blatter, 79, won a fifth term as FIFA president when Prince Ali Bin Al Hussein pulled out of the running in the second round of voting in Zurich.
However, after the development at a press conference on Tuesday, Dyke said: "When I left on Friday I said 'this is not over' - but even I couldn't have thought it'd be over so soon.
"Why didn't he step down last week? Clearly there's a smoking gun of some sort. He's not been honourable in years. Now he's gone - let's celebrate.
"FIFA needs a root and branch examination, we need to know where the money is being spent. It's been a corrupt organisation for something like 30 years and at long last we've got a chance to change it.
"What matters is can we reform FIFA?"
On the organisation's next leader, Dyke continued: "They must have an impeccable character and be able to run an organisation where corruption has been rife for years...a lot of people could do the job."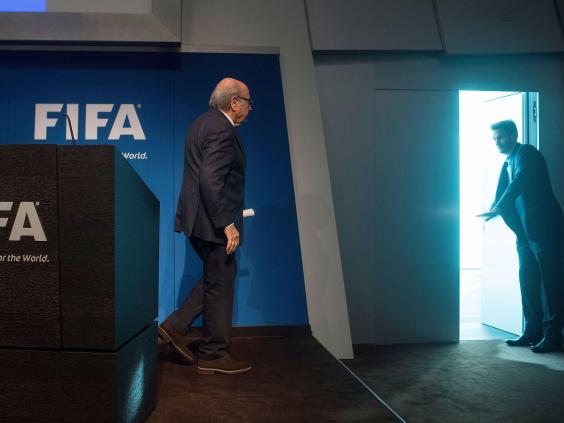 Culture secretary John Whittingdale, a long-time critic of FIFA under Blatter said the world governing body now had to implement major reforms.
He said: "Governments, national associations and international confederations, along with players and fans have all called for Sepp Blatter to resign in recent days.
"We welcome his belated announcement today but this is only the beginning of the process of change we need to see from FIFA. I sincerely hope this is the first step to a new FIFA that can command the confidence and respect of the football world once again."
Simon Johnson, leader of England's failed bid to stage the 2018 World Cup, said: "There will continue to be these questions over the bidding process. Let's see if the new leadership or interim leadership do anything to resolve that.
"I want the full facts around the bidding to be known - it there was fairness and transparency then good, well done. If it is found there was improper behaviour in any way they must have a look at whether they should reopen the processes."
Asked if he thought the 2018 World Cup would go ahead in Russia, Johnson said: "Yes, the preliminary draw is just a few weeks away, it's too late to change it.
"But 2022 (Qatar) is another matter. I'd hope a fresh regime would take another look at the bidding process."
Staying on the subject of World Cup bids, Conservative MP Damian Collins said: "I believe that (the votes) should be rerun.
"There should be an interim leadership to lead FIFA through the rest of the year with Blatter removed and start the process of looking at rerunning the World Cup bidding processes.
"We don't necessarily need a new president in place for that and in many ways it would be better if a new president could be elected after a reform process has been completed and could be a new person to lead football on from there.
"I think we had some good candidates that came forward earlier in the year, from Europe and around the world, but clearly there'll be other people who want to throw their hats into the ring now that it's an open field.
"I hope we have a proper reformer, we don't want someone who's tainted by their association to Blatter and other insiders to protect the old guard. We need a complete sweep-out, a completely new figure.
"There should be an independent reform process now for FIFA, led by external people, that can shine some light on the organisation.
"What we wouldn't want to see is a bunch of Sepp Blatter's cronies leading the process of reform in order to protect themselves.
"Sepp Blatter should in no way be removed from the investigatory process that the FBI and the Swiss authorities are leading on.
"Clearly something has happened in the last 24 hours or so and he should still be available for questioning in their criminal investigation."
Former Club England managing director Adrian Bevington told Sky Sports News HQ: "I said on Friday I didn't see him lasting his four-year mandate, I didn't see how he could, but nobody was anticipating this today.
"For him to go through all of the processes on Friday, the press conference on Saturday, he was dogged and was throwing brickbats around aimed at the UK media, at UEFA, America.
"To then, come Tuesday afternoon, suddenly announce that he's stepping down and in effect calling an emergency election, is quite startling.
"The next 48 hours are going to be intriguing, to see what's referred to in Chuck Blazer's transcript.
"We'll then see who's going to put themselves forward for the election, I'd be intrigued to see whether Prince Ali will go again, he did very well in the election on Friday so he could be a very credible candidate.
"The organisation becomes in a state of flux, they're more high-profile than ever before, they're under investigation from all kinds of agencies around the world.
"Where does Sepp Blatter fit in the process? Where is Jerome Valcke now? We had the letter that was published today by the Press Association journalist Martyn Ziegler, that was potentially a damaging letter addressed to Jerome Valcke regarding the 10million dollars that has been talked about so much recently.
"Jerome, who is often the face, the general secretary of FIFA, he wasn't there today. It is an intriguing plot at the moment with many sub-plots to it.
"The likes of Greg Dyke, David Gill, and then you've seen Heather Rabbatts' resignation these last few days as well, they've been applying as much pressure as anybody to the current regime of FIFA.
"Undoubtedly, what FIFA needs is total reform, and reform can only come when you change the leadership.
"The executive committee in particular needs restructuring, we need a president who's credible, and that is the only way that FIFA - which should be the leading organisation of world football - in order to be so it has to be a clean organisation that's respected by the football community and by the public at large.
"It's such a toxic brand that these changes have to take place."
FIFPro, the world players' union, called for professional footballers to have a significant say in the future of FIFA and the sport as a whole, calling for "flawless governance".
It said in a statement: "FIFPro welcomes the decision of FIFA president Sepp Blatter to resign as this creates an overdue and unique opportunity to fundamentally reform the governance of football.
"The world's professional footballers, through FIFPro, have a pivotal role to play in the structural overhaul of football. We are deeply committed to achieving this critical outcome in conjunction with all of the game's key stakeholders.
"FIFPro insists that only flawless governance will be acceptable to protect the wellbeing of the players and the integrity of the game. The reform effort will fail without the direct involvement of the players.
"The world's professional footballers, through FIFPro, have a pivotal role to play in the structural overhaul of football. We are deeply committed to achieving this critical outcome in conjunction with all of the game's key stakeholders.
"FIFPro insists that only flawless governance will be acceptable to protect the wellbeing of the players and the integrity of the game. The reform effort will fail without the direct involvement of the players."
Scottish FA chief executive Stewart Regan welcomed Blatter's move and said he was keen to discuss the next steps with other UEFA associations in Berlin this coming weekend.
"The Scottish FA welcomes the news today that Sepp Blatter has confirmed his intention to step down as president of FIFA and convene an extraordinary congress to elect a replacement," Regan said in a statement.
"We, like many other national associations, have maintained that the governance of world football's governing body requires to be reformed - especially in light of recent allegations - and we are glad Mr Blatter now shares this view.
"We will discuss today's developments and any collective next steps with all other UEFA associations at next weekend's Champions League final in Berlin."
Former Manchester United chief executive David Gill, who had said last week he intended to resign from the FIFA executive committee if Blatter remained, has indicated he will now reconsider after Blatter's departure.
"Naturally, I fully welcome today's news as a major step forward for FIFA on the road to proper reform," he said in a statement released by the Football Association.
"As I announced following the election at FIFA congress, I simply could not countenance serving on the FIFA executive committee alongside Mr Blatter. I respect his decision but am pleased he is standing aside and by the clear determination for real change within FIFA. This in turn allows me to reconsider my position.
"Having yet to confirm formally my resignation, I am more than willing to play my part in helping to bring about a positive future for FIFA and to work with the many people within the organisation who are only committed to developing and promoting the game around the world.
"I will speak to my UEFA colleagues as soon as possible about the next steps and make no further comment until then."
PA
Reuse content