The FA chairman Greg Dyke believes there must be a "smoking gun" that forced Sepp Blatter's shock resignation as Fifa president just four days after the 79-year-old was re-elected for a fifth term.
In a scathing attack on the Fifa president, who said he will step down at an extraordinary Fifa Congress to be held between December and March, Dyke said that there must have been a major change in Blatter's situation between Friday and this evening, when he stunned world football by announcing that he was to step down.
Dyke said that Blatter's demeanour had changed entirely since the Fifa Congress in Zurich on Friday when he was voted in by 133 out of Fifa's 209 football nations. In his press conference, Blatter said that he no longer had "a mandate from the entire world of football – the fans, the players, the clubs, the people who live, breathe and love football as much as we all do at Fifa."
Dyke said in an interview with BBC Five Live: "I don't believe a word of this. If he believes that why not step down last week when we asked him to? He was cock-a-hoop when he won [the election] and terribly arrogant. Clearly there is a smoking gun of some sort. This is nothing to do with Mr Blatter being honourable. He hasn't been honourable for years."
Contenders to replace Sepp Blatter as Fifa president
Contenders to replace Sepp Blatter as Fifa president
1/6 Michel Platini

Current president of Uefa. Voted for the Qatar World Cup, which makes position somewhat difficult. Asked Blatter to resign before elections.

Getty Images

2/6 Prince Ali Al-Hussein

The Jordanian was the only contender against Blatter when the elections took place. Managed to pick up 73 votes from the Fifa executive committee to Blatter's 133. Has already confirmed he will stand again.

PA

3/6 David Gill

The former Manchester United chief executive refused to take up his place on the Uefa executive committee after Blatter's re-election. 'My professional reputation is critical to me and I simply do not see how there will be change for the good of world football while Mr Blatter remains in post,' he said at the time.

Reuters

4/6 Luis Figo

Former Real Madrid and Barcelona player announced himself as a candidate for the most recent election but pulled out in protest at how it was being run, saying the process was 'anything but an election'.

AFP/Getty Images

5/6 Jerome Champagne

Also announced himself as president contender but failed to gain the minimum five nominations required. The Frenchman is a former Fifa deputy general secretary and has been a fierce critic of Uefa.

GETTY IMAGES

6/6 Michael van Praag

Dutch FA president was also a contender for president before pulling out in order not to split support between himself and Price Ali.

GETTY IMAGES
The true reasons behind Blatter's volte-face have not yet emerged, but many believe that after he hands over to his successor he will work for Russia, the hosts of the 2018 World Cup finals, and be supported by his ally President Vladimir Putin. Soon after Blatter's announcement, the Office of the Attorney General in Switzerland said that Blatter was not among those under investigation for fraud and money laundering.
Dyke said that Blatter's impending departure was "brilliant for world football". Referring to the US department of justice-led FBI raid on the Fifa executive committee's Swiss hotel, and the Swiss investigation into Fifa, Dyke said recent events had been "appalling" for Fifa. "Fifa needs to be examined root and branch. We need to understand where the money is being spent and what is the best way to organise it.
"Fifa has been a corrupt organisation for 30 years and at long last we have the chance to change it... he is gone and we are going to get someone else. We can sort out Fifa and look at these two World Cups [2018 and 2022]. If I was in Qatar [the hosts of the 2022 World Cup] today I wouldn't be feeling very confident."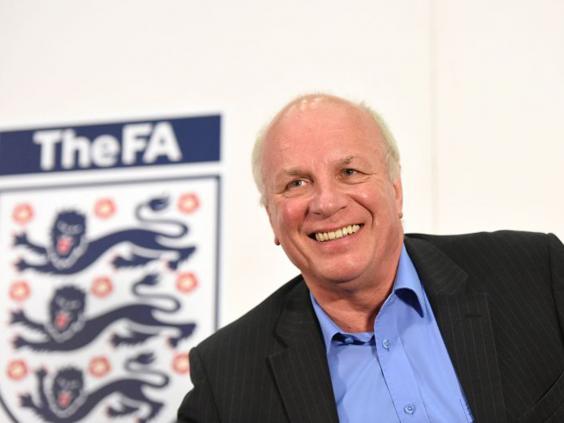 The decision from Blatter represents a major boost for the English Football Association who are longstanding opponents of the Fifa president, and campaigners for Fifa reform. The new English vice-president of Fifa, David Gill, who had said that he would not take up the role in the light of Blatter's re-election, has confirmed that he will now seek to reverse that decision in the light of the developments.
Gill said: "I simply could not countenance serving on the Fifa executive committee alongside Mr Blatter. I respect his decision but am pleased he is standing aside and by the clear determination for real change within Fifa. This in turn allows me to reconsider my position."
The Uefa president Michel Platini, one of the favourites to succeed issued a short statement calling Blatter's announcement "a difficult decision, a brave decision and the right decision". In the immediate aftermath, the former presidential candidates Prince Ali Bin-Hussein of Jordan, and David Ginola signalled their decisions to run at the elections next year.
Dyke said that the English FA had no clear idea yet on who should be the new president. "That's not for us," he said. "We will play a part in the process. What we must make sure is [the new president] is of impeccable character who can run the organisation and sort out out an organisation where corruption has been rife for years.
"Last year the Sunday Times exposed what had happened over the last two World Cups [the bidding process that led to the award of the two tournaments] and Blatter accused them of being racist! It was a good piece of journalism. He has gone and let's celebrate. It will be a decision taken inside the FA as to who we support ... he [Blatter] did not have the support of the big nations he had the support of the small nations he supported."
Reuse content