Sepp Blatter was showered in fake bank notes by the British prankster Simon Brodkin today at the start of another rambling press conference in which the 79-year-old Fifa president said that he would become a radio journalist after he quits in February.
Serious questions will be asked of security at Fifa House in Zurich after Brodkin, who goes by the name of Lee Nelson, walked up to his desk as the start of his press conference and made a short speech, thanking Blatter on behalf of "North Korea 2026". He then threw the notes in the air which came down around Blatter's head, making, at the very least, arresting pictures for the world's media.
Security is low-key at Fifa House, and even as Brodkin began his speech, none of the Fifa officials down the side of the room made a move to protect their president. After the money was thrown Brodkin was gently led away by the arm by one of Blatter's aides while various Fifa officials told one another to call security.
Brodkin has launched a number of pranks with varying degrees of success. He was thrown out by Football Association security when he tried to board the England team flight from Luton airport that was bound for Miami ahead of the Brazil World Cup finals last summer. In April 2013 he tried to get on the pitch to warm-up with the Manchester City team ahead of a game against Everton.
Blatter was clearly shaken by the incident and after conferring with the Fifa head of communications Nicolas Maingot he delayed the start of the press conference, insisting that the area was "cleaned up" first. When he came back to make a short speech and answer questions, Blatter did not refer to the Brodkin incident.
Key among the announcements by Blatter was the setting of 26 February for the elections for a new Fifa president. He will, in his own words, "lay down his mandate" then and he was unequivocal that he will not stand again for the Fifa presidency after what will be almost 18 years in charge by that point and less than a month short of his 80th birthday. It will mark 270 days after his announcement that he would not continue in the role.
The Fifa president also said that when he quit in February he wished to become a radio journalist, having kept his union membership throughout his Fifa career. "I think radio is the most popular item [sic] of information," he said. "It is 24 hours and everyone can listen." He said that his shows would potentially feature his two hobbies of "geography and politics".
"If somebody accepts me," he said. "But there are so many radio stations in the world I am sure that someone will be happy to listen to me."
Otherwise, Blatter announced another taskforce, titled "reforms" with representatives from across the six federations. There will be centralised "integrity" checks for new members of the Fifa executive committee. David Gill, the former Manchester United chief executive, was attending his first meeting having reversed his decision not to sit when Blatter said on 2 June he would resign. Gill left Zurich without commenting.
The favourite to succeed him is Uefa president Michel Platini, who has garnered support from the federations especially Asia where the Kuwaiti Sheikh Ahmad al-Fahad al-Sabah is regarded as a key figure in delivering the votes. Platini would need to win a majority, at least 105 of the 209 member nations who will vote for the new Fifa president.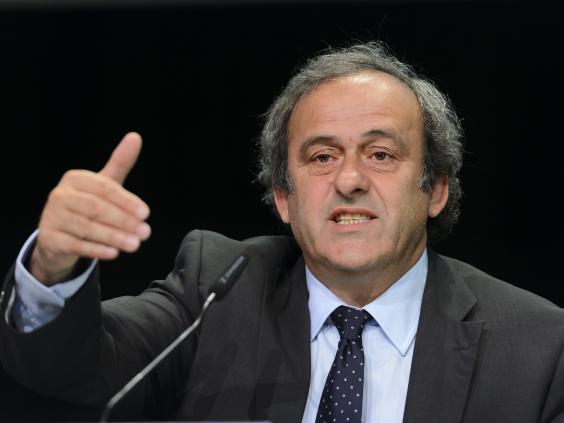 Whether the 60-year-old wants to take on such a palsied organisation at a critical juncture in its history is another matter. He is compromised by his backing of the Qatar 2022 World Cup finals bid which is at the root of the two investigations by Swiss and US authorities that were behind Blatter's decision to quit.
The ExCo members were briefed by Fifa lawyers on the progress of the two investigations, and Blatter said that he would not comment on the progress of either. He was unequivocal that he would not stand again for election. "I will not be a candidate for election in 2016," he said.
Blatter played up the importance of the latest reforms, pressing home his point that he will continue to govern right up to the end. "This [the press conference] gives me the impression I am still alive. Sometimes I have the impression after the tsunami on 27 May [when the seven officials were arrested in Zurich] … that it has taken me away. I am still here. What has happened since is very, very special."
Asked about the reasons behind his change of heart, after he was re-elected for a fifth time, he said he had stepped aside for the good of the organisation. "I had in my conscience to do something for Fifa, not for me" he said. "I wanted to do it and I still want to do it. This is my prerogative. My duty and mission is to defend the institution of Fifa."
Reuse content