Things fell apart. The centre held. With Fifa's top executives still locked up in detention centres all over town, world football's governing body voted resoundingly for four more years of the same: Sepp Blatter.
"I'm not perfect," he said, as the room erupted in applause. "Nobody's perfect.
"I like you. I like my job. I like to be with you. I take the responsibility to bring back Fifa. "
It had been a long few days for Fifa's embattled President, though he's used to them, and his nautical metaphor failed him. "We will bring it back off-shore, back to the beach, football can be played, beach soccer. I am a faithful man. God, Allah or whatever it is spirit in the world that we believe, they will help us to bring back Fifa. I will do it with you."
It took two rounds of votes, in the end, but it was a mere formality. 133 votes to Mr Blatter, 73 to Prince Ali bin Al Hussein took it, was three short of the two thirds majority required for a first round win.
But it didn't matter. Fifa doesn't do opinion polls, but it does do rumour, and when Asia's sporting powerbroker-in-chief, the Kuwaiti Sheikh al-Sabah was photographed having a late night chat with his European counterpart, Michel Platini, the possibility of a last minute seismic shift of the tectonic plates became just that - a possibility.
It wasn't to be. It was never to be.
"The eyes of the world are upon us, as they always are, his opponent Prince Al bin al Hussein had said. "But this time everything is at stake. There is nothing that can wash away the stain that marks us all. But even the darkest nights are broken by a new dawn." It didn't break. Not enough people, in the end, one, fancied a wash.
The Fifa bigwigs facing charges
The Fifa bigwigs facing charges
1/14 Jeffrey Webb, 50, Cayman Iskands

A Fifa vice president. His arrest came as a big surprise, as he had been tipped as the man to clean up Fifa once Blatter departs. Webb is also president of Confederation of North, Central America and Caribbean Association Football (Concacaf) and the Cayman Islands Football Association

Getty

2/14 Costas Takkas, 58, UK

A British citizen, Mr Takkas is currently an attache to the Concacaf president. He was previously general secretary of the Cayman Islands Football Association, of which Mr Webb is president

3/14 Jack Warner, 72, (pictured), Daryan Warner, 46 and Daryll Warner, 40, Trinidad & Tobago

The former Fifa vice president and head of Concacaf was a dominant force in football for 30 years, but was suspended from his roles in 2011 amid accusations of corruption dating back to the 1980s and an investigation by Fifa's ethics committee. He later resigned, ending the proceedings against him. Daryan Warner, the son of Jack Warner is also believed to have co-operated with the FBI. He pleaded guiltyin October 2013 to wire fraud conspiracy, money laundering conspiracy and the structuring of financial transactions, forfeiting $1.1m. Daryll Warner, another of Jack Warner's sons, he pleaded guilty to various offences in July 2013. A former Fifa development officer, he lost the job in 2012 after his father's resignation amid corruption allegations. He and his brother both face up to 10 years in prison

Getty

4/14 Charles Blazer, 70, USA

The former Concacaf general secretary reportedly turned "supergrass" to help the FBI inestigation, using a bugging device hidden inside a key fob to record meetigs with his Fifa colleagues at the London 2012 Olympics. In November 2013 he pleaded guilty to racketeering conspiracy, wire fraud conspiracy, money laundering conspiracy, and income tax evasion. Seriously ill with colon cancer

Getty

5/14 Rafael Esquivel, 68, Venezuela

Executive committee member of the South American Football Confederetion (Conmebol). It is alleged that officials at Conmebol, which organises the Copa America, received bribes from marketing executives

Reuters

6/14 Eugenio Figueredo, 83, USA/Uruguay

The Fifa vice president and executive committee member is a big name in world football, having previously been at the head of Conmebol and the Uruguayan Football Association. A former right-back

Reuters

7/14 Nicolas Leoz, 86, Paraguay

A former Fifa executive committee member and Conmebol president. When he retired in 2013 for health reasons, he said: "I've not stolen so much as a cent"

Getty

8/14 Eduardo Li, 56, Costa Rica

President of the Costa Rican Football Federation. He was elected to Fifa's executive commitee in March

Reuters

9/14 José Maria Marin, 83, Brazil

The former president of the Brazilian Football Confederation is also a member of Fifa's committee for Olympic tournaments

Reuters

10/14 Julio Rocha, 64, Nicaragua

Fifa development officer. Previously president of his country's football federation

EPA

11/14 José Hawilla, 71, Brazil

The owner and founder of the Traffic Group, a sports marketing conglomerate, pleaded guilty to racketeering conspiracy, wire fraud conspiracy, and money laundering conspiracy in 2014. Two of his companies - Traffic Sports International Inc and Traffic Sports USA Inc - have also pleaded guilty

youtube.com

12/14 Aaron Davidson, 44, USA

President of Traffic Sports USA, is a large promoter of football events in America

AP

13/14 Alejandro Burzaco, 50, (pictured), Hugo Jinkis, 70 and Mariano Jinkis, 40, Argentina

Alejandro Burzaco, a media executive who controls Torneos y Competencias, a sports marketing business. Hugo Jinkis, is the president of Full Play Group, a sports marketing business in Argentina. His son Mariano, is vice president

AP

14/14 José Margulies (AKA José Lazaro), 75, Brazil

Although he is in broadcasting, it is alleged he served as an intermediary to facilitate illicit payments between sports marketing executives and Fifa officials

youtube.com
When you take the unimaginable wealth of football, generated in the most part by European clubs and American companies, and spread it out into every imaginable corner of the planet, don't expect those on the margins to start spreading back the other way. A handful of blazers behind bars was never going to be enough to persuade them.
In England, the FA did its hand-wringing, issued its threat of a World Cup boycott that would never be tolerated by the fans, and the Prime Minister issued his platitudes. "How can it go on like this?" Perfectly easily, we now know for sure. It has always done so. When ever has another great dose of the same been the inducer of change? What cancer reacts to the sudden severity of its own symptoms by curing itself?
"I am being held accountable for the current storm. Well okay. So be it. I will shoulder that responsibility. I will take it," Mr Blatter told the delegates in the minutes before the vote, at the end of two long days and seventeen long years of absolving himself of all responsibility for every last crisis that his beset his sham of an organisation.
Welcome to the Seppocracy. It is noble in its way, this organisation that, for one day a year when it meets for its Congress, has the outward appearance of a grand democracy. The cavernous chamber, the flag of every nation hanging from the ceiling. From Germany to Guam, one member, one vote. Each nation big and small marching one by one into the polling booths, its gravitas only enlarged by the Free Palestine and the Qatar anti-slavery protests going on outside. All nations are equal, in this inspiring vision of a retro-colonial world, where spits of sand in the Pacific and tiny African kingdoms finally hold sway over the great European powers, who rage with impotent anger and plot revolution that will not succeed.
But the crucial innovation of the Seppocracy is its parliament has no constituents. That link of accountability between ruler and subject has been purposely severed. The name of Fifa and its President is a joke on every last football terrace in the world, but it can make no difference. The fan, after all, is only where the money comes from, but who has been cut out of the process. Fifa, with its lunches and watches and private planes and five star hotels, exists as the tax on their passion, and it comes without representation.
Even without the intervention of the FBI or the Swiss Attorney General or the constant scandals, even without a single allegation ever made against Fifa, this absurd reincarnation of the United Nations for the sake of a game would be a money laundering scheme.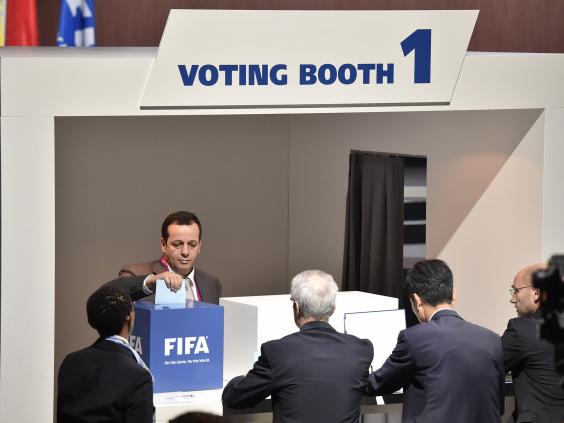 So on we go. To the "change that starts tomorrow" as Mr Blatter has promised, a change that will appear exactly the same as it has for the last seventeen years, and will in the coming weeks and months be re-engulfed by the next stages of the twin criminal investigations against it.
Then to Russia, and eventually to Qatar.
Abraham Lincoln, being no Sepp Blatter, only ever won the right to give two inaugural addresses, not five. Perhaps he should have been better at dodging bullets. There are a few words of his second address, delivered when his country's civil war over the question of slavery was reaching its grim zenith, that are embossed on the wall of his memorial in Washington, just down the road from where the FBI are still going through the documents thrown up by twenty years of Fifa lies.  "It may seem strange that any men should dare to ask a just God's assistance in wringing their bread from the sweat of other men's faces, but let us judge not, that we be not judged." On that question, Fifa's family has given its judgement. In the long meantime, seven years of it, we will just have to get on with counting the bodies.
Reuse content