This time last year, Raheem Sterling unleashed a brief but memorable first-half performance on Italy in the Amazon heat of Manaus and then, as with England's World Cup finals campaign, the dream faded quickly. It was no exaggeration to say that Sterling's first half in that opening group game was the highlight of the tournament for England, but then there was not much competition for that honour.
One year on and amid all the talk of England's progress since the World Cup finals, it has been quite a 12 months for Sterling, and not all of it easy. He reaches the final game of his season at loggerheads with his club Liverpool and awaiting the second bid from Manchester City, in the region of £30million to £35m, that he hopes will allow him to leave, resolving a difficult situation that could potentially go on all summer.
Sterling wants his future resolved before the start of the Premier League season on 8 August. He wants out of Liverpool having said that this is about success and not money. Either way, he could really do with ending the season with a flourish after the booing he took from the Republic of Ireland fans with Liverpool sympathies last weekend in Dublin. By the time he returns for England duty in September his hope is that he will be playing elsewhere.
Hodgson has the option to start with Theo Walcott against Slovenia but Sterling is the man in possession of the shirt for now. Wayne Rooney said in Ljubljana that Sterling could cope with the scrutiny. The England captain has been there himself a few times with awkward contract stand-offs and the pressure building to justify his own valuation.
Rooney conceded that he spoke to Sterling about his situation but was unwilling to elaborate further. "I think Raheem is a top-quality player and of course there is a lot of speculation around his future at the minute," Rooney said, "but I am sure that is something himself and his management will have to deal with certainly after the game [against Slovenia]. Hopefully whatever he chooses to do gets sorted out soon.
"I think as any footballer, at some stage in your career they'll experience that. Raheem is a level-headed lad, a top quality player and I am sure he will give a good performance [against Slovenia]."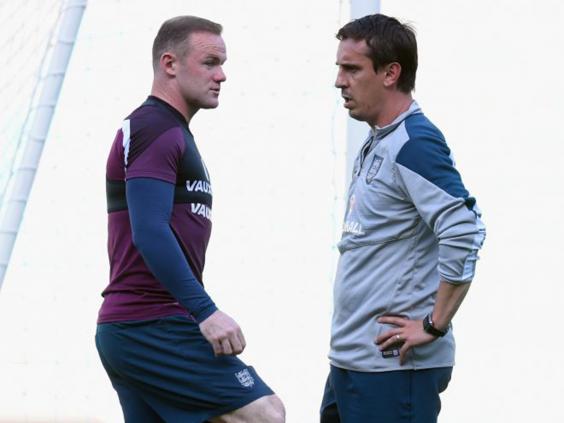 It is easy to forget that while Sterling made his England debut against Sweden in November 2012 he only really established himself after is second cap, against Denmark in March last year. This has been a rapid career development story and in attempting to force his way out of Liverpool this summer – while others in his generation like Harry Kane and Jordan Henderson have stayed put at their clubs and signed long-term contracts – he has certainly taken the difficult route.
Hodgson did not have much time for the latest developments around Sterling this week, and he was dismissive of the notion that England had to entertain as well as win in their last game of what could be an unbeaten season. The 3-1 win over Slovenia at Wembley in November was fairly routine It was a slog to break down the defensive shape of a team that committed itself to getting behind the ball and at the Stozice Stadium in Ljubljana it seems as if he expects more of the same.
Asked whether his team might put on a show, Hodgson was blunt. "That will be very difficult. If we play well, we will put on a show. With some good individual performances, that could be interpreted as putting on a show. But we are concentrating on breaking them down, scoring goals and, if I'm brutally honest, winning the game. I'd take a show or a lucky victory. At the end of the day, winning or not getting beaten are the important factors."
As for the goalless draw with Ireland, Hodgson applied his old logic that these games had to be viewed in the context of a career rather than just a weekend's entertainment. "If every game you played, especially in friendlies after the season in unusual conditions, are to be elevated into a World Cup qualifier and people are going to be disappointed... these things do happen.
"Did I enjoy the game? No. Did I think we played well? No. Did the players? No. But it's one of 1,300 for me, and one in 600 for him. You can't be sure. These things do happen. We will benefit from that game. We probably needed it, a lot more than I realised perhaps… maybe we'd have given the wrong performance in the important game if we'd not had that game and just trained on. I'm sorry, but we'll try and do better next time."
In reality, Hodgson's season has been remarkably smooth since his team beat Switzerland in Basel in August to get the qualification campaign off to a strong start. He has developed a knack of playing down expectations and it was the same this time when he was asked whether he could ever achieve anything in the job that would eradicate the disappointment of the performance in Brazil.
"That's tough. Winning tournaments... it's three cup finals where you can't guarantee where you won't be dealt some harsh blows. If I've got to wait until I have some outstanding success to get over it… that would be tough.
"I just have to make sure I get back in balance, my perspective back, and can deal with the players I have at the moment, some of whom weren't at the tournament [last summer] or hardly saw any action. They don't want me putting extra pressure on them because I'm dreaming or justifying myself.
"I have to do the right job for them."
Reuse content