There was a certain symmetry to Spain's two big news stories on Wednesday as Juan Carlos I's abdication as king was swiftly followed by the national football team losing their crown as the world's best after suffering a shock early exit from the World Cup.
Juan Carlos formally abdicated yesterday and his son Felipe VI will be sworn in as the country's head of state in parliament on Thursday. Both will have hoped for a better mood around the country today but Spain's 2-0 defeat against Chile at the Maracaná on Wednesday night brought the curtain down on arguably the greatest spell of international dominance the world has seen.
Such was the importance of the match that the outgoing king and Spain's president, Mariano Rajoy, brought it to discussion at an event in the Spanish capital on Tuesday, although it was not meant for public ears. "We have the game against Chile sorted," Rajoy joked with Juan Carlos. "How much has it cost us?" was the reply. With the knowledge that the gathered press had already caught on to the conversation Rajoy replied "nothing, nothing."
Spain 0 Chile 2 player ratings
Spain 0 Chile 2 player ratings
1/22 Spain: Iker Casillas 5/10

Another nightmare showing from the Spanish captain. Looked frail at set-pieces and was to blame for Chile's second. Is this his last major tournament with with his country?

Getty images

2/22 Cesar Azpilicueta 6

Did very little after a surprise call-up to the Spanish starting eleven. Gave possession away far too cheaply and looked out of place.

Getty images

3/22 Sergio Ramos 6

Constantly striving to get forward, as well as defending well, Ramos at least showed an intent to halter Spain's slide.

Getty images

4/22 Javi Martinez 6

While not doing too much wrong, Martinez failed to excel when Spain needed a leader.

Getty images

5/22 Jordi Alba 6

Ran the line reasonably well but was left wanting defensively on far too many occasions. Had a difficult afternoon trying to contain Alexis Sanchez.

Getty images

6/22 Xabi Alonso 5

The former Liverpool man had an awful first half, surrendering possession far too easily. A number of wild shots, which blazed over the bar, summed up his country's night.

Getty images

7/22 Sergio Busquets 5

The Barcelona midfielder will ultimately be remembered for that horrendous miss in the second half. Offered little else.

Getty images

8/22 Pedro 6

Had a quiet evening when much was required from him if Spain were to get back into the game. Will be bitterly disappointed with his distribution tonight.

Getty images

9/22 David Silva 6

Went missing for large periods of the game but did improve towards the end of his shift. Could have made the difference if luck went his way.

Getty images

10/22 Andres Iniesta 6

While his undeniable class was evident throughout, Iniesta's passing didn't penetrate the Chilean defence nearly enough. An ineffective evening.

Getty images

11/22 Diego Costa 5

A poor performance from a striker who looks severely out of place in the Spanish set-up. His game, built on power and pace, doesn't match up with the philosophy in which he has been expected to embrace.

Getty images

12/22 Chile: Claudio Bravo 8

While consciously adding an air of the spectacular to his saves, Bravo made a range of excellent stops to keep Spain out. A fine display from an exciting goalkeeper. Bravo indeed.

13/22 Mauricio Isla 7

Racing forwards at every opportunity, Chile's right-back has made something of a name for himself tonight. Chileans, however, won't be surprised by his display tonight.

14/22 Eugenio Mena 7

Like his counterpart on the other side of Chile's defence, Isla, the Santos left-back offered an attacking threat as well as defensive solidity.

15/22 Gonzalo Jara 7

A rock at the heart of Chile's backline, the former Nottingham Forest defender earned his stripes by keeping the likes of Diego Costa at bay.

16/22 Gary Medel 7

Playing in his more familiar position at centre-back, despite being used in midfield for Cardiff City, Medal wore his heart on his sleeve and made a couple of essential interceptions.

17/22 Francisco Silva 7

Offering a springboard for Chile to leap into attack from, Silva often stayed back and manned the fort. Giving the players around him the freedom to run at the Spanish defence, he played a vital role this evening.

18/22 Charles Aranguiz 8

Scoring Chile's second and proving to be a constant thorn in Spain's side, this was a marvellous performance defined by his electric pace. A true shame he couldn't stay on the pitch.

19/22 Marcelo Diaz 7

The FC Basel man was an essential cog in Chile's well-oiled, and well drilled, midfield. Kept his teammates grounded when they may have become over exuberant.

20/22 Arturo Vidal 8

An impressive performance from Juventus' 27-year-old star man. Representing all that Chile stand for, Vidal held up the ball superbly and wasn't afraid to run with it.

21/22 Alexis Sanchez 9

A menace throughout, the occasionally maligned Barcelona playmaker was at the top of his game today. Unlucky not to score from one of his many opportunities.

22/22 Eduardo Vargas 8

After putting his side ahead early into the game, Vargas then became more defensively-minded and did an important job in holding the ball up until the cavalry could catch up. An effective display.
The mood in Spain on Thursday morning was that two reigns had come to an end. One, Juan Carlos's, had lasted 39 years, the other, La Roja's, had lasted six and brought two European Championships and one World Cup. "The End" was the simple front-page headline for Marca, "A sorry end to the most glorious era of La Roja". The picture of a lonely Andres Iniesta strolling along the Maracaná pitch with his head in his hands.
"Goodbye to the golden years" continued Marca on its inside pages. Iniesta, sporting a dejected figure on the front, had been central to those golden years and there is a sense now in Spain that there will be a changing of the guard in the national squad given its latest failure. "And what now?". Marca continued asking the question, thankful for the recent success but wary of what now lies ahead. Players such as Xabi Alonso, Iker Casillas and Xavi may all have played in their last World Cup Finals. Spain will look to players such as Koke, who made his World Cup bow last night, to replace its ageing heroes.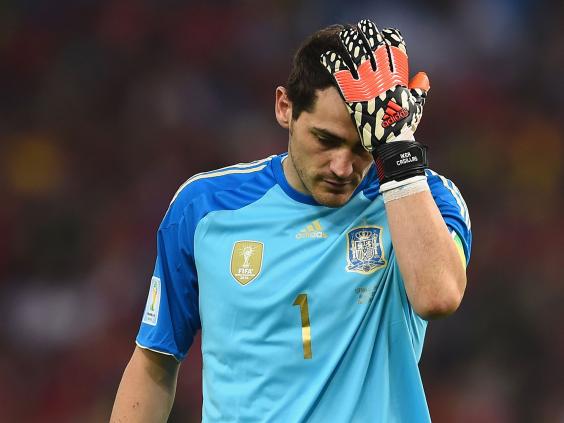 "It was nice while it lasted", said AS, who again chose a dejected Iniesta, this time alongside Casillas, for the front page picture. Pictures of Casillas lifting the last three major international trophies offered a sense of pride amongst the Spanish press and people and a desire for a return to those heights after a nightmare tournament in Brazil.
"Goodbye, Spain," AS continued in inside. "La Roja is Chile" as credit was duly given to the qualities of the South Americans. While the future of certain Spanish players was up in the air, the future of manager Vicente Del Bosque is too. AS journalist Juan Cruz dedicated a page to the former Real Madrid boss, who guided Spain "to the very top of the world". The 63-year-old has hinted that the Spanish national job will be his last in football.
Both AS and Marca said Spain were "unrecognisable" in their defeat following six all-conquering years. "Eliminated for the first time after the second game," Marca continued. "The squad lost all the hallmarks that got them to Brazil". The analysis of Enrique Ortego in Marca was cutting, with the headline "A vulgar farewell, without play and without soul."
El Pais compared Spain to the sinking Titanic, saying "La Roja need a fine and accurate analysis when the commotion has passed". They also questioned Del Bosque's decision to keep playmaker Xavi on the bench from the start, saying "so sad that Xavi watched the game from the bench". Diego Costa, who missed a number of chances on the night, was pictured leading his crestfallen teammates off the pitch as Spain became just the second nation to exit the tournament after Australia's slender defeat against the Netherlands.
Spain is hurting this morning after six years or glory and the reaction has been damning. There's a sense of being thankful for the recent glory years but there's also a knowledge that rebuilding needs to take place and when the dust has settled on La Roja's nightmare campaign in Brazil that rebuilding will begin.
Reuse content