Steven Gerrard has announced his retirement from international football following the dismal World Cup campaign in Brazil that saw England knocked out at the group stages in their worst ever performance in the prestigious tournament.
The FA confirmed the news via their website, with Gerrard bringing the curtain down on an international career that saw him amass 114 caps and 21 goals for the Three Lions.
In a statement released on the FA's website, Gerrard said: Gerrard said: "I have enjoyed every minute of representing my country and it is a sad day for me knowing that I won't pull on the England shirt again.
"However, I do look forward to continuing my strong relationship with The FA and helping out in any way I can going forward.
VIDEO: Steven Gerrard speaks exclusively to http://t.co/1siQ58ILYd to confirm his England retirement https://t.co/YvzBoYn1bS #ThankYouSteven

— England (@england) July 21, 2014
"I'd like to firstly thank my family and friends for all their support throughout my England journey.
Video: Gerrard talks  about his retirement
"I'd also like to thank everyone who has been part of my international career, from the England Managers I've played under to the staff at The FA and, of course, all the players I've been fortunate to play alongside.
England man for man marking
England man for man marking
1/23 Joe Hart

No chance with any of the goals conceded and no clangers. Yet did not look assured at the start of the Italy game. Strangely hyper pre-match. 5.5/10

Getty Images

2/23 Glen Johnson

Never looked comfortable. Offered very little going forward. One of group of players whose best moments during the Premier League season seemed beyond them. 3

Getty Images

3/23 Leighton Baines

Looked vulnerable, especially against Italy when he was not offered much cover by Rooney. Stopped from getting forward as much as he does for Everton. 3

GETTY IMAGES

4/23 Steven Gerrard

Never hid but looked overrun at times in midfield. Unable to prevent Andrea Pirlo dominating the Italy game. Struggled to influence games as he can. 5

Getty Images

5/23 Gary Cahill

England's best defender, but that is not saying much. Will be haunted by losing Mario Balotelli for Italy's winner. Otherwise (and it's a big "otherwise") solid. 6

6/23 Phil Jagielka

Good clearing header off the line against Italy. The flip side was losing Luis Suarez for the first of his two goals. Looked vulnerable. 5

Getty Images

7/23 Jack Wilshere

Best moments came in the first half of his only start, against Costa Rica. Still coming back from injury and does not look fully fit. 5.5

8/23 Frank Lampard

Difficult one. Only played against Costa Rica and was steady. Not called upon otherwise. Brought along to bring experience to group. 5.5

9/23 Daniel Sturridge

Scored against Italy and got himself in positions to score in two other games. But missed too many chances, especially against Costa Rica. 6

GETTY IMAGES

10/23 Wayne Rooney

Two starts, two different positions. Tried hard, and scored against Uruguay (below). Relative to what is expected of him though, disappointing. 6

Getty Images

11/23 Danny Welbeck

Hard worker against Italy, his best performance. Disappeared against Uruguay. In danger of being overtaken by younger players. 5.5

Getty Images

12/23 Chris Smalling

Strong and athletic but just not comfortable enough on the ball in his one start against Costa Rica. Much to prove at international level. 4.5

13/23 Ben Foster

No chance with any of the goals conceded and no clangers. Yet did not look assured at the start of the Italy game. Strangely hyper pre-match. 5.5/10

Getty Images

14/23 Jordan Henderson

Often overrun alongside Gerrard. There is potential there at international level but he seemed unable to exert a grip on his two games. 5.5

Getty Images

15/23 Alex Oxlade-Chamberlain

Did not play. N/A

Ben Stansall | AFP | Getty Images

16/23 Phil Jones

Almost three years since his full debut at right-back against Montenegro, it felt like he had regressed against Costa Rica. Nervous and untidy in possession. 3

17/23 James Milner

He drifted through his one game against Costa Rica. Did not have the same effect on games he managed for his club at times last season. 5

18/23 Rickie Lambert

Difficult to judge. Given only three minutes at the end of the game against Uruguay. A frustrating tournament for him, especially not featuring against Costa Rica. 4.5

Getty Images

19/23 Raheem Sterling

The English performance of the tournament against Italy (pictured). Struggled to do the same when moved to the wing against Uruguay and as a sub against Costa Rica. Nevertheless, one of the few successes. 6.5

Getty Images

20/23 Adam Lallana

Two substitute performances, and a start against Costa Rica, but none of the sparkling moments that have made him stand out for his club. 5.5

Reuters

21/23 Ross Barkley

Some moments of staggering naïvety but, relatively speaking, a good tournament for a 20-year-old rookie. Needs time to mature, but potential is there. 6

22/23 Fraser Forster

Did not play N/A

Getty

23/23 Luke Shaw

Impressive against Costa Rica, his one game of the tournament. Great potential but requires patience. Will make mistakes along the way. 6

PA
"In particular, the supporters have been amazing, not least in Brazil when they got behind the team despite the disappointing results."
Gerrard reserved special praise for current manager Roy Hodgson, who elected to hand the captain's armband to the Liverpool skipper on a permanent basis when he took the job back in 2012.
"I'd especially like to thank Roy [Hodgson], firstly for giving me the captaincy permanently when he took the job, making me the proudest man in the country and allowing me to fulfil my childhood dream," added Gerrard.
"He has been very understanding over the past few weeks and is a man I will always hold in the highest regard.
Video: Gerrard talks about World Cup
"This has been a very difficult decision, one of the toughest I've had to make in my career. I have agonised over this since coming back from Brazil and have spoken to family, friends and people close to me in the game before coming to this point.
"Most importantly, Brendan [Rodgers] has been fantastic and obviously I have to look after my body as much as possible to ensure I can give everything when I take to the field.
"To ensure I can keep playing to a high level and giving everything to Liverpool Football Club I believe this is the right decision, and having Champions League football back at Anfield is another big factor in my decision."
Hodgson admitted that he was "disappointed" to see Gerrard end his England career, but recognised that he can have no qualms about the decision given the service the 34-year-old has put in to wearing the Three Lions shirt since his debut in 2000.
"While I'm disappointed in the decision, I can entirely understand Steven's situation and can have no complaints given the incredible service he has given to his country," said Hodgson, who will continue as manager of England in their attempt to qualify for the 2016 European Championship.
"I must respect his wishes due to the discussions we have had and the amount of thought and consideration he himself has given it.
"He is an incredible man and a fantastic footballer who we have all been blessed to see in an England shirt so often. It is never by coincidence that people reach such a staggering figure as 114 caps, it is a mark of his wonderful talent allied to a huge drive and determination to live up to the highest standard.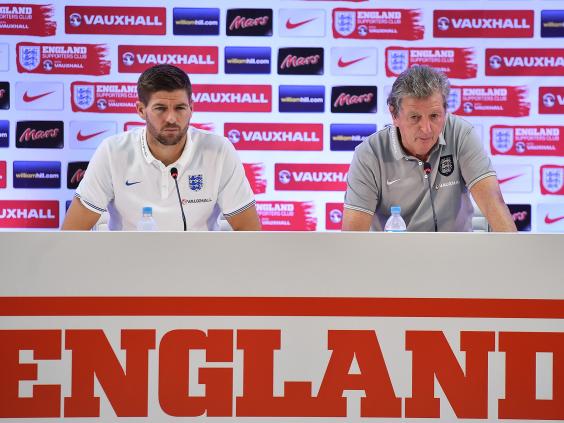 "He is not only a player to bring crowds to their feet with moments of brilliance; he was a tremendous captain and an exceptional role model for everyone who was fortunate to come into contact with him. We shall miss his leadership qualities as we look ahead to the qualification campaign with a youthful group of players.
"I wish him all the best in the future, although I know I can count on his continued support and influence as a helpful presence moving forward."
FA Chairman Greg Dyke was another who added his praise for Gerrard, commenting: "It is sad news but also gives us the opportunity to celebrate a wonderful career; Steven gave everything for England and he will be missed.
"I saw at first hand his close relationship with Roy, and as a captain he could not have done more for the cause."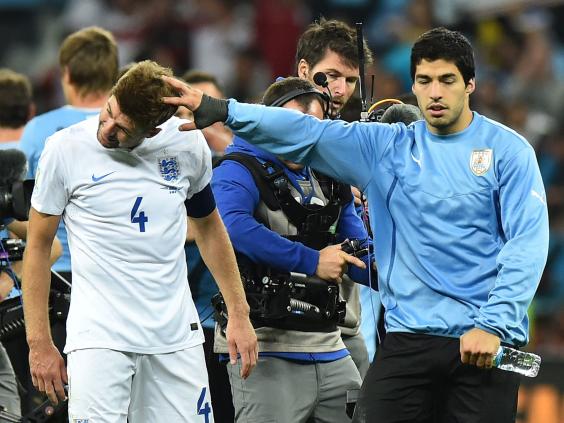 The announcement will spark debate over who should take on the armband in Gerrard's absence. While Frank Lampard would be one choice, the midfielder looks set to call it a day as well for the international team, given he has struggled to feature in the starting XI recently and is expected to complete a move to MLS side New York City FC in the coming days.
That would leave Wayne Rooney as the obvious choice, with the striker quickly closing in on 100 caps despite being only 28 years of age. The Manchester United forward could face being overlooked by his new club manager Louis van Gaal for the captaincy at Old Trafford given that Robin van Persie is currently the favourite to take on the role, but he has been tipped to take on the international captaincy at some point in his career.
With Rooney currently the bookmakers favourite, Joe Hart is also an option open to Hodgson given that the Manchester City star is a regular starter for his country. Gary Cahill and Jack Wilshere are also in the running, according to the bookies.
Reuse content