So this is what it has come to, after 22 years of the Premier League with its open coffers and open doors: a couple of decent games at club level and an England cap is yours. Come on down, John Stones, Calum Chambers and Fabian Delph.
That is not strictly fair, certainly not to Delph who, at 24, has more than 150 senior appearances behind him, the bulk of them in the top flight. But it is true that amid all the World Cup inquests the Aston Villa midfielder never got a mention. Just six months ago the player himself said: "It's every players' ambition to represent their country, but I think I might be a bit away from that."
A few retirements and injuries later, followed by a decent start to his club season, and Delph became the latest recruit to Roy Hodgson's England team. Such is the pace of change, and the youthful face of the veteran manager's side, it is beginning to look like a revolution rather than evolution, one which could not have been more drastic had Hodgson walked away – or been pushed – after the World Cup.
Not only was Delph's inclusion a gamble, as was swiftly illustrated by his nervously reckless early tackling, so was the choice of Jack Wilshere as a holding midfielder and Stones at right-back. Wilshere has never played that role while the conservative choice defensively would have been to move Phil Jones across and bring in Phil Jagielka.
But Hodgson showed before the World Cup that he does not fit the age stereotype referred to by Ernest Hemingway in A Farewell to Arms: "That is the great fallacy: the wisdom of old men. They do not grow wise. They grow careful."
In picking a starting XI with an average age of just over 24, one of England's youngest for a competitive international, Hodgson was anything but careful. He pitted a midfield in which Delph was the oldest player against a trio in Valon Behrami, Gohan Inler and Granit Xhaxa who had 169 caps and two World Cups apiece behind them.
Switzerland 0 England 2 - player ratings
Switzerland 0 England 2 - player ratings
1/11 Joe Hart

Returning to his imposing best. Underworked in first half as Lichtsteiner shot over. Strong saves from Seferovic before being rounded by Drmic. 7/10

EPA

2/11 John Stones (left)

Forced to play out of position again but not unduly troubled. Turned easily on occasion but overall was unfazed on the biggest night of his career. 6

Getty Images

3/11 Gary Cahill

More experienced centre-back and held backline together with authority. Struggled on turn at times. Trademark clearance off line from Drmic. 7

EPA

4/11 Phil Jones

Fell into Seferovic to halt one Swiss attack. Ceded possession before being bailed out by Hart. Close with header and cleared from under how own crossbar. 6

Getty Images

5/11 Leighton Baines

Caught late by Shaqiri in opening minutes but was danger with delivery from left side. Enjoyed freedom to spend large periods in the Swiss half. 6

Getty Images

6/11 Jack Wilshere

Too easily robbed of possession but enjoyed space to influence proceedings. Clever ball to Rooney came to nothing and had shot deflected past post. 7

Getty Images

7/11 Fabian Delph

Handed competitive debut and too hyped early. Left foot in on Behrami before diving in on Lichtsteiner. Rarely gave ball away and should have won penalty. 7

Getty Images

8/11 Jordan Henderson

Overcame injury worries to maintain place in centre of the park. Tidy in possession and aided forward momentum as England prospered on counter. 6

Reuters

9/11 Raheem Sterling

England's latest great hope kept the hosts occupied with his quick feet and canny movement. Played major role in move for Welbeck's opener. 7

Getty Images

10/11 Wayne Rooney

Failed to control Wilshere pass in front of goal and close with header before dropping back to orchestrate move for opener. Best showing for a long time. 8

Getty Images

11/11 Danny Welbeck

Arsenal new boy replaced Sturridge. Chose wrong option after steaming in off right wing but showed composure to find net twice to earn the points. 8

Getty Images
Yet it was England's young men, once Delph had settled, who grew to control much of the first hour. Moving the ball sweetly in triangles, playing through the thirds, keeping the ball. 
One wondered what James Milner, watching from the bench, thought of it all. Milner will see echoes of his own career path in Delph who was, for a season, a team-mate. Both were teenage prodigies at Leeds United who were forced to move on due to the club's financial problems. They were together at Villa in 2009-10 though the first of the injuries that have slowed Delph's progress meant they rarely played together. Then Milner left, in a £28.5m move for Manchester City. Surely now the potential that brought him extensive age-group recognition, including a staggering 46 under-21 caps, would be realised?
It hasn't really worked out like that. Somehow Milner, the epitome of a Steady Eddie, has taken his international appearances to 50 caps without ever seeming to have established himself in the team, even when he has had a run of games. Hodgson prizes his fitness and reliability, but while Milner has two championship-winning medals from his time at City he has found a starting place increasingly hard to retain with club as well as country.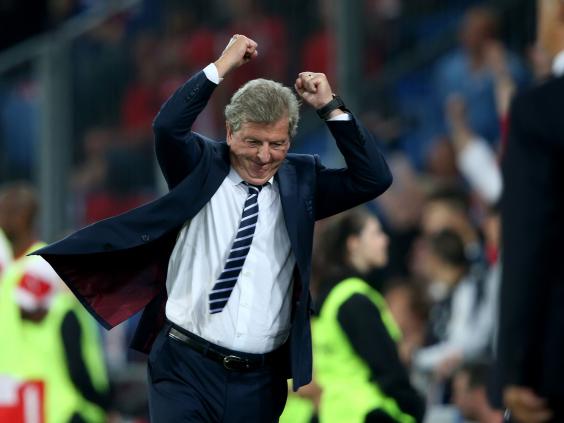 In the summer there was speculation that he would go to Arsenal, and play in the central midfield role he is believed to covet. The move never happened. Instead he stayed at City where he is yet to start a match this season. At 28 Milner should be at his peak, but this season he has played 30 minutes in the Community Shield a month ago, 12 in the Premier League in mid-August, and 29, for England, against Norway last week. So when Hodgson needed a central midfielder last night he felt he could not pick Milner.
Or could he have done? Milner's fitness is legendary. He usually tops the stats at England training sessions and the holding role requires less energy. Maybe he was left out because Hodgson was looking for something else, a bit more craft. Milner has had some very good games for England and is somewhat unappreciated. Indeed, he did well when coming on last night, but there is a suspicion that he does not shape games in the way it is hoped Wilshere will come to do. While his unfamiliarity with the position meant Wilshere at times searched in vain for space, when he did get on the ball his neat passing and ball-carrying ability meant there was a sense of possibilities.
Wilshere cannot play at the head of a diamond, as he lacks the pace required in the cut-and-thrust of international football (at Arsenal that player is more often camped on the edge of the opposition area rather than leading a counter-attack). This deeper role may be the way to get him into the team. However, the risk in selecting such a positive-minded player in this position was illustrated when, after 67 minutes, Wilshere went forward, lost possession, and Switzerland galloped away into the space he had left behind. Fortunately the attack came to naught.
But the experiment – for that is what it was – showed Hodgson has total faith that this squad will qualify for the finals (as they should in this group) and is thus prepared to look to the long-term rather than focus on the immediate result. Which shows he also had utter faith that his employers would have stood by him had last night gone horribly wrong. Nevertheless they, and he, will be mightily pleased that support is not being tested this morning.
Reuse content